2015 Renault Twingo 0.9 – UK road test review
City cars are big business so for its new Twingo, Renault has put some effort into it. Jointly developing the platform with Daimler – who'll be using it for its new Smart models – the Twingo is unusual among the city car sector because its engine is strapped to the back of the car rather than under the bonnet. It's a bold move, but has it worked?
Renault Twingo styling
With no engine occupying the front compartment (there's just fluid reservoirs here), the Twingo is immediately recognisable by a very short nose and precious little bodywork ahead of the front wheels. Keep looking and you'll spot that the shape is familiar too, but it's really difficult to put your finger on quite where – there's certainly hints of Renault 5 in there and maybe even Renault 4CV, but it doesn't trample over old ground.
The large all-glass tailgate seems to be the class standard now, so you might be in two minds about the design's effectiveness from the rear – but with the tail lights jutting out into the bulging wheelarches it's a fairly striking design. The rear spoiler and laterally aligned exhaust silencer hint at something naughty lurking below.
This particular model is the new Dynamique S trim, which adds those black and red stripes and the red door mirrors. Touches like this add a certain character and a sense of theatre to the Twingo that more mundane models miss out on, so are recommended.
Renault Twingo interior
Having the engine at the back makes for some unusual packaging on the inside too. The lack of mechanical gubbins ahead of you makes for pretty good front legroom and knee room for all, but you'll be less impressed with the headroom in the back.
You might also have cause to frown when it comes to some of the materials, fit and finish. There's a lot of boomy, scratchy plastic and some parts feel a little on the flimsy side. Again, the pack applied to this car allows for some nice splashes of interior colour that are worth specifying, but while the hue is appreciated the actual quality of the trim is on the middling side. Nothing seemed overtly loose and there were no irritating interior buzzes or rattles, so hopefully this is only skin deep.
The displays are neat and clear though. The central infotainment screen will run your audio, the sat-nav, vehicle settings and the familiar Renault economy coaching and evaluation screen. There is, curiously, no rev counter though – something that would be useful in this particular model – unless you download a Renault smartphone app.
While it's certainly the case that the boot isn't that deep, there's plenty for the weekly shop and there's a bonus in that the floor is flat and flush to the opening – no high lips here, so no reaching and bending required. Unusually for a city car, the rear seats fold flat too, to make a long, flat load space.
You'll have to be mindful of keeping cold items back there though. We worked the car pretty hard over the week, and the heat from the engine occasionally transferred to our shopping. There's plenty of useful cubbies around the cabin and under the rear seats so, if you're an ice cream fan, there'll still be somewhere cool to keep your treat.
Renault Twingo engine
There are two options for the Twingo, both petrol powered. The larger 1.0-litre car offers 70hp, but we were testing the 0.9-litre turbo three-cylinder with 90hp on tap.
In this flavour, the Twingo will hit 60mph in just under 11 seconds (4 seconds faster than the non-turbo model) and shows a 65.7mpg return on paper. Needless to say, we didn't get especially close to the latter figure as we spent too long achieving the former – it's definitely a case of either/or.
It's a pretty vocal three-cylinder unit, making quite a thrum when you're accelerating hard but it's not especially intrusive at city speeds – though it's a little hard to drive smoothly at this kind of pace if you have the Eco button pressed. You'll find it grumbling a little at tickover, especially from a cold start, so make sure you specify the version with stop and start!
Renault Twingo driving
This is where the Twingo really scores some points – it's something of a revelation. The fact that the engine is in the back and it's driven by the rear wheels actually rarely enters into the equation, so if you're a little worried about the concept – there's little need to be.
However, one of the major benefits of the engine position is the lack of mechanical components to interfere with the steering. This means that the Twingo can generate colossal steering angles – up to 45 degrees in each direction – which makes it highly manoeuvrable. It's great for parking and you'll rarely need to do a three point turn – it'll manage a complete u-turn in 8.6 metres of road. As a city car, it's excellent.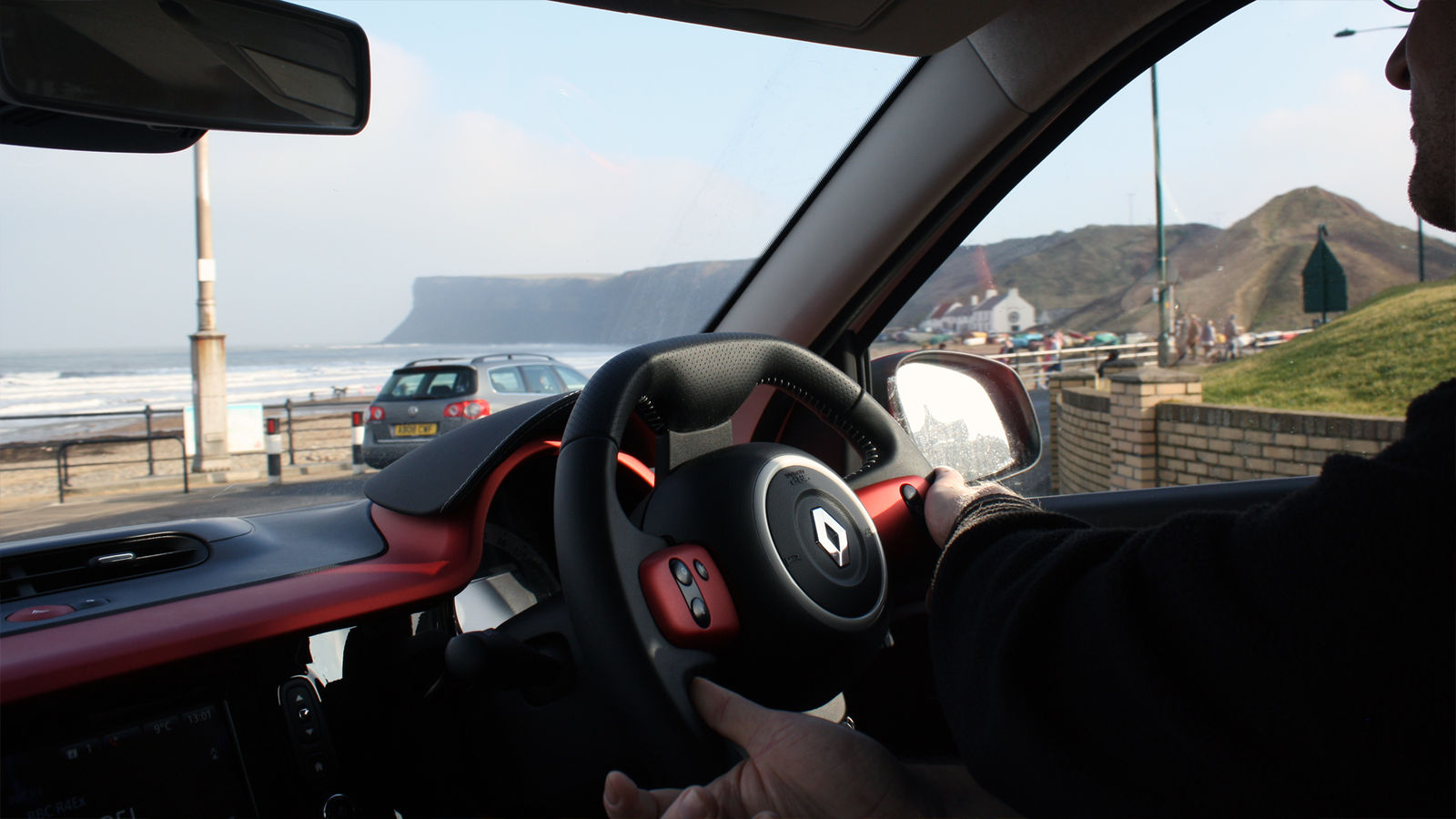 Get out onto the open road and it's even better. You'll need to adapt your driving style somewhat because, at first, it will seem a little light and numb on both brakes and steering. Once you're used to finding the brakes' biting point and where the grip is, there's a joy to driving this hard.
With a wheel shoved out to each corner the Twingo is a proper little driving tool that can manage to keep speed up down B-roads with the best of them. It's very compliant on-road, avoiding the pitfalls of the harshly sprung to provide a most rewarding experience. The 90hp engine backs this up nicely, regaining any speed you do lose pretty quickly thanks to 99lb ft of torque.
However, it's not so great as a motorway tool. It's not for any lack of pace, rather that the high-speed ride is fidgety. It's also prone to some significant buffeting from sidewinds and the wake from lorries. Keep it in and around the cities for its best performance.
Renault Twingo value for money
As tested, this Twingo Dynamique S 90 would set you back a pretty eye-popping £13,165. This model, however, is weighed down with just about every feature it's possible to cram into a Twingo short of the optional fabric roof and the £150 parking sensors. So, for this price, you get everything you see, including the LED running lights, cruise control, DAB radio and navigation, while the leather interior and red bits inside and out are part of the fitted "S" pack.
If you can avoid the childishness that we over-indulged in, running costs should be reasonable, fitting into insurance group 8 and coming with a good 4 year/100,000 mile warranty. Renaults are not traditionally good performers when it comes to depreciation, but the connection between this car and Smart may bolster prices a little better than usual too.
Renault Twingo verdict
The Twingo is something of a departure from the norm in the class and it's all the better for it. The rear-engined layout makes the little Renault peerless in the city environment for which it's intended.
When it comes to fun roads though, we can't think of many new cars we'd rather be in. It's one of the most surprising and underrated driving machines we've encountered, wet or dry. You'll probably have to forego extensive motorway running though – it's just too fidgety.
If you're looking for a cool, quirky city car, this is it. Its only competition will be its sister car – and the Twingo is much prettier! More conventional rivals like the Volkswagen Up and Peugeot 108 are also well praised to read those reviews before committing to a Twingo.