Gifts for Car Enthusiasts – 10 Great Ideas
Following on from our 10 Worst Car Presents Ever post yesterday, these are our 10 Great Gifts for Car Enthusiasts:
Autodromo Watch
New motoring-oriented brand
Autodromo
combines a passion for vintage watches and classic cars with outstanding results. These minimalistic timepieces, complete with Swiss parts are inspired by tachometers found in 60s Italian sports cars. Stylish! At around 270, reasonably affordable too.
Build your own Land Rover
Adults will make any excuse to play with building blocks, but this is actually a slightly more grown up version requiring bolts, a screwdriver and glue to build your own metal Land Rover. Perfect stocking filler at 9.95.
Italian Made Holdall
These gorgeous
Italian Hand Made leather holdalls
from Caracalla-Bath are just the right size for a weekend away. You can choose between bags inspired by brands such as Mini, Maserati, Bentley and Ferrari, choose between the numerous collections, Classic, Vintage and Retro, or even personalise your own! That'll fit nicely in the trunk.
Carbon Fibre iPad Case
Were suckers for anything sleek and carbon fibre, and this carbon fibre ipad case looks the part and is also extremely affordable at just 12.99! Get it in festive red, or more standard black, white or silver.
Stirling Moss Suede Driving Shoes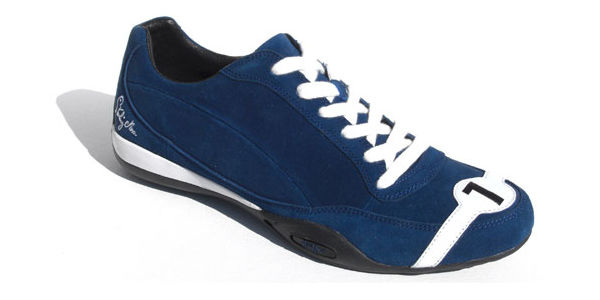 With a tyre tread sole for extra traction, these shoes are comfortable for both driving and walking. They're designed with a casual driver in mind, with little details such as rolled heels for easy movement between pedals. These are
currently on sale at 89.99
.
Lamborghini Hard Drive
This super speedy
Lamborghini external hard drive
is the perfect gift for a techy car nut. Theres a decent amount of space available – 750GB and the elegant device comes in either black or white with the iconic charging bull logo. Take your pick, you can get them for around 120 online.
Senna Documentary
This is a great documentary film whether youre a Formula 1 fan or not. It chronicles the great and also tragic story of motor-racing legend Ayrton Senna who many believe was the greatest driver who ever lived. A classic.
Buy it on Amazon for 10.99
.
Car Dial Cufflinks
These cufflinks feature a traditional speedometer and petrol gauge with moving hands. Theyre also scratch and tarnish resistant as theyre finished in rhodium. These are priced at 29 on fab gift side
notonthehighstreet.com
.
Garage Door Cover
This one's a little random, and won't be to everyone's taste but you could have a lot of fun spicing up a boring garage with these
photo covers
! There are 350+ designs and you can even make your own! Make it appear as though youre housing a huge military offroader or jumbo jet in your tiny single garage, or give it a chalet theme, perfect for Christmas. Expensive though at around 160.
Porsche Design Sled
All anyone really wants for Christmas is a £120 designer sled, and surely this is the best looking one there is! What are you waiting for? (Apart from a bit of snow that is). Friends may laugh, but whoever's on this beast will have the last laugh when they zoom past in their brilliantly light and ergonomically designed bobsled. Ha! Let the competition begin.