2014 Citroen C4 Cactus – first drive review
Drivers of a certain age will remember when Citroen used to be a byword for comfort, design and innovation. More than any other marque, other than perhaps the now sadly defunct Saab, a Citroen was a car you chose because you valued its engineering and character.
The 1990s and early 2000s were something of a bland wilderness for the brand;innovation slowly eroded through budget constraints, styling dulled to a Euro-bland norm and buyers were no longer enamoured enough with their cars to forgive the occasional mechanical or electrical gremlin.
But old Citroen is back, and we've driven it: Citroen's new C4 Cactus is the most innovative vehicle we've seen from the brand in years.
Not only that, it's as eye-catching today as some of Citroen's greats were in their days, it's affordable without resorting to heavy dealer discounts, and it employs some clever engineering touches that bring real-world benefits, rather than existing for the sake of it.
The weight, for example. The C4 Cactus is, as you might expect, similar in size to the C4 hatchback. But based on the platform underpinning the DS3, it's as much as 200kg lighter than the C4. In fact, despite its size, five-door layout and proper boot, the skinniest C4 Cactus models are as light as an entry-level DS3 and quite a bit lighter than some superminis.
You can make your own mind up on the styling, but we love it. It has personality, and manages to stand out without being in any way aggressive, retro, sporty or overly complex methods other manufacturers seem to employ with abandon in their new cars' designs. Most notable are the large side mouldings (replicated in part at the front and rear corners) known as 'Airbumps' a multi-patented, air-filled pocket designed to prevent errant trollies and clumsily-slammed car doors damaging your paintwork. Does it work? Our very own slam-tests suggest it does.
The interior is equally innovative, and wonderfully comfortable. Unlike many cars of this price, there is ample space front and rear for adults, and a boot big enough for luggage.
The seats are wide and soft, just as car seats used to be before overly-sculpted, unyielding lumps of foam and Alcantara became fashionable. They adjust backwards and forwards and feature backrests that recline, but no more adjustment is really needed.Along with a steering wheel that adjusts for rake only, it proved more than sufficient for hours of comfortable driving.
That would have been enough on its own to endear the C4 Cactus to us, but the French company has gone to town on interior design too. Aside from the BMW i3 electric car, it's the most welcoming, stylish environment available for sensible money. The front seats form a bench in some models, and the low, flat dashboard covered in colour-coded materials feels refreshingly airy. All major displays and controls are dealt with through two digital (TFT) screens one behind the wheel, another in the centre of the dash from which navigation, heating and ventilation, and other features are controlled.
Citroen has moved the passenger airbag to the roof (really!) which has freed up space for a large, briefcase-style glovebox on top of the passenger dashboard. The briefcase effect continues on the softly-upholstered doors, where front door handles are actually leather luggage straps.
Hard plastics can, and will, be found. But the important bits Citroen has got right, so you forgive the tougher, textured plastics found everywhere else. How often do you fondle the door panels or lower dashboard anyway? How often do you stare at them when whooshing down the motorway or negotiating your way through town? The uphshot is that Citroen has saved costs where it can do (other examples: pop-out rear windows rather than wind-down; a single-piece folding rear bench; a regular key-twist to start) rather than where it might affect your enjoyment.
And it really is enjoyable to drive. Perhaps not for frustrated wannabe-racer motoring journo types, though this particular frustrated wannabe-racer motoring journo type appreciates cars like the Cactus that provide a cossetting ride, a trait that's rarely found in cars today. It doesn't quite have the waft of an old-school gas-suspended Citroen, but it's better than most family cars on sale.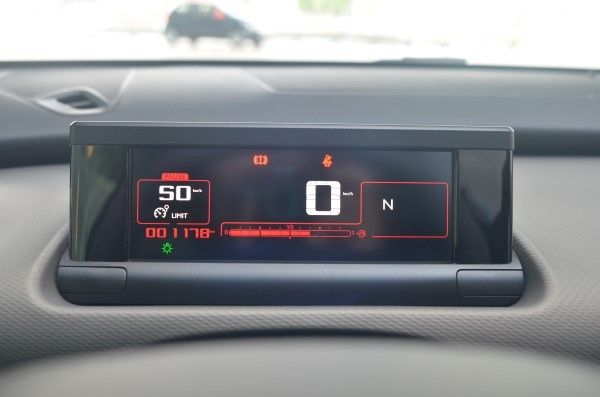 It handles neatly enough too there's plenty of grip unless you're being really silly,body roll isn't excessive unless you're still being silly, and the steering is well weighted and accurate enough to allow you some semblance of being in control.
The brakes are a little grabby, but this might be down to the test car's newness. The manual gearbox shifts easily enough, though our problem with that is more aesthetic and tactile the multi-ridged cheap-feeling knob seems out of place in an otherwise beautifully-designed cabin. This can be fixed by specifying the ETG6 automated manual gearbox, available on the 1.6-litre e-HDi diesel. It trades a stick for three dashboard-mounted buttons, and the handbrake becomes an aircraft-style lever in front of the bench seat.
Visually, it makes the cabin even more appealing, though it maintains usual automated-manual quirks: it's slightly difficult to drive smoothly at low speeds, and on the move the gaps between gear-changes are frustratingly jerky.
That's a shame, because pairing the diesel with the ETG6 is your path to spectacular fuel economy. Officially, 91 mpg is possible. Realistically, we managed 70 mpg on a gentle hour-and-a-half route around Amsterdam and out into Holland's countryside. The 1.2-litre Puretec petrol is almost as thrifty with the manual though. It's rated at 61.4 mpg and we got spectacularly close at around 60 mpg. Take this with a pinch of salt (low speeds, no hills again), but it's still not bad for a car with 109hp and a a nippy 9.3-second 0-62 mph time.
Verdict
Search for other reviews of the C4 Cactus and you might find it marked down for lacking sports-car steering or Citroen's fitment of a simplified rear bench and rear windows that don't wind down. Others criticise its refinement though we neither found it loud of engine nor excessively windy, certainly by supermini standards.
For us though and the majority of UK car buyers it's comfortably the best small crossover on the market,even ahead of the class-leading Nissan Juke and our previous favourite, the Peugeot 2008. It's possibly even the best car you can buy at the price.
C4 Cacti (that is what you call them, right?) begin at £12,990, and although the models we tested cost more than that, we can't see the car's basic charm being eroded too much by the entry-level 81-horsepower engine, and its levels of comfort, design and economy certainly won't be.