Vauxhall Insignia Review – Utterly Outclassed?
Its an older design now and the aggregated reviews are mixed. While the Insignias motorway munching credentials arent in doubt, some reviewers have criticised its numb steering, suggesting that rivals provide more fun when the road gets twisty.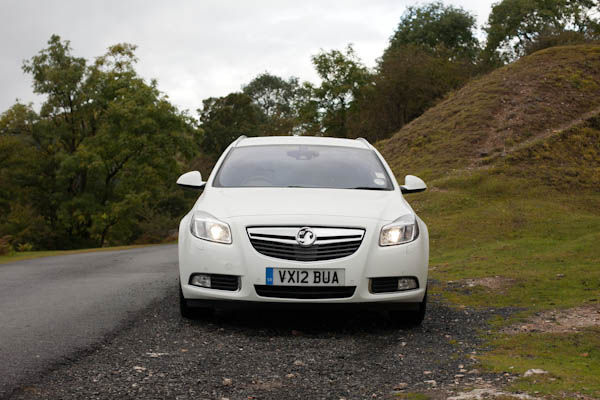 Were fond of the Insignia here at carwow, so we arranged to borrow one for a week to see for ourselves whether it really is outclassed – or whether its a hidden gem.
Exterior
The Insignia is a very good-looking car. Fat alloys, a decently low stance, and a sexy roof spoiler make it look every inch the sporting drivers choice.
Estate cars rarely look anything other than an afterthought but the Insignia looks like it was born to transport huge loads at high speed; practicality doesnt always mean sacrificing aesthetics.
Interior
The most notable aspect of our test cars interior is the tan leather upholstery, a 3,060 option. While I concede that the price does include sporty, heated seats, upgraded carpets, leather door panels, sports pedals, piano black inserts on the fascia and doors, and a dark headlining it is an astonishing price to pay for seats that are, at best, second-rate. Despite having a multitude of adjustments available I just couldnt get comfortable, a problem that is compounded by a steering wheel that doesnt extend far enough towards the driver, leaving me sitting too far away. The result was invariably a backache after only a couple of hours. Probably wise to stick with the standard seats, saving a fat wedge into the bargain.
While Im having a whinge, I should point out that the view over your shoulder is obscured by a massive B pillar, making overtaking harder than it needs to be, and the boot opening is far smaller than the width of the boot itself, limiting the size of objects that you can carry in there.
On a more positive note, everything fits together pretty well and it is very quiet, even at very high speed, making it a great choice for the long-distance driver; back pains apart, I was astonished at just how civilised it is at high speed.
Driving
The Insignia feels most at home on the motorway, where its torquey engine, smooth ride, and extraordinary refinement make it the choice of sales reps throughout the land. Score one for Vauxhall. Add in a remarkably effective adaptive cruise control, auto-dipping headlights, intelligent sat-nav, and rain-sensing wipers that actually work and you could be forgiven for thinking that the Insignia is delivering a premium driving experience for mid-range money.
Sadly it doesnt. The steering is indeed a bit numb and the chassis lacks the fluidity of the Ford Mondeo and the Mazda 6. Not that its a bad car, far from it. It just doesnt reward and flatter like some of its competitors.
Engine
Our BiTurbos diesel engine churns out 192bhp and 295lb ft of torque, making this a quick car. The 0-60mph sprint takes 8.4 seconds and itll surge all the way up to 140mph before it runs out of steam.
Overtaking is a joy too, with bucketfuls of torque available at low engine speeds, making it a relaxing car to cover ground quickly; spot a gap, drop down a gear, and go. Nor is the noise overly intrusive, even at high revs, a state of affairs that the Vauxhall positively encourages. This is a good engine.
The price to pay for that performance is fuel consumption that struggles to get above 40mpg in everyday use, some way short of Vauxhalls combined fuel consumption figure of 55.4mpg. CO2 emissions are 134g/km, placing the Insignia BiTurbo into taxation class E.
Value for Money
The basic price for a BiTurbo Sports Tourer is 28,680, which is fine value for money, especially when you consider that it is eligible for Vauxhalls amazing 100,000-mile warranty.
Load it with a few options though, and the price soars. Our car was fitted with the aforementioned leather seats (or Premium Nappa Leather pack in Vauxhall-speak) at 3,060, 20-inch alloys at 870, and Navi 900 sat-nav and in-car entertainment at 1,200. Throw in parking sensors, Bluetooth, a front camera system, adaptive cruise control, DAB radio, tyre pressure monitoring, a full-size spare wheel, and brilliant solid paint and youll be writing a cheque for 35,900. Thats far too much.
Verdict
No surprises here, because if youve been paying attention youll know that the Insignia left me feeling somewhat underwhelmed. The small boot opening stopped me putting a chest of drawers in there when I needed it to be a capacious estate, the seats and steering wheel left me with backache when I needed a comfortable touring car, and it was uninspiring to drive when I wanted to take advantage of quiet roads on an early morning trip; so while I appreciate its refinement at speed, I struggle to recommend it.
The squeezed middle the ground occupied by cars that are neither premium nor affordable is fiercely contested and ultra-competitive, and without a USP any car will struggle. The Ford Mondeo is a fine handling car thats simply enormous inside, and for those reasons alone it should be my recommendation for anyone who is in the market for a mid-price family estate car.
Except it isnt. Say what you like about the poor ride and the basic spec, but an
Audi A4 Avant
is always going to be far nicer to own and drive than either the Ford or the Vauxhall, and is probably going to be a better investment too.
For more information check out ourfull summary of the Vauxhall Insigniaalongside reviews, stats, photos and videos!