Audi Q7 colour guide 2015
When it comes to big family buses, they don't get much bigger or better than the Audi Q7 crossover. But with this amount of metal on show it's vital to get the colour right to flatter the proportions – and at the same time picking something distinct enough not to be lost in a sea of like-minded monster-truck buyers.
We're taking a look at what Audi has to offer when it comes to paint finishes for the Q7.
Solid
There are only two solid colours on offer, and both are free-of-charge – and the decision really is black or white…
Pure White (£0)
White's actually not a bad choice for this particular car. It's pretty much a given that you won't be taking it off road (although it's perfectly capable up to a point) and white removes any doubt that you'll ever pretend otherwise. It sets off some of those darker design details relatively nicely and you could do an awful lot worse for a free colour.
Night Black (£0)
This flat black is pretty much the opposite in every sense of the word because lots of the Q7′s details are lost, swamped by the lack of light around them. Add on some tinted windows and a set of Audi's titanium finish 21-inch alloys and you'll look like either a kingpin in the local organised crime syndicate or a member of MI6. Of course, if this is the look you're after, you get it for free – result!
Metallic
A range of eight metallics is also on offer, with some of the more interesting hues Audi offer. They're all optional extras across the range.
Glacier White (£655)
Everything that applies to Pure White applies here too, but Glacier White adds a little depth that's missing from the solid colour – picking up the crinkles and creases perfectly. That said, if you're splashing out £655 on a metallic colour, we think there are better ways to do it than a more interesting version of a free, standard colour. It's worth remembering that come resale time, a Glacier White Q7 will show up in the used listings alongside all the cheaper whites and you won't get any of your extra paint money back.
Orca Black (£655)
This is largely the case with Orca Black too. The metallic look gives a little better definition to the edges and it's a better shade than the solid black (if a little less clandestine), but there are better ways to go.
Ice Silver (£655)
Ice Silver is not one of them. While it's certainly a pleasant enough colour that almost evokes the aluminium that Audis are famed for, it's one to avoid.
Graphite Grey (£655)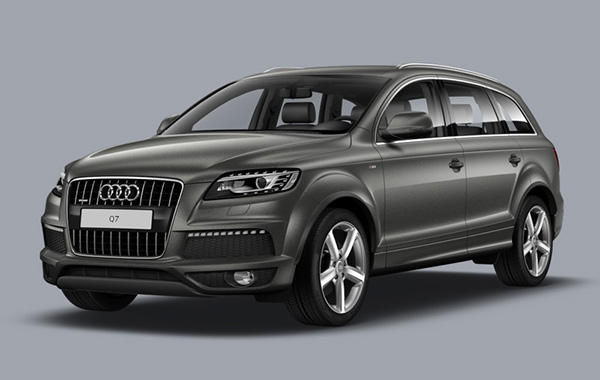 This pewtery blend is actually a pretty distinctive colour, but not one that's likely to be all that popular in secondhand sales. It's lighter than the dark details and darker than the chrome delineators, so not a styling flourish is missed. But we're not fans of road-coloured cars in general and trudging towards this on a dark winter's morning will make you regret it too.
Bahia Beige (£655)
Bahia Beige though is something a bit different. Nudging up on a white-gold colour, it's interesting to look at, highlights the better parts of the design and masks the sheer size of the Q7 all in one hit. If you're putting down two thirds of a grand on a colour, it may as well be a good one.
Teak Brown (£655)
There's always a brown these days and unfortunately the Q7′s one makes it look like an antique blackjack shoe.
Atlantic Blue (£655)
Blues are very much underrated and while this particular blue isn't a standout colour by itself it does at least work with what the Q7 gives it. Atlantic Blue is pretty close to a midnight blue colour so you get to swish by with anonymity at night, but it'll make the crowd of black Q7s look very boring indeed.
Scuba Blue (£655)
By some margin our favourite colour for this car. This turquoisey blue isn't pearlescent but it behaves like it is, with lighter patches hiding some of the size of those massive and largely featureless doors and richer, navy blue spots where patches of differentially angled bodywork meet. We'd tick this box without hesitation on our Q7.
Pearlescent colours
There are also three pearl effect colours that provide a little extra depth over their metallic cousins. These also cost extra.
Daytona Grey (£655)
Another colour to be filed under "blends in with the road". Daytona Grey actually does a better job than Graphite Grey thanks to the extra character it has, but it is ultimately still grey.
Lava Grey (£655)
Lava Grey isn't though, despite the name. If anything, Lava Grey is black layered over brown – it's a better alternative to Orca Black than it is to Graphite Grey. It still does nothing for the car's bulk and it'd take more than a second glance to spot it wasn't a regular colour, so we'd pass.
Garnet Red (£655)
If you're going to buy a bus, why not have it in Routemaster colours? It's actually a pretty good choice – like Atlantic Blue, the primary colour nature gives you something a little different to look at and it makes even the smaller design details that little bit more obvious than the blander whites, greys and blacks. It's normally one for the sports cars, but it suits the Q7 quite well.
Exclusive paints
There's a further range of 45 colours and 13 shades of grey (no jokes) that you can apply to your Audi Q7 from across the Audi Exclusive range, and while the level of personalisation is unquestionable it is – at £2,155 – somewhat on the steep side.
These shades are custom orders and we can't provide images of them, but rest assured that you'll probably never see another Audi Q7 in Samtviolet Perleffekt should the mood for a rich purple people carrier take you.
Find out more about the Audi Q7
Found a colour that you like? Check out our full Audi Q7 review section to see more photos, critics' reviews and statistics.