Retro Road Test - 1990 Lexus LS400
Luxury is a funny concept to define, particularly in the automotive world. Several tenets must convene for a vehicle to truly fulfil a luxury brief, and even then end result is open to interpretation.
In nearly quarter of a century, the automotive world has moved on such that vehicles like the Lexus LS400 you see here risk erosion of their original luxury billing.
It doesn't, for instance, have satellite navigation. Nor digital radio. Adaptive cruise control, automatic lights and wipers and TFT displays are conspicuous by their absence. The few LCD displays scattered around the dash would now look cheap on a Dacia Sandero.
In other words, the average supermini on sale today makes one of the 1990s foremost luxury cars look a little... sparse.
But the 1990 Lexus LS400 is still, even today, a fantastic luxury vehicle. And no premium-badged supermini or technology-laden family car can even hope to replicate the feeling that a car like the LS gives you as you drift along. They are mere pretenders; the LS400 is, despite its age, still the real deal.
Even if I struggled to actually enter the car. Remote central locking was still in its infancy in the 1990s, and this car didn't have it. A few exploratory twists of key in lock eventually had the desired result. Much easier was starting the engine itself - actioned through another key-twist, still more satisfying than any button-start, keyless-go system you could mention.
Inserting the key also awakes the steering wheel from its electric slumber, buzzing quietlydown to reach your palms. The instruments emerge from nowhere, seemingly suspended in the cluster's black void. And the engine starts with a relative whisper - more audible than many these days, but quiet and smooth as only a car with eight cylinders can be.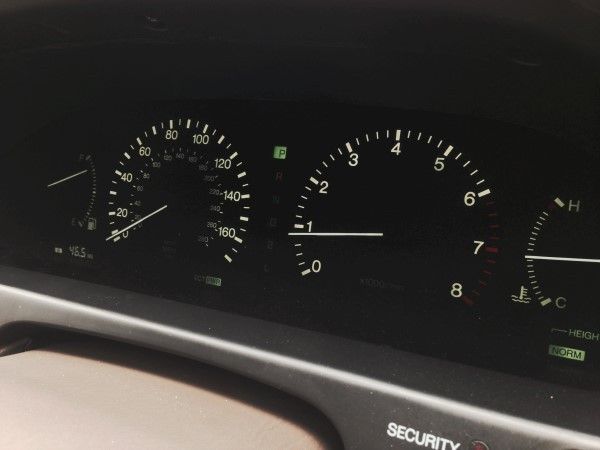 The first luxury tenet can be explored here: Comfort. From the squish of the wide leather seats, the expansive footwell, the easy controls and the lack of noise - the LS is a comfortable travel space.
The second comes soon after: Lack of effort. The four-litre V8 produces just 238 horses and 258 pounds-feet, outpointed by many a hot hatchback. But it moves with little pressure on the throttle, slides through the ratios of its four-speed automatic transmissionand gathers pace without any strain.
Kickdown elicits a muffled woof from the motor up front and greater progress - not fast, but brisk enough to quell frustration. Motorway speeds, as tested on Millbrook Proving Ground's high-speed bowl, come naturally to the LS. Greater-than-motorway speeds - ours fell a whisker over 100 - bring greater noise, but little more fuss. 70 in many normal vehicles is still louder.
Handling is not an important characteristic of the luxury car, I'd argue. The LS400 is not a corner-carver, but it does corner and it does so with grace. The suspension is soft and the tyres tall - great for the ride quality on already-cosseting air springs. The steering is light - great for your stress levels.
Space is a third, vital tenet of the luxury vehicle. The LS400 has plenty - though my journey was undertaken alone, three other adults could have comfortably joined me. None would complain.
In fact, perhaps the LS400's greatest skill is that few would bat an eyelid if you turned up to chauffeur them around in one today. No truly important aspect of the car is lacking beside today's luxury vehicles. Some, like the ride quality and seat comfort, are possibly better.
Verdict
There's no doubt that modern vehicles have redefined what customers expect of regular vehicles, but the best older cars - the LS is now nearly 25 years old - are as easy to appreciate now as they were in their day.
That you can now pick up an LS400 of similar age (if not similar condition to Toyota UK's beautifully-kept version) for a thousand pounds or so - a couple of payments on a diesel 3-Series, or similar - just makes it even better. Nobody will be fooled by your posh 1990s Toyota when they climb in, leather seats or not. But by the end of your journey, they might just be wondering how far cars have really progressed in recent years...
Lexus does, of course, produce a modern equivalent to the car you see here. Check out our full summary of the current Lexus LS alongside reviews, stats, photos and videos!