2017 Hyundai i30 price, specs and release date
The next generation Hyundai i30 will go on sale in early 2017. It'll face stiff competition from established rivals including the Ford Focus, Vauxhall Astra and Volkswagen Golf. The new model will feature a raft of new safety features not found on previous Hyundais. The hatchback will also be fitted with the Korean firm's new turbocharged 1.4-litre petrol engine.
The i30's fresh design features a bold new grille, set to be a trademark of Hyundai models of the future, and is flanked by slender LED headlights and daytime running lights neatly tucked into the air intakes. While we're not sure whether it'll stand out in a company car park, it has a purposeful look featuring twelve body colours and three alloy wheel designs.
The minimalist interior features fewer buttons than the outgoing model with simple air conditioning controls and an eight-inch touchscreen infotainment system. The three-spoke, multifunctional steering wheel lets you control to the infotainment while keeping your eyes on the road.
The i30 claims segment-leading roominess for all onboard and boasts a 395-litre boot, larger than the segment yardstick Volkswagen Golf with its 380-litre load bay. An optional panoramic sunroof can be specced to give a light, airy feel to the cabin. Cloth and leather seats are available in various colour combinations and patterns.
There are a range of petrol and diesel engines to choose from with the new 1.4-litre T-GDI grabbing most headlines. Producing 140hp, the turbocharged powertrain can be partnered with either a six-speed manual transmission or a seven-speed dual-clutch automatic transmission. The turbo has been retuned over the last model, boosting power and efficiency in conjunction with a 14kg weight reduction.
A three-cylinder, turbocharged 1.0-litre will be the most fuel-efficient petrol in the range, but still provides 120hp mated to a six-speed manual transmission. The least powerful entry-level petrol engine is a non-turbo 1.4-litre. A 1.6-litre diesel engine is available in three states of tune – 95hp, 110hp and 133hp – with either manual or an optional automatic 'box.
The i30 has undergone in-depth testing on the public highway and the Nurburgring race circuit to pinpoint a careful balance between comfort and handling. Hyundai says this has delivered more responsive handling and excellent compliance over bumps – a byproduct of more advanced multi-link rear suspension.
The i30's drive towards enhanced safety brings a collection of driver aids to minimise the chance of accidents. Autonomous emergency braking, blind spot detection and the speed limit information function are just a few of the safety features that can be found in the i30.
The i30 will make its first appearance at the 2016 Paris Motor Show in October and can be expected to hit UK roads early next year. While no official prices have been stated, it's unlikely to be vastly different to the current i30 meaning an entry-level price around £15,000 is plausible.
Save money on your Hyundai i30
Before the new model is released, Hyundai dealers will typically offer progressively bigger discounts on the outgoing model. Put the current Hyundai i30 in our car configurator to see the deals carwow could help you get. For more options, check out our car chooser tool, regularly updated deals page or our handy PCP calculator.
Hyundai i30 latest news (updated August 2016)
Hyundai has released teaser images of its new i30 – a compact hatchback that the Korean manufacturer hopes will tempt buyers away from rivals such as the Ford Focus and Peugeot 308.
These dark and moody images don't reveal a whole lot, but they do tell us that the new i30 gets classy features such as complex creases on the bonnet and an intricate design for the headlights. A more significant feature is Hyundai's cascading grille, which in time will be rolled out across the range.
The result is a car that (from the little we can see in the pictures) looks custom built to take on the class-leading Volkswagen Golf – a car that holds a reputation for quality that none of its direct rivals have yet matched.
If you want more proof of this, just look at Hyundai's recent signing of Peter Schreyer – the man responsible for the show-stopping original Audi TT. He knows a thing or two about building quality products that will appeal to Europeans and, unsurprisingly, has been tasked with overseeing the i30's design.
Developed in Germany, the new model will offer more interior space than the current i30 and will get a revised engine range. Petrol models are likely to use the new 1.0-litre that was recently added to the smaller i20. Its three-cylinder design would allow for much lower running costs than the current crop of 1.4 and 1.6-litre models, while its turbocharger will ensure that the downsizing doesn't translate into a loss in performance.
For the first time, the i30 will also be offered in high-performance 'N' guise – a name derived from Hyundai's research and development facility in Namyang, South Korea. Prototypes have already been spotted testing at the Nurburgring Race Circuit wearing the current model's bodywork. Keep reading for all the latest on Hyundai's VW Golf beater.
Hyundai i30 price, specs and release date (updated October 2015)
The 2017 Hyundai i30 has been seen brake testing in the Alps (pictures from worldcarfans). The third generation of Hyundai's VW Golf, Ford Focus and Peugeot 308 rival is set to offer improved efficiency, more space and will spawn an 'N' (named after Hyundai's Namyang R&D centre near Seoul) sub brand challenger to the competition's hot hatches.
Although the car pictured has fabric covers over most of its bodywork, underneath it seems to be very close to the finished article.
Its styling doesn't look to be a radical departure from the old model, but a chrome-framed grille with horizontal metal bars would be a match for the new i40 and would give the premium look needed to take on the likes of the VW Golf and Ford Focus.
The covers also seem to hide a roof-mounted spoiler and a trailing edge to the bottom of the rear windscreen, which should improve aerodynamics and thus boost fuel efficiency – something that's very important to buyers.
If all that's true then the new i30 could bear more than a passing resemblance to the 2016 Hyundai Elantra GT (below) that's currently on sale in foreign markets including the US and Canada. Arguably its sleek styling would be as appealing to European buyers as it is to North Americans.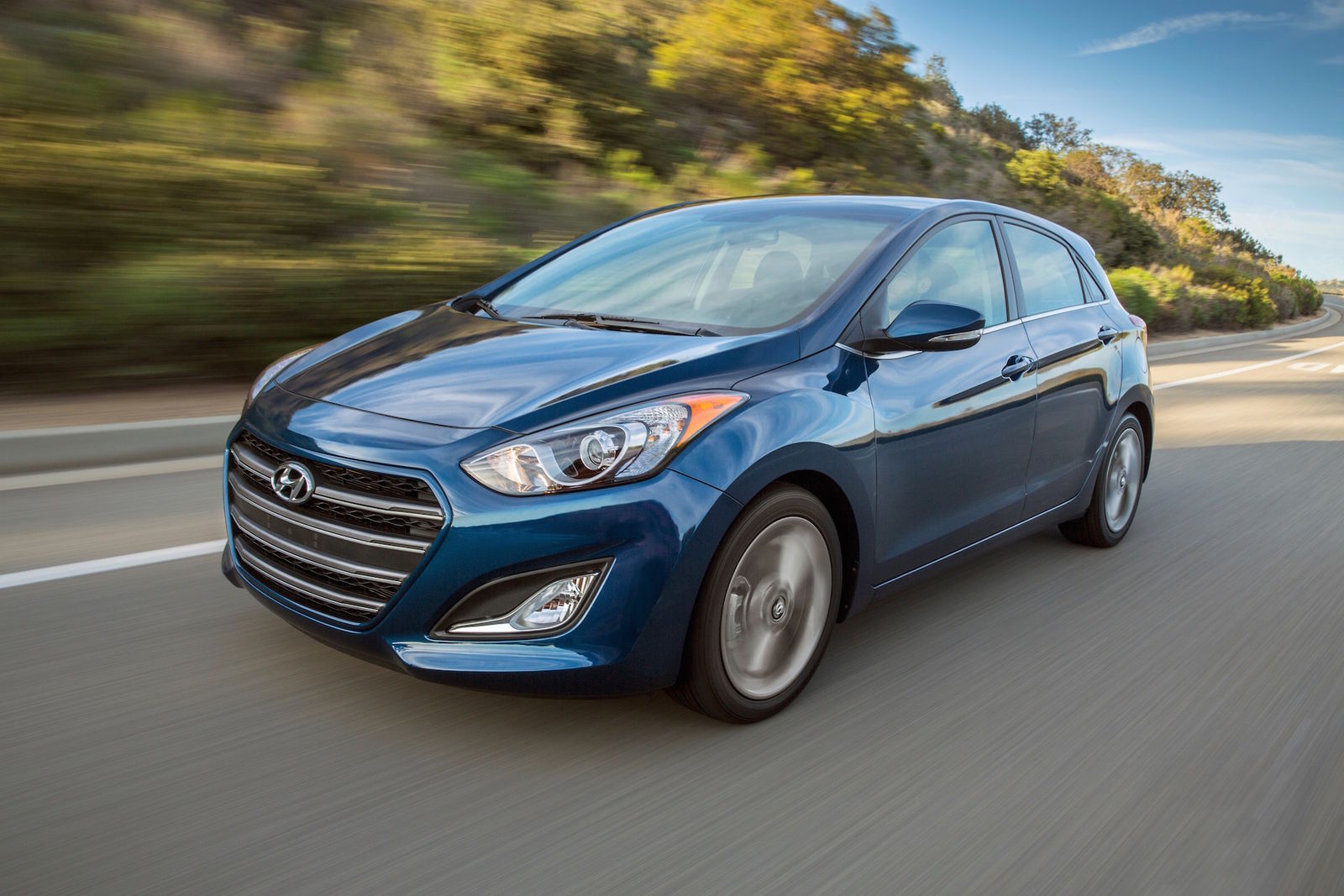 2017 Hyundai i30 interior
Rumour has it that the new i30's interior will also share much in common with the Elantra's (below) and, looking at the pictures, it's easy to see why. The mess of buttons you'll find in the current i30 has been replaced with something that looks far more logical and easy to navigate.
Much of that intuitiveness comes thanks to the inclusion of a large infotainment screen that would operate secondary controls, such as the car's stereo, and to relay driving information such as fuel economy, average speed and range.
The facelifted i40 will soon feature Android Auto, which can mirror the screen of your Android smartphone and also makes it very easy to connect. Also seen in the i40 is TomTom live, which provides up-to-the-minute updates on things including weather and traffic. Both are highly likely to feature in the new i30
2017 Hyundai i30 engines
It doesn't take a genius to work out what the engines destined for the new i30 could be. Called Kappa, these petrol units are destined to be fitted to the new i20 in the coming months, where they will be offered in 1.0 and 1.4-litre capacities.
Following the now familiar route of a small engine boosted by a turbocharger for extra power, the smaller of the two has just three-cylinders but produces 118hp. Although figures have yet to be revealed, rival manufacturer's can return fuel economy of around 60mpg and CO2 emissions of around 115g/km (for annual road tax of just £30) from similar units.
The 1.4-litre four-cylinder model will be much better suited to out-of-town driving thanks to turbocharged power of around 150hp (what VW gets from its 1.4). It too should be capable of near-60mpg fuel economy and should cost about the same as the smaller engine to tax.
Diesel power is likely to come from a re-worked version of the current 1.6-litre CRDi engine. Power produced from it currently ranges from 110 to 136hp with fuel economy of nearly 80mpg possible.
There's also talk of a hybrid model to take on the Golf GTE, but very little is known about it at this stage.
2017 Hyundai i30 N
Sure to grab the attention of enthusiasts is news of a performance-oriented model called the i30 N. The 'N' comes from Hyundai's Namyang R&D centre near Seoul. But we like to think it's also a salute to the tough Nurburging race circuit in Germany, where the car has already been spotted testing by Motor Authority.
A performance model would not only provide a rival to hot hatches such as the Golf GTI and Ford Focus ST, but would also add some much needed appeal to cheaper models in the range.
It is likely to use the same 1.6-litre engine fitted to the current i30 Turbo. In that application it produces 190hp, but we would expect to see a significant power hike in the N model. The 270hp Peugeot 308 GTi shows how much grunt it's possible to extract from a 1.6-litre petrol. A 0-62mph time of under seven is pretty much a must these days.
To compete with rivals, you can expect the N to come with a sporty body kit, bigger brakes and a limited-slip differential (LSD) for extra grip when accelerating out of corners. 
2017 Hyundai i30 price and on-sale date
The new i30 will be unveiled on 7 September 2016 before going on show to the public at the Paris Motor Show in October.
Confirmed prices are a someway off, but expect the basic car to cost about the same as the current entry-level model – around £15,000. The N version will be the new range-topper and will cost significantly more than the £23,000 Hyundai asks for the current Turbo.
What now?
News of the new model means only one thing to canny car buyers – you can expect big savings on the current model. So why not check out our Hyundai i30 deals page, where you can make a healthy average saving of £2,400 (at the time of writing) on the price of your new i30, if you buy it via one of our trusted Hyundai dealers.