2018 BMW 3 Series G20 price, specs and release date
Images courtesy of Car Scoops show the new BMW 3 Series undergoing on-road testing. These spyshots also give us a sneak peak of what the new car's interior could look like when it goes on sale in 2018.
In addition to its subtly revised dashboard, these images show that the new 3 Series could come fitted with a digital instrument display, similar to Audi's Virtual Cockpit system. Read on for full details and pictures…
This new car's exterior wears the same heavy disguise as previous prototypes photographed testing on the famous Nurburgring race circuit. The side skirts have been removed and pre-production headlights and brake lights have been fitted to further conceal what the finished car will look like. Its basic proportions and distinctive window openings are mostly unchanged, however.
In the cabin, the instrument binnacle appears to sport a new digital display between the rev counter and speedometer. This screen could be used to relay a range of information to the driver – such as sat nav directions and the view from front and rear parking cameras – in a similar manner to Audi's excellent Virtual Cockpit system.
The dashboard features a broad horizontal strake behind the large central air vents that compliments a number of metallic trim pieces on the centre console and doors. There's a large infotainment system mounted above the dashboard that bears a striking resemblance to the unit fitted to the current car.
When BMW launches the new 3 Series in 2018, we expect it to cost roughly the same across the range as the current model. Entry-level versions could cost in the region of £25,000 while top-spec examples could set you back more than £40,000. A range of petrol, diesel and hybrid powered models will be available, as will a practical Touring Estate model and a spacious Gran Turismo version.
2018 BMW 3 Series price, specs and release date (updated June 2016)
BMW is preparing a replacement for its biggest seller, the 3 Series. The seventh-generation model has already been spied testing both at the Arctic Circle and on the Nurburgring race track. Spy photos courtesy of our friends over at autoevolution give us a vague idea of what to expect.
If you can't wait for the new model, check out our review of the BMW 3 Series or take a look at its talented rivals in our list of the best large family cars. For more options, head over to our handy car chooser tool.
2018 BMW 3 Series styling and interior
Spy shots of heavily disguised prototypes give away little in terms of the new car's styling. However, BMW insiders have conceded that the existing 3 Series is a little too conservatively styled, so the replacement will likely appear sharper and more aggressive than ever.
The new model will grow marginally longer and wider than the current car which, combined with the extended wheelbase, should improve passenger leg and shoulder room.
The dashboard design isn't likely to be a radical departure from the current car's look, though expect a leap forward in quality and in the functionality of BMW's iDrive infotainment system, including higher resolution displays and gesture control functions.
2018 BMW 3 Series driving and engines
The next 3 Series is set to ride upon an all-new platform. The modular setup is lighter and stronger than the current chassis and its scaleable design will allow an enlarged version to underpin not only the next 5 Series, but the next generation of BMW SUVs.
The bulk of the 3 Series range will continue to use turbocharged 2.0-litre petrol and diesel engines, albeit with tweaks to improve performance and fuel economy. The lighter chassis will enable a 1.5-litre three-cylinder engine (already found in the 1 Series) to mark a new entry-level point to the petrol range, while a diesel borrowed from the Mini Cooper D (also a 1.5-litre three-cylinder unit) will make an appearance too.
Performance models – including the next M3 – will continue to use 3.0-litre straight-sixes. Power output will likely climb to around 500hp for the next generation super saloon.
At the more frugal end of the scale, plug-in hybrid options should expand beyond the current 330e. Expect a pair of petrol/electric models – one with a 1.5-litre capable of 30 miles in electric-only mode, and a 2.0-litre petrol, paired with higher-capacity batteries and more powerful e-motor for an electric range as high as 50 miles.
2018 BMW 3 Series specs
The next 3 Series is likely to benefit from many of the autonomous driving features pioneered by the 7 Series. This will include a self-parking function that allows the driver get out and, via the key, park and extract the car from tight spaces remotely. The car will also be able to drive itself in stop/start traffic at speeds of up to 40mph, change lanes when necessary and even overtake traffic when appropriate.
2018 BMW 3 Series prices and release date
The new BMW 3 Series will face stiff competition from the Mercedes C-Class, the Audi A4 and the Alfa Romeo Giulia. Given the Munich brand's current six-year life cycle for previous 3 Series models, the new car is expected to make its debut in 2018.
Save money on your next new car
Can't wait until 2018? The current car has plenty to offer, and you can learn all about it at our BMW 3 Series deals page. To learn more about what the BMW's rivals have to offer, read list of the best large family cars. For more options, head over to our car chooser.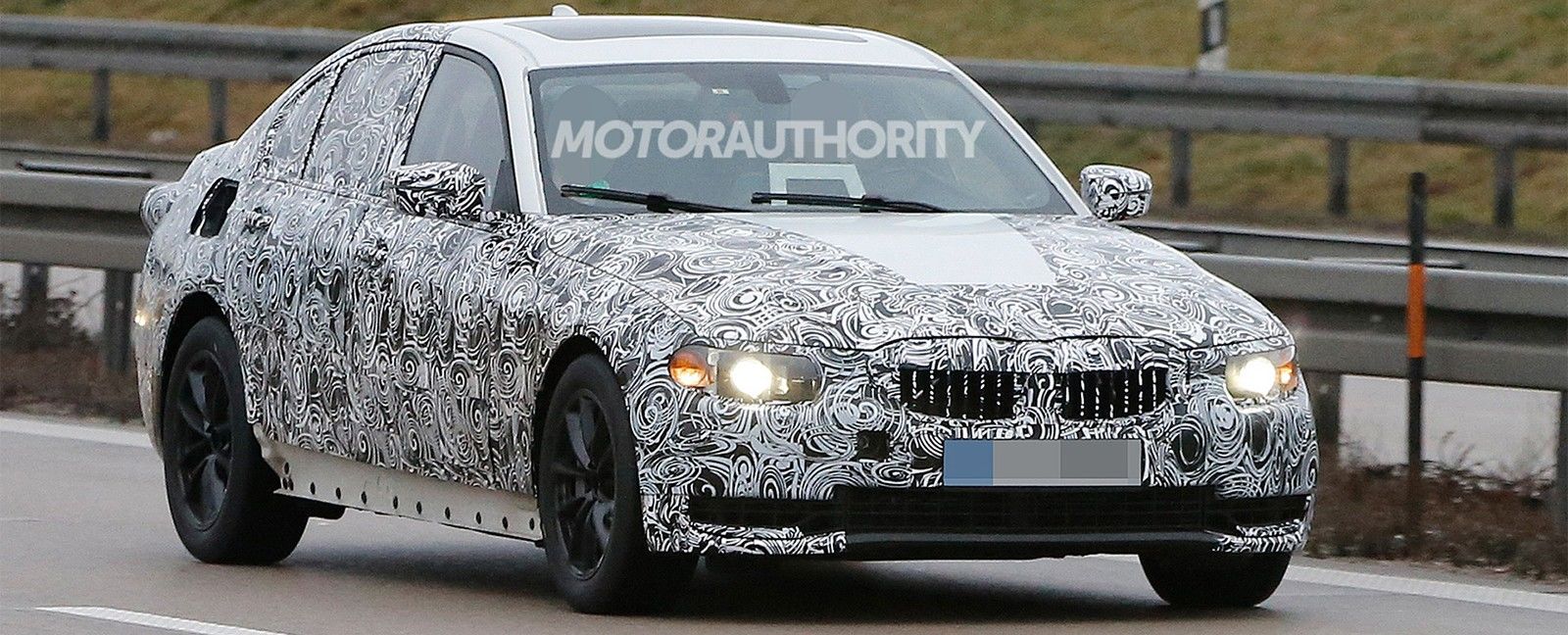 The BMW 3 Series has always been one of the most important benchmarks in the popular compact executive sector. Any time a new model is released, journalists and car buyers look to it as the car that rivals including the Audi A4, Mercedes C-Class and Jaguar XE need to beat. Pictures courtesy of Motor Authority reveal little about the way it looks but demonstrate its rough outline.
When the current BMW 3 Series was revealed it immediately shot to the top of the class, but it is starting to show its age – in (and we're being harsh here) areas such as the interior – even if it remains one of the best cars in class to drive. The new version due in 2018 is codenamed G20 and will be improved in every area to bring the fight to its competitors.
New BMW 3 Series styling
It'd be fair to say BMW's recent styling efforts have been somewhat unadventurous but the brand promises the new 3 Series will be more distinctive. Its proportions will be re-examined to make the whole car appear more muscular and give it a ground-hugging stance for an even sportier look.
Hallmarks including the famous kidney grilles and twin-element headlights will return, but could be larger than before to promote brand identity. The design will be based on BMW's new CLAR 'Cluster' architecture used on the new 7 Series – this modular platform allows significant weight savings for improved performance and cost savings for the manufacturer.
New BMW 3 Series interior
This is an area BMW needs to spend money on. The latest Mercedes C-Class has an interior that feels one to two classes higher than anything previously offered in this segment and the latest Audi A4 isn't far behind. BMW interiors have always been well built but we can expect heavy investment in materials, ergonomics and styling – all notoriously expensive areas of vehicle design.
We expect to see even more prominent positioning of the infotainment screen, digital dials replacing analogue ones and fewer buttons with more functions controlled by voice or BMW's infotainment system. Gesture controls first seen in the 7 Series are likely to make an appearance in the 3 Series allowing greater control without needing to take your eyes off the road. A head-up display is also predicted to make an appearance.
New BMW 3 Series driving
While the C-Class is now offered with air suspension for maximum comfort, BMW – being a sportier brand – will stick to traditional springs and dampers for the new 3 Series. Nevertheless, the car is set to get adaptive dampers, electronic anti-roll bars and torque vectoring  to help the 3 Series offer its famous blend of sportiness and refinement.
Like various Japanese performance cars of the '80s and '90s, the latest 3 Series could be offered with passive rear-wheel steering that adds steering input as the car leans through a corner. Like almost all new cars, the new 3 Series is also likely to get a longer wheelbase and wider track, which would improve grip and also allow for more interior space.
New BMW 3 Series engines
The engine range won't be hugely dissimilar from the current model's, but with improvements made to both performance and efficiency. The 136hp 1.5-litre three-cylinder turbocharged petrol unit found in the Mini Cooper and 2 Series Active Tourer is expected to debut on the new entry level 316i. The 2.0-litre four-cylinder version of this engine will be offered in the 320i and 328i with the latter producing around 260hp.
Entry level 316d diesel models are expected to get the 1.5-litre three-cylinder unit from the Mini Cooper D, with the larger 2.0-litre four-cylinder unit featuring in the 320d and 325d. More powerful 330d and 340d models will continue to use a 3.0-litre straight-six diesel engine with more than 300hp for strong performance.
Performance fans who can't wait for the new M3 and M4 get the option of a 340i featuring a turbocharged straight-six petrol offering more than 360hp. Finally, buyers who insist on four-wheel drive will want the rumoured M350i xDrive – using the same 3.0-litre engine it could offer up to 420hp for seriously potent acceleration.
Two plug-in hybrid models are predicted, one making use of the 1.5-litre petrol with either one and two electric motors and the other using a larger 2.0-litre version with more powerful electric motors. All conventionally powered versions should get the option of BMW's eight-speed automatic gearbox or the less desirable six-speed manual.
New BMW M3 and M4
If, however, you have to have the ultimate performance 3 Series, the M3 saloon and M4 coupe will join the range at a later date. While no details are confirmed, they are expected to use the 3.0-litre straight-six twin-turbo boosted by electric turbos for minimal lag and water injection first seen on the special edition M3 GTS. We expect around 500hp from these models channeled through the rear wheels for maximum driver enjoyment.
New BMW 3 Series specs
Like many premium German cars, ticking too many boxes on the upcoming 3 Series could see the price skyrocket. Despite this, it's expected that the new model will get more standard equipment than the outgoing one, bolstered by the fact that all BMWs sold in the UK now come with satellite navigation as standard.
Autonomous driving features are likely to play a part in the new model. At the very least, we'd expect to see systems that steer and brake the car in heavy traffic for you and ones that hold your position and steer you around a motorway. This will be in addition to the expected automatic emergency braking keeping an eye out for errant pedestrians and hidden dangers.
New BMW 3 Series price and release date
Prices aren't expected to move far from their current positions – this means an entry level 3 Series will cost around £25,000 rising to more than £40,000 for top models. M3 and M4 variants will push this up to around £60,000. There's no word on the official release date but a debut at the Geneva Motor Show in 2018 is possible.
Save money on your next new car
If you can't wait for the new BMW 3 Series, check out its rivals the Audi A4, Mercedes C-Class and Jaguar XE. For more help narrowing down your ideal car, check out our car chooser.