The best cars for less than £100 per month
Car hunting on a tight budget? We've picked 10 of the best cars on sale for £100 per month or less. These deals are based on Personal Contract Purchase (PCP) finance agreements.
These PCP deals require you to pay a deposit. If you trade in your old car, or increase the monthly payment amount, you could see this initial payment amount reduced. If you'd prefer to do away with the deposit completely, take a look at our list of new cars available with no deposit finance.
Once you've found your ideal car, use our car configurator to find out how much carwow could help you save or, to get a better idea how much your monthly payments could be, check out our PCP calculator.
vw Up
The brilliant little Volkswagen Up is not only funky to look at and fun to drive, but its impressive build quality and refined ride make it seem grown-up in a way few rivals can match.
The entry-level Take Up trim – complete with electric windows, remote central locking and a three-year or 60,000-mile warranty – can be snapped up for £99.40 in three-door form. Sign a four-year agreement with a £2,500 deposit and you'll be able to drive up to 5,000 miles per year in your new car. These figures were obtained through the Volkswagen finance website.
Check out the Volkswagen Up deals page to view the latest savings.
Skoda Citigo
The Skoda Citigo is mechanically identical to the Volkswagen Up – only the badges and a few minor cosmetic details separate the pair. Costing just £75 per month, the Citigo Colour Edition represents something of a bargain. This version comes loaded with black alloy wheels, front fog lights and a portable sat nav system as standard.
Buyers will need to stump up a £2,446.49 deposit, however but Skoda will chip in with a helpful £500 deposit contribution. As an added bonus, this four-year deal is offered with zero per cent APR, too. The good news doesn't stop there – Skoda throws in a pre-paid fuel card worth £500, so you'll be able to benefit from months of free petrol top-ups too. These figures were obtained through Skoda's Citigo offers page.
Spec up a Skoda Citigo through our deals page to see the savings on offer.
Hyundai i10
The Hyundai i10 may be one of the smallest cars on the road but its tall body and spacious five-door layout mean that there should be few grumbles from those in the back. It rides smoothly too, and can take even the roughest city streets in its stride.
Mid-range SE models offer air conditioning, electric windows all round and USB and AUX connections as standard yet will set you back just £99.95 per month with a £2,000 deposit. This four-year deal even comes with a £500 deposit contribution from Hyundai, too. If you're able to fork out £3,997 at the start of the contract, your monthly payments can dip to as low as £31. These prices were obtained via the Hyundai i10 offers page.
See the reductions available by finding your ideal Hyundai i10 using our deals page.
Vauxhall Corsa
The Vauxhall Corsa caters for those looking for a sporty hatchback with eye-catching styling and a well-bult interior that won't cost the Earth to run.
The Corsa Sting, resplendent with white racing stripes on the bonnet and larger 16-inch alloy wheels, costs just £99.88. A £2,924 deposit kicks off the four-year deal but you'll be limited to 8,000 miles per year. These figures are taken from Vauxhall's finance calculator.
Head over to the Vauxhall Corsa deals page to see the latest discounts available.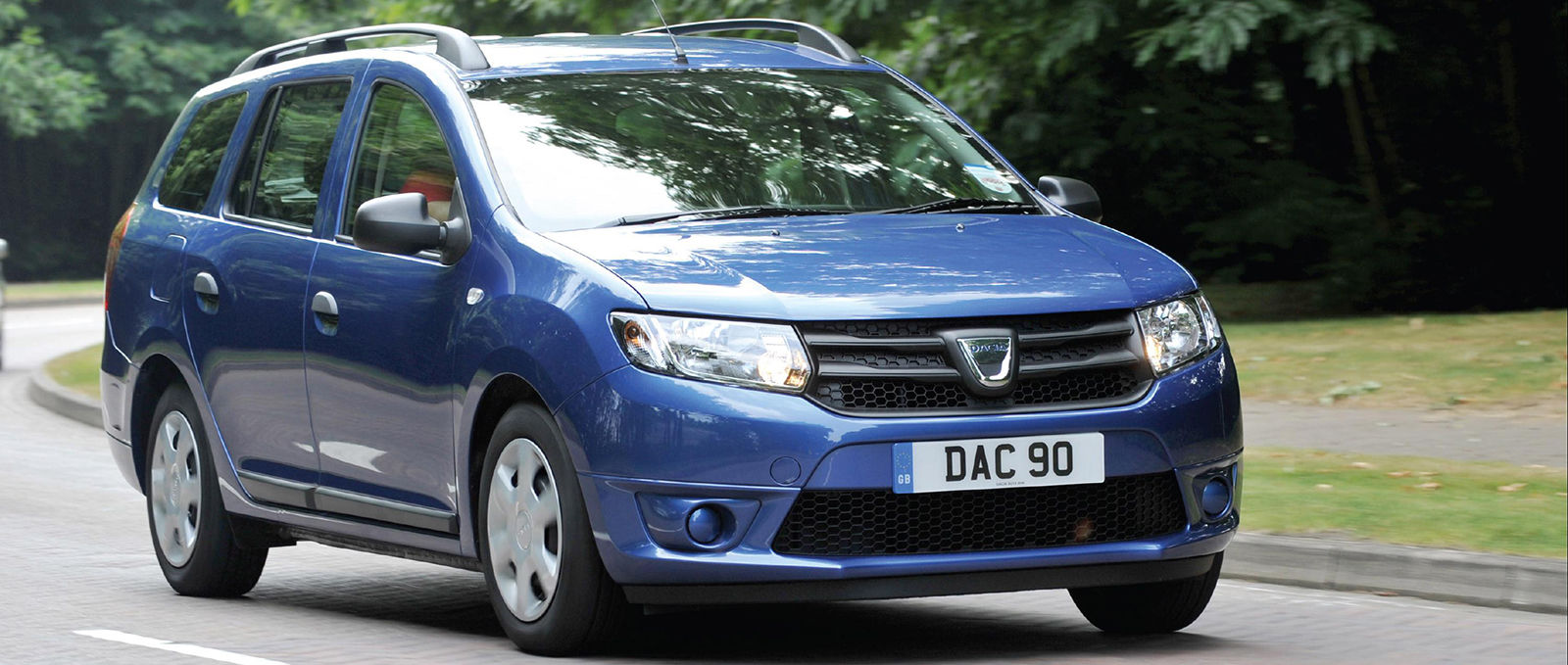 Dacia Logan MCV
Few would expect a car as spacious as a Dacia Logan MCV to cost less than £100 per month. Not only does it boast a spacious cabin, but its enormous 572-litre boot is comfortably larger than anything else on this list.
The Ambience model is the trim level to go for – electric front windows, isofix points and Bluetooth connectivity are all fitted as standard. By tweaking the representative offers found on the Dacia website, a £1,400 deposit could be enough to bag the Logan for £98 per month on a 49-month agreement. This PCP deal comes with 7.9 per cent APR and includes a £500 deposit contribution from Dacia.
Take a look at the Dacia Logan MCV deals page to spec up your perfect car and see how much you could save.
Suzuki Swift
The Suzuki Swift is one of the best handling cars in its class, making it a great choice for those on the hunt for a fun supermini. It's well equipped, too – even the entry-level SZ2 trim features LED daytime running lights, USB connectivity and electric front windows as standard. It's powered by a peppy 1.2-litre petrol engine that combines decent performance with an official fuel economy figure of 57mpg.
In SZ2 trim the Swift is available for £99 per month – helped by a competitive 2.9 per cent representative APR figure. A £1,891 deposit is required up front and the agreement lasts for 49 months. These figures can be found on Suzuki's offers page.
See how much you can save on a new Suzuki Swift by trying out our deals page.
Peugeot 108
Did you think it'd be possible to scoop a convertible for less than £100 per month? The Peugeot 108 Top – complete with a retractable fabric roof – could cost you as little as £98.98 per month after you've placed a £3,200 deposit. This deal runs for 37 months and includes a £420 deposit contribution from Peugeot.
This dinky roofless city car is offered with a cheap-to-insure 1.0-litre engine capable of returning 68.9mpg. Choose your new Peugeot in Active trim, and it'll come with air conditioning, electric windows and a seven-inch touchscreen infotainment system as standard. The figures were sourced from Peugeot's own finance offers page.
Find all of the latest discounts for the Peugeot 108 using our deals page.
Toyota Aygo
The funky-looking Toyota Aygo is offered with a broad scope of customisation options including a range of two-tone paint options to help it stand out on the road. Once on the move, its compact dimensions and thrummy 1.0-litre petrol engine make town driving a pleasure.
X-play trim comes as standard with a host useful touches including heated door mirrors, a DAB digital radio and Bluetooth phone controls mounted on the leather-trimmed steering wheel. Place a £2,055 deposit and an Aygo in this spec could be yours for precisely £100 per month for 42 months. There's also a £500 deposit contribution from Toyota to sweeten the deal. The figures were obtained from Toyota's own finance quote generator.
Try out the Toyota Aygo deals page to see how much money you could save on a new car.
Skoda Fabia
The Skoda Fabia makes a strong case for itself in the supermini class thanks to its roomy cabin, generous boot and refined road manners. The base model is cheap to run, too – its 1.0-litre engine is not only good for a claimed 60.1mpg but should be cheap to insure.
The Fabia squeezes into the £100 budget on a 36-month deal. Place a £2,110 deposit up front – backed up by a further £500 contribution from Skoda – and the Fabia S can be had for £99.93 per month. The S model is the entry point into the Fabia range, offering Bluetooth connectivity and a DAB radio as standard. These figures came from Skoda's own finance calculator.
Want to save money on a new car? Head over to the Skoda Fabia deals page to find all of the latest carwow offers.
Nissan Note
The Nissan Note sets itself apart from our other sub-£100 stars thanks to its mini-MPV body style – its tall roof offers loads of headroom and ample cabin space inside. Rear seat passengers are offered decent legroom but you can slide the rear seats forward to make the most of the Note's 411-litre boot.
A hefty £5,006 initial payment is required to help the Note dip below the £100 mark, but the four-year deal also includes a generous £1,700 deposit contribution. The Note comes with a raft of standard equipment, too, including alloy wheels, air conditioning and Bluetooth integration. These figures were obtained through the Nissan finance calculator.
Take a look at the Nissan Note deals page to see how much carwow could help you save.
Save money on your next new car
Like the look of our top 10? Our new car deals page will help you to find great deals on all the models featured here. If you can't quite figure out what to buy, our car chooser is the place to go or, if you've already picked your perfect new car, use our PCP calculator to get a better idea how much it could cost.