Citroen Berlingo Review – Actually Rather Charming?
The Citroen Berlingo Multispace shares its chassis with a van. And it is quite ugly. And not very fast. And gets expensive very quickly if you are foolish with the (very long) options list. Hard to see then why it has attracted such a fanatical and devoted following.
So we asked Citroen to lend us one for a week to see if we could burrow beneath the ungainly exterior to uncover its hidden charms with us. Did we succeed? Read on, to find out
Exterior
The Berlingo is nowhere near as ugly in real life as it is in photos, especially if you choose a subtle and restrained metallic silver colour like Citroens Press Office did in this case.
Its bigger than you imagine too, although the square shape does make it easy to place when parking, minimising the adverse impact of all that metal.
Lots of glass makes it airy inside, something that the high roofline reinforces. And, er, thats it. Talking about the Berlingos exterior is one of the harder tasks Ive had this year
Interior
The interior is easier to write about as its so damned funky. That boxy, upright body gives enormous levels of headroom inside. So much, in fact, that even with the roof-mounted cubby boxes installed, there is oodles of room; Im six foot three, and could drive the Berlingo wearing a top hat. Probably.
The driving position is a bit upright, but everything falls to hand easily enough, although a bit more lateral support from the front seats would be nice.
The sliding rear doors are a genuine boon, making for a stress-free car-park experience, and are so easy to operate that my eight-year-old managed them by himself. The Berlingo isnt just tall either, its wide so three-abreast seating in the back is a cinch. Lots of legroom too, which meant that I wasnt being kicked in the back by a grumpy teenager on every journey, which made a nice change
Storage is the Berlingos forte, and after a week I was still discovering new hidey-holes. A place for everything and everything in its place is the catchphrase here and is one that the Citroen design department must have had as their screensaver. Doors, roof, under-floor everywhere you look there is a neat, thoughtfully designed storage space. Its really quite brilliant.
And the huge boot becomes enormous when you fold the rear seats down, turning the Multispace into a Transit-sized van. No one needs more space than this unless they are a travelling circus, in which case they might need to buy two Berlingos. But no more.
Driving
The Berlingos role in life is that of an easy going packhorse, rather than a temperamental racehorse, so progress is rapid rather than fast. Confused?
The Berlingo doesnt accelerate especially quickly, taking 14.3 seconds to reach 62mph if you choose the HDi 90 model that I drove. Nor does it impress with its terminal speed of 102mph. However, like Citroens of old, the key to rapid progress is to let the car lean into the bend, let it compress the suspension and settle (a state of affairs that takes considerably less time than it takes to describe it) and then nail the throttle. Driven like this you rarely need to brake for bends leading to some pretty darned impressive journey times. Does tend to make the kids travel sick, though.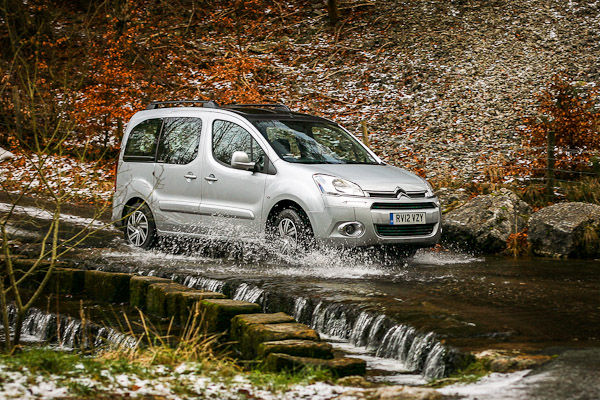 When you arent trying to beat your PB on the way to work the Berlingo displays a supple ride that resists body-roll and potholes with equal aplomb. Everything operates with a smoothness that is beguiling, and it was my first choice of transport, despite overlapping for a couple of days with a four-wheel-drive SUV that was (on paper) better suited to the snowy conditions.
And therein lies the boxy Citroens party trick; it never feels like a cheap car thats been dressed up in a party frock. It has a classless appeal that would see it falling into the hands of a wide demographic, something that Citroen should be proud of.
Engine
The 1.6-litre HDi 90 four-cylinder diesel engine produces 90bhp and 170lb/ft of torque, so it is a flexible slogger rather than a high-rev screamer.
The HDi 90 is a bit gruff, and even its mother wouldnt claim that it is exciting, but its a tough little thing and will return up to 54.3mpg according to the official fuel consumption tests. I suspect that most owners will get around 50mpg in day-to-day use, which is absolutely fine given the Berlingos prodigious carrying capacity.
Ive driven the HDi 110 previously and dont remember it feeling much more powerful, so most will be better pocketing the difference and opting for the less powerful engine.
Value for Money
The Berlingo Multispace is reasonably cheap to buy – if you keep away from the options list: ours cost well over 16,500, which is just too much. It also has a loyal following, so you should find it easy to sell on after the three-year, 60,000-mile warranty has expired.
And Citroen has been known to do the odd showroom deal, too
Verdict
The Berlingo is a charming car that is extraordinarily easy to live with. I found it easy to overlook its faults (and there arent many of them) and discovered a blend of practicality and space that makes it ideal for anyone needing a cavernous everyday car.