Top 10 best convertibles you can buy
The British weather doesn't usually involve sunshine, but the convertible car sector remains hugely lucrative in the UK and it's easy to see why. Driving down country lanes, wind blowing through your hair and blue skies up above – it can't get much better than that. Here's a list of the best convertibles on the market at the moment.
If you've already picked your perfect drop-top, our handy PCP calculator will help give you a better idea how much it could cost.
1. Mazda MX-5
Not only does the Mazda MX-5 look suitably sporty, but it handles brilliantly and has a reasonably smooth ride too. The latest version of the popular sports car has been designed to be a modern-day interpretation of the original, making it incredibly light and nimble.
It comes with two punchy petrol engines and is well equipped. The interior has a high quality, simple and stylish feel and there's a decent amount of boot space considering its compact dimensions – that's thanks mostly to the MX-5's fabric roof. With such a sharp exterior and fun handling, this small sports car is an absolute steal.
2. Audi A3 Cabriolet
The A3 Cabriolet is a capable all-rounder, with a classy, plush cabin, quiet roof-down drive and strong choice of engines. As you'd expect from an Audi, the interior is made of high quality materials, comes with plenty of standard equipment and has a luxurious feel.
The fabric roof delivers surprisingly good refinement and there's plenty of space for two up front. There are seats in the back but these are probably best suited for children (or storage). The A3 Cabriolet doesn't come cheap but you do get what you pay for with this premium convertible.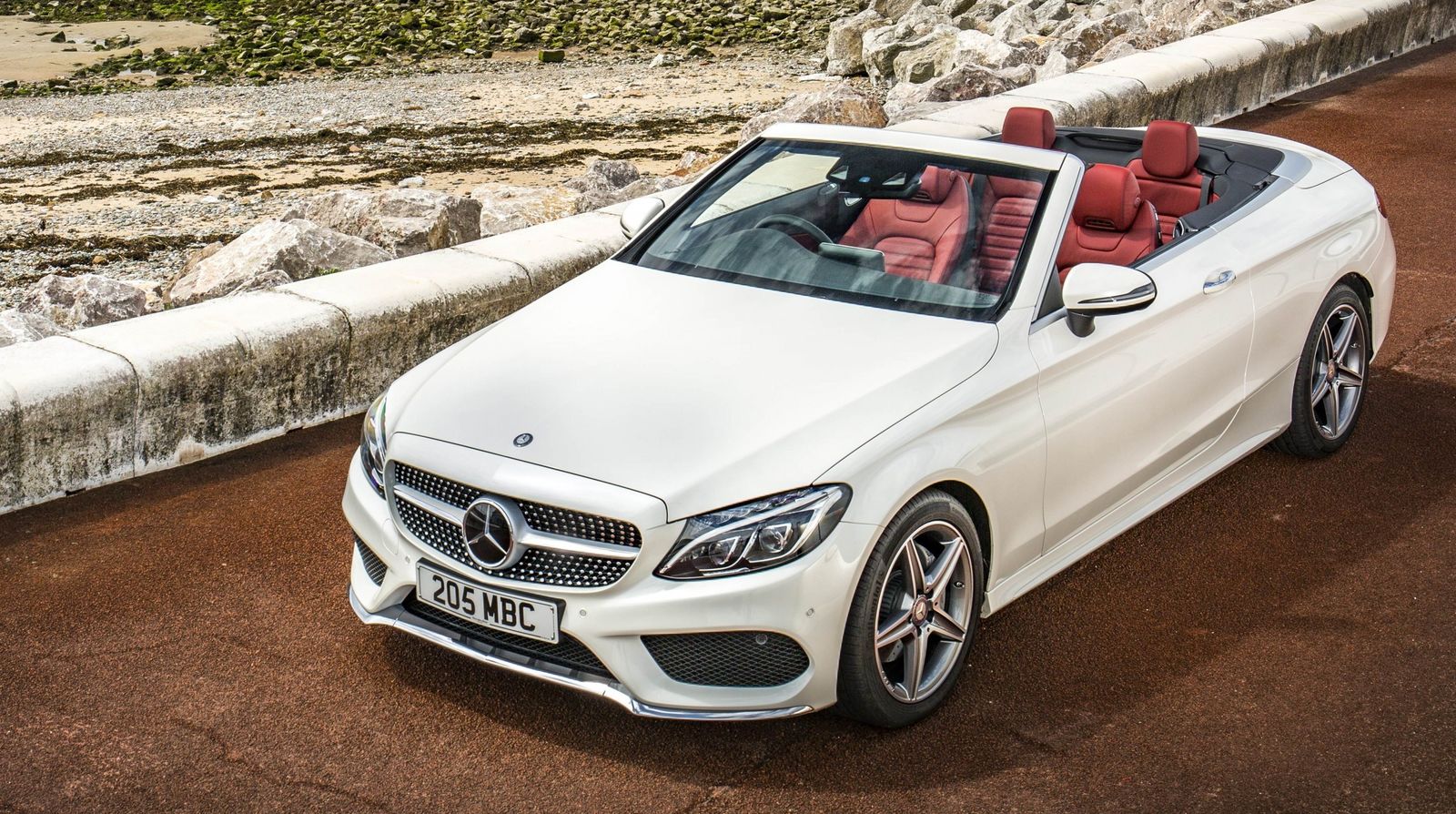 3. Mercedes C-Class Cabriolet
The C-Class Cabriolet continues Mercedes' tradition of building classy, four-seat convertibles. The car features striking looks and a beautifully-constructed interior, with innovative systems such as the Airscarf warm air vents and Aircap wind deflector.
It's well kitted out and a wide range of customisation is available to really make it your own. There's plenty of space up front and incredibly comfortable seats, but things are a bit more cramped in the back. Good refinement and boot space are added bonuses, and there's always the V8-powered AMG model if you want ludicrous speed too.
4. Audi TT Roadster
The A3 Cabriolet is one of Audi's more practical premium convertibles but if it's sportier looks and performance you are after, the TT Roadster is a better fit. The striking exterior is matched by an impressive cabin, with a stylish design and plenty of gadgets.
It suffers a bit more with wind noise and there's only room for two, but that does mean there's a decent amount of boot space for luggage or shopping – even if the opening itself is a bit narrow. The mix of edgy looks, premium feel and sportier handling makes the TT Roadster a desirable option.
5. Jaguar F-Type
Bold looks, a beautifully old-school sound, plush interior and agile handling – what more could you want from a convertible? Jaguar has merged style and substance to create the F-Type, a rapid sports car that's fun to drive and great to look at.
The interior is a little on the dated side and the boot isn't particularly generous, but it seats two comfortably, is well built and equipped with the latest gadgets you'd expect on a premium sports car. You'll be making more regular trips to top up the fuel tank but that's a minor issue many will overlook for the F-Type's kerb appeal, performance and styling.
6. Fiat 124 Spider
The Fiat 124 Spider is a small convertible with a big personality. Its beefy, retro looks are coupled with excellent handling to create an accomplished little sports car with bags of character.
The 1.5-litre turbocharged petrol engine is also worth highlighting and brings a new dynamic to the 124 Spider. The interior is a little bland and cramped, with a small boot too. But if you can get over that, it's a great little fabric-top convertible and a worthy rival to its closely linked cousin, the Mazda MX-5.
7. BMW 4 Series Convertible
The 4 Series Convertible picks up the standard traits we all expect from a BMW. There's smart styling, great ride quality, a range of efficient and powerful engines and impressive interior build quality.
By cabriolet standards the cabin is roomy and can seat four with the metal roof down. But while it's more practical than a fabric top, the roof does take up more boot space when you want the wind in your hair and the car is heavier than its rivals, which takes a little away from the handling.
8. Mercedes S-Class Cabriolet
The S-Class Cabriolet is one of the largest four-seat convertibles out there and is packed full of gadgets and tech. The classy exterior compliments the car's dimensions and is matched by the similarly smart interior, which is exquisitely finished, making it a very comfortable place to sit for a cross-continent roadtrip.
Up front it's perfectly spacious, while the back seats are more useable than other big convertibles. For a car of its size the drive is surprisingly enjoyable and it boasts a comfortable ride. The S-Class Cabriolet is expensive to run and pricey when you start to add options but if you're going for a super-premium four-seater convertible, that's not likely to bother you.
9. Fiat 500C
A full-length canvas roof brings added open-air appeal to the adorable Fiat 500. The standard car's agile handling, charming cabin and retro styling all remain, but fans of the 500's 21st century reboot can now get their hair messy with a drop-top roof.
There's not a lot that's different about the 500C compared to the standard version, other than the obvious canvas roof. It still features the same range of peppy engines, generous kit levels and creative customisation, making it a great combination of supermini sensibility and convertible flair.
10. Smart ForTwo Cabrio
The tiny dimensions of the ForTwo make it a great urban car, so the Cabrio is clearly aimed at city dwellers looking to soak up the sunshine. The supermini dimensions make the ForTwo Cabrio incredibly easy to park, but there's still plenty of space inside for two.
It isn't suited to motorway cruising and lacks the grunt required to confidently tackle country lanes, but the ForTwo is clearly in its element on the city streets. Running costs are unsurprisingly cheap and the extensive range of customisable options gives each car a unique look.
Brave enough to go topless this winter?
Found a car that takes your fancy? Even if you think you'll keep the roof on, take a look at the carwow configurator to see how what deals the UK's leading dealers will do on your ideal car specification. Our PCP calculator will help give you a better idea how much it could cost, too.