The ten fastest convertibles: dynamic drop-tops
Cabriolets are great for two things – making the most of the UK's long weekend we call 'summer' and attracting attention from passers by. If you're a driving enthusiast, however, those two things probably won't quite be enough for you.
We've taken a look at ten convertibles on sale today which add that all-important third dimension – speed.
10 – Ariel Atom 3.5R – 155mph
Our list starts with a car which may max out at a relatively modest 155mph, but the Ariel Atom 3.5 is the joint-fastest accelerating car here. Thanks to a supercharged 2.0-litre Honda engine producing 350hp and only 550kg for it to haul along, the Atom reaches 62mph from a standstill in a barely believable 2.6 seconds.
You'd have to spend nearly £800,000 on the next road car capable of that, which makes the £64,000 price tag seem like a bargain. Well, almost.
9 – Morgan Aero 8 – 170mph
Nothing sums up British eccentricity quite like Morgan – makers of the wonderful Three-Wheeler – but the Aero is the most potent model in its range. In this form, the 362hp BMW-sourced 4.8-litre V8 hauls the lightweight Aero 8 from 0-62mph in just 4.5 seconds, before reaching a 170mph top speed.
The styling may be bristling with old fashioned cues inside and out, but the advanced aluminium chassis forms an incredibly light and rigid structure, helping it feel as modern in the corners as it does along the straights. The removable roof may be somewhat impractical to remove and re-fit, but will you really care when you're having this much fun?
8 – Maserati GranCabrio MC – 179mph
The Maserati GranCabrio is a sensational grand tourer – it's big, heavy and seats four in impressive comfort. There are few other cars on the road with quite the same presence either – from whatever angle you look at it, the GranCabrio is an jaw-dropping machine.
The V8 under the bonnet produces a wonderfully tuneful 454hp, helping it on to a 179mph top speed. For the size, it even handles fairly adeptly. As Grand Tourers go, it's hard to find one that does it in more style.
Spec up your perfect Maserati GranCabrio in our car configurator to see how much you could save.
7 – Jaguar F-Type R Convertible – 186mph
The F-Type has been something of an instant hit for Jaguar. The car has been called sublime by pretty much every tester to slip behind the wheel. The R is the fastest of them all – the 543hp 5.0-litre supercharged V8 sees to that.
The two-seater has an old-school 'hot rod' quality to it's character – particularly the noise – but it's coupled with a wonderful poise in the corners, too. Not to mention the way it looks…
Pop the Jaguar F-Type in our car configurator to see the discounts available.
6 – Ferrari 458 Speciale Aperta – 199mph
The Ferrari 458's replacement, the 488 GTB, may be due to hit showrooms imminently, but the drop top version of the outgoing model is still one of the most thrilling and sublime cars money can buy. The Speciale Aperta is essentially a more extreme version of the regular 458 Spider – lighter, faster, and even sharper to drive. Testers love it.
Plus, you can add a racing stripe, which automatically makes it cooler than even the Fonz – Ayy!?
5 – Aston Martin V12 Vantage S Roadster – 201mph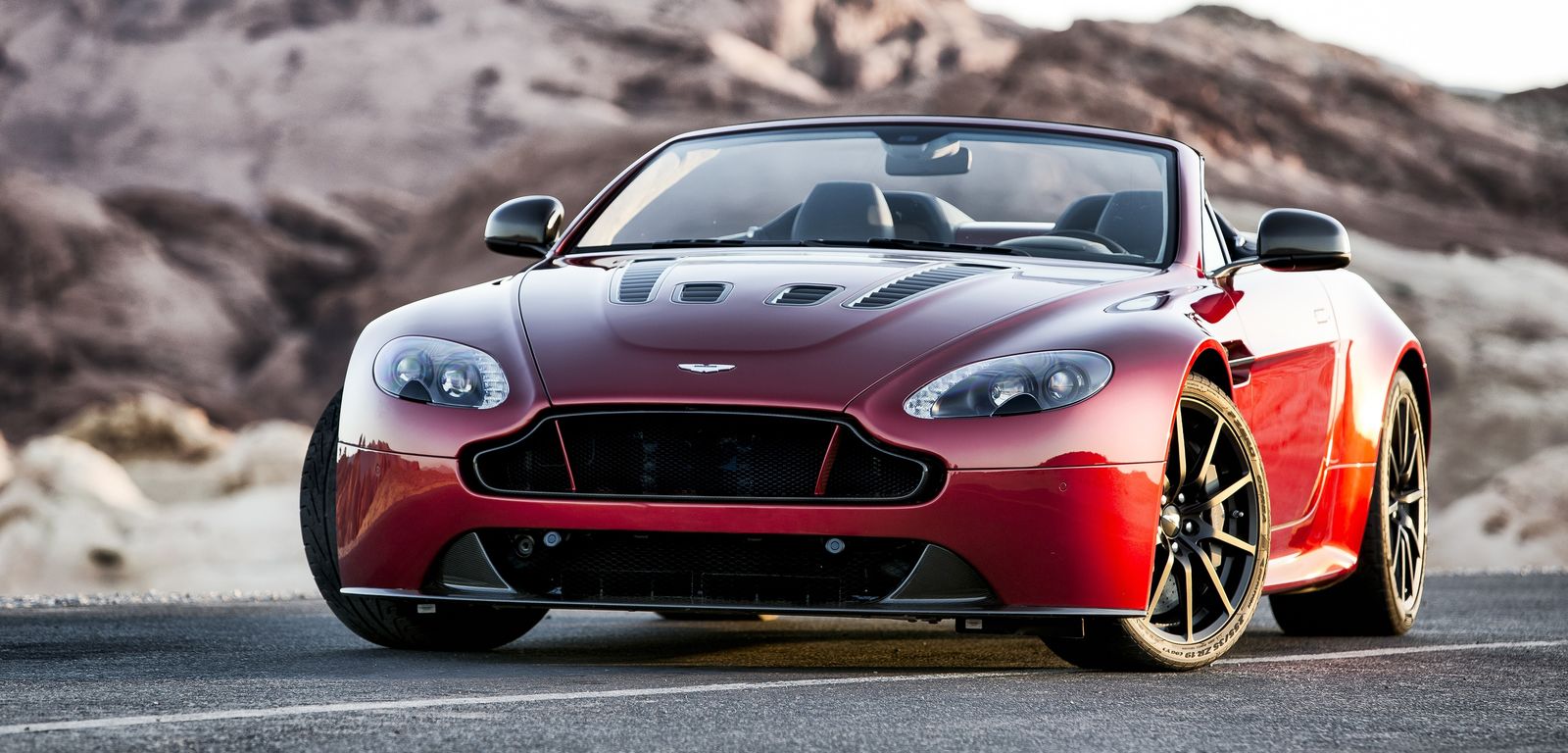 Now we're reaching some serious speeds. The Aston Martin V12 Vantage S Roadster is the first on our list to creep over the hallowed 200mph mark, and does so while blaring out a gorgeous V12 bellow.
It may be getting on a bit now, and the interior is starting to look dated. The way it drives, however, feels as contemporary as anything on our list. Despite the enormous power up front, the Vantage always feels tied down to the road.
4 – Bentley Continental GT speed convertible – 203mph
The Maserati GranCabrio may be an impressive country-crushing cabrio, but nothing does the convertible Grand Tourer thing quite as well as the Bentley Continental GTC. The huge 203mph top speed is courtesy of a 6.0-litre W12 producing 626hp, and acceleration is mind-bendingly brisk, despite the enormous 2.5 ton weight.
When your right foot isn't mashed into the luxurious carpet, it's easy to appreciate the wonderful refinement and hand-built craftsmanship, entirely justifying the £172,000 price tag. Few cars blend performance and opulence better.
Pick your ideal Bentley Continental GTC in our car configurator to see what deals are on offer.
3 – McLaren 650S Spider – 204mph
McLaren's 650S – the brand's answer to the Ferrari 458 – is a stunning technical achievement. The car is constructed around a race car-inspired carbon fibre safety cell that is both safe yet incredibly lightweight. Squeeze a 641hp, 3.8-litre twin-turbo V8 behind the driver's head, and you end up with a 204mph supercar, which can smash through the 0-62mph sprint in just three seconds.
Thanks to a very clever adaptive damper system, the wheels remain incredibly well-controlled at all times. Not only does it handle with all the agility and ability you'd expect, but turn the suspension settings to 'Normal' mode and it rides better than most family cars, too.
2 – Porsche 918 Spyder – 211mph
Of the McLaren P1, the Ferrari LaFerrari and the Porsche 918 Spyder, the Porsche is the only drop-top. It's also the most 'hybrid' of the three. If you choose, the 918 will drive up to 12 miles on electric power alone. Before you've even asked the petrol engine for help, it'll reach 62mph in 6.2 seconds, but it's not until the two power units team up that things really start to get serious…
Combined, the electric motors and screaming 4.7-litre V8 produce 887hp. It all helps the 918 set a time of 6:57 around the arduous Nurburgring circuit. As McLaren and Ferrari have not yet revealed the times of their challengers, we'd suggest Porsche's lap is rather tough to beat…
1 – Lamborghini Aventador roadster – 217mph
Based on our three factors at the start – open-top driving, shouty looks and enormous speed – nothing ticks those three boxes more emphatically than the Lamborghini Aventador Roadster. Powered by a 6.5-litre V12 engine, and weighing only 50kg more than the coupe version, performance is frankly bonkers. 0-62mph is reached in three seconds flat, while top speed is 217mph.
It's the sort of car that you'd have a poster of on your bedroom wall as a child. All things considered, isn't that what fast drop-tops are all about?
These cars are all a little… Pricey. Any more affordable alternatives?
Mazda MX-5
Its top speed might not set the world alight – nor will the 0-62mph dash of 7.3 seconds trouble many contemporary hot hatches – but the Mazda MX-5 offers a pure feeling of driving enjoyment few cars can compete with.
A simple front-engined, rear-wheel drive layout mixed with a compact, lightweight body makes it the ideal summer companion. Best of all, you can buy one for little more than the cost of an entry-level Ford Focus. If speed isn't everything, then the Mazda might be the car for you.
Stick the Mazda MX-5 in our car configurator to see how much carwow could help you save.
Converted?
If you've fallen for any of the cars on this list, head over to our car configurator to see how much carwow could help you save. For more options, check out our deals page to see our latest discounts.