Peugeot 3008 Driven – How Effective Is Grip Control?
"Why dont you try a 3008 with Grip Control?" asked the man from Peugeot, back in early December. Sounds good, we said. Can you arrange some wintry weather to go with it?
Sure thing, he replied, one Peugeot 3008 with Grip Control and winter tyres, and some snow for January, all booked.
As it transpires, the man from Peugeot really had booked us some snow. Press offices often go to great lengths to get us cars to test, but blanketing the entire country in sub-zero temperatures and several inches of snow is above and beyond the call of duty.
All-wheel drive versus Grip Control
When we first drove the Peugeot 3008, in HYbrid4 trim last year, we gave it a cautious thumbs-up. It proved practical and comfortable, and we decided the all-wheel drive, diesel-hybrid powertrain and zero road tax could be a hit with tech-savvy customers – rolling around on electric power is still a unique experience for many drivers.
While it offered the benefit of all-wheel drive – sure to be on even more shopping lists after this winter – the slightly clunky hybrid system and high list price still mean that a regular 3008 on grippy winter tyres may be a better option when the weather turns. Throw in Peugeots clever Grip Control traction control system, and is an extra pair of driven wheels really a necessity?
Hitting the snow
Traction control can be as much a hindrance as a help in snowy and icy conditions.
Most setups reduce power when a wheel loses grip. On snow and ice, wheels rarely have grip in the first place, leading most traction control systems to cut power to the point you can barely move anyway. Here, a little slip is often helpful, allowing the tyres to find some purchase.
Grip Control offers the driver several traction control software maps, depending on the surface – standard roads, snow, off-road, sand, and an option to turn it off entirely. Combined with mud and snow tyres, it varies the amount of slip and traction to the wheels. On snow, that means allowing power to whichever wheel has the most grip, rather than cutting it entirely.
In practice, the effect is quite impressive. The snow-biased tyres undoubtedly play a major factor, but combined with the electronic systems you can pull away with remarkably little drama on snow and ice.
While wed not advise harsh control inputs when driving on snow, we were amused by how little finesse was required to pull away on regular flat surfaces – slightly blunt getaways would result in a bit of wheelspin, as youd expect, but definite forward movement. Exercise a bit of caution and its even easier, pulling away on the flat or even on inclines without much difficulty.
Several trips into the foothills of the Yorkshire Dales confirmed that the 3008 was happy to tackle slippery roads, plus the odd snow-covered rutted track and deep, snow-filled potholes. While not infallible – one particularly icy, up-hill car park confused the system enough to cut all power when we were manoeuvring for photos – it generally proved sure-footed.The winter tyres also provided decent lateral grip, though you still need to be cautious – turn into a corner too violently and youll slide straight on with the stability control chuntering away as it tries to find grip, just as youd expect.
The 3008
Driving the 3008, even in snow, proved quite relaxing. Like other crossover vehicles, the slightly raised driving position and large windscreen do provide a feeling of safety, which is reassuring when the conditions underfoot are treacherous.
Our Allure-spec model, with the HDi 150 diesel engine, had a few extra toys over the HYbrid4 we tested last year. Electric and heated leather seats were one such nicety, and the Allures standard panoramic glass sunroof was another. Together, they improved the cabins ambiance above that of the hybrid, but that cars feeling of generally decent build and materials quality remained.
Boot space is equally good too, this car having the added benefit of a two-level boot floor, split by a divider. The second-row seats fold entirely flat for longer or larger loads, but even with them in place it should easily handle most family duties. Theres not as much space in the rear seats as youd expect – knee room for this 58 tester was just acceptable when sitting behind an appropriately-adjusted drivers seat.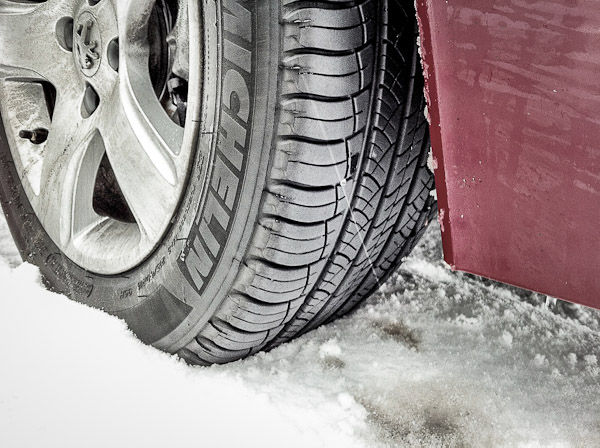 On the road
When not driving on snow, the 3008 still acquits itself well. While not providing the last word in entertainment, Peugeot has still done a good job of making a relatively tall and bulky vehicle handle with some grace. This is partly at the expense of ride quality, which can be harsh over bumps at city speeds. The steering is very light and delivers very little feel, though some of this could be down to the winter tyres, as the HYbrid4 didnt seem quite as remote.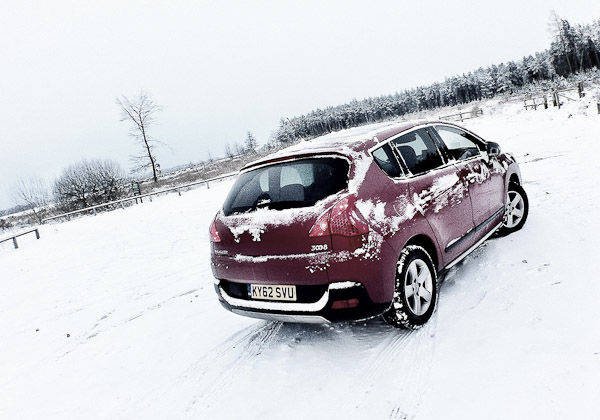 Refinement is good though, and as usual weve no complaints about Peugeots 2.0-litre diesel engine – its punchy, refined, and economical. Some slow, cold, slippery driving kept our overall mpg down to an average of 45 by the end of the test, but this had dropped from the low-50s after a jaunt up and down the M62. For comparison, we achieved a lacklustre 54 mpg from the significantly more expensive hybrid.
Price as tested: 22,995
Combined mpg: 53.2

CO2: 145 g/km
Verdict
First thing is first – the 3008 is still an excellent family car. Its practical, well-equipped, easy to drive, economical and still has a 5-star EuroNCAP crash test rating. Its no easier on the eye than last time we drove one, but since styling is highly subjective, you may be able to live with it.
We also have no trouble recommending the regular HDi 150 over the HYbrid4 model. You may have less outright traction than the all-wheel drive car in snowy conditions (and only then if the hybrid is also on winter tyres), but given the economy of the two-wheel drive car, the improvement of a manual gearbox over the jerky semi-auto, and a 4,000 price advantage – despite being better-equipped – the non-hybrid is an absolute no-brainer.
Oh, and sorry – the snow was probably our fault. Well make we ask for some sunshine for our next test car
carwow can get you exclusive savings on your new Peugeot 3008. We get dealers to compete so you get the best, upfront, no-need-to-haggle prices.
It's a quick and hassle free process, you tell us the car you want and get multiple quotes in 24 hours to compare from official Peugeot dealers who don't get ever your details. Simply message dealers anonymously to ask any questions and buy directly when you're ready. There's no pressure to buy, you're in control.