Ford Fiesta Red and Black editions driven – an ST alternative?
People in high places seem to love Ford's 1.0-litre three-cylinder Ecoboostengine. It's become the first engine to take overall honours in the annual International Engine of the Year Competition for the third year in a row, fending off all manner of hybrids, ultra-frugal diesels and supercar V8 enginesin the process.
Awards don't really matter of course. What matters is that it's won acclaim for being refined, powerful, economical and beautifully engineered. These are all qualities you'll also findinits most potent iteration, the 138-horsepower unit found in the new Ford Fiesta Red and Black Edition models.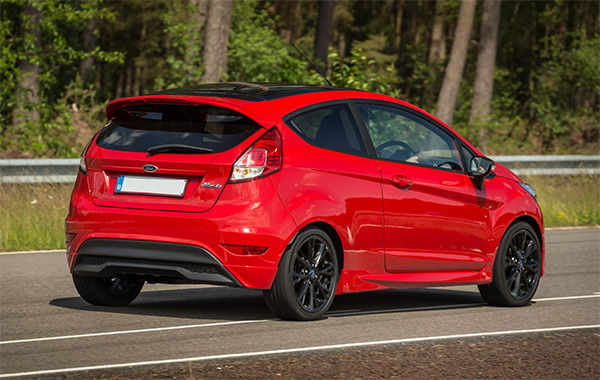 The Red and Black editions are a half-way house between the existing 123hp Ecoboost unit and the joyous 180+ horsepower Fiesta ST. At a fiver under 16,000 it's actually closer to the former in cost than the latter, which may convince some to upgrade from Titanium trim for the Red/Black's benefits.
The first thing drivers will discover is a trait shared by all Fiestas: an excellent chassis. Steering is well-weighted and full of feel.It's accurate, the suspension deals with bumps just as you'd hope from a sporty hatchback (firm, but well-damped and not spine-jarring) and it gripswell in corners.
You'll certainly notice the extra power over the regular Ecoboost too. On paper, it's not a stunningly quick car a diesel Golf could beatits nine-second 0-62 mph sprint but on the road you get a useful hit of power from low revsand it happily thrums away all the way to the red line. Throttle response isn't quite as sharp as the Fiesta ST but prod it hard enough and you'll speed down the road with gusto.
If there's one aspect of the engine to criticise, it's the sound. Not that there's too much of it; quite the opposite in fact. Given the Red/Black's sporty pretensions, it'd be nice to have bit more of a burble from the exhaust. It wouldn't detract from the Fiesta's otherwise impressive refinement but would add a welcome dose of excitement to occasional full-throttle moments.It'sno reason to take a Fiesta Red or Black off your wishlist.
In terms of economy you don't lose much to the less powerful Ecoboosts either.The Red/Black is capable of 68.2mpg combined, and because it emits only 104 g/km of CO2, the Red/Black only adds a few pounds to your vehicle tax bill too.
Verdict
Think of the Red Edition and Black Edition as a 'Fiesta ST lite' and you won't be too far from the mark. They can't match Ford's hottest Fiesta for straight-line thrills but do a good approximation of the ST's handling without its occasionally punishing ride. The lower insurance group and thrifty motor mean running costs should be lower too, particularly for younger drivers.
But if running costs aren't such a concern, the price difference between Red/Black and ST is close enough (on finance at least) that we'd be tempted to trade up to the latter. If, on the other hand, running costs are your be-all and end-all, we'd ignore the Red/Black and even the 123hp1.0-litre cars, and opt for the basic 99hpEcoboost it's still the best of the bunch.