Kia Cee'd 1.6 GDI '3′ Ecodynamics – Full UK Review
The march of progress at Kia over recent years has been deeply impressive. In only a few model cycles the company has gone from producing cars you'd buy for their inexpense and nothing more, to cars truly competitive with names that have dominated the sales charts for decades.
With that knowledge, each and every Kia we test has the weight of further expectation on it. Can the company continue to better itself with every model? We've spent a week with a Cee'd in 1.6 petrol, '3′ trim to find out.
Exterior
At this point we'd normally praise Kia design chief Peter Schreyer and his team for turning out another shape to aesthetically rival the class best.
But this time we're not so sure. The Cee'd isn't an unattractive car, but it's not as coherent as some other models in Kia's range. The front lights look a little too widely spaced, the front grille too large and too low on the bumper, and the overhang a little too long.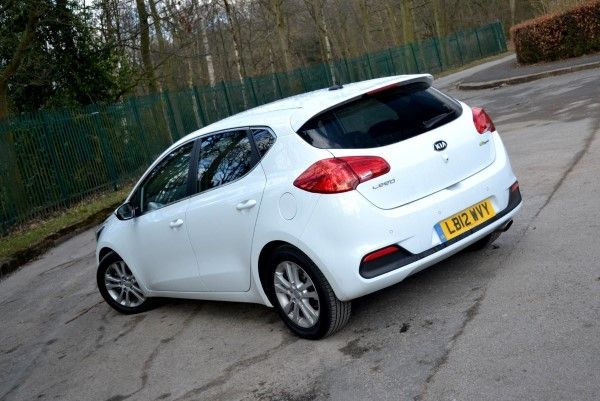 The rear and side profiles are an improvement, but here the Cee'd just seems a little too generic. The rear lights are amorphous red mouldings, and in white paint at least, the expanses of metal seem a little ungainly. There's dynamism in the side profile but as we'll find out in a second, it's at the expense of some practicality.
To top it off, we can see the Cee'd slightly indistinct lines dating quickly. Some may scoff at the apparent dullness of the Volkswagen Golf, but there's something to be said for a shape that's simple enough to endure. The Cee'd isn't one of these.
Interior
Generally, the Cee'd interior is much more successful than its outer skin. In fact, it's a really nice place to spend time.
It wasn't difficult finding the ideal driving position, with seats that offered height and lumbar adjustment as well as the expected sliding and reclining motions. The steering wheel two adjusts in two planes, and once you're suitably ensconced all the controls fall easily to hand.
Everything surrounding you looks and feels good too – quality is better here than with the more expensive Optima we recently tested – with a sporty driver-focused dashboard design.
Space in the back is good too, with plenty of leg and headroom. Rear seats split and fold 60/40, and the boot is well-sized at 380 litres, and usefully-shaped. A luggage net holds smaller loads in place.
Other things we like: Like all Kias, the stereo system hooks up seamlessly with our iPhone, and there's a handy cubby hole in which to store connected MP3 players and smartphones. The touchscreen display works well and is easy to fathom, the button-festooned steering wheel likewise.
What we don't like as much is the poor visibility. The steeply-raked windscreen generates large blind spots around the A-pillars which the small quarterlights do nothing to improve, and the rising window line means over-the-shoulder visibility is also poor.
Driving
There's little to dislike about the way the Cee'd gets down the road. While others in the class might put up a fight in terms of steering feel, body control or sheer fun, the vast majority of family car buyers will appreciate the Kia's compliant ride quality, faithful responses and good levels of grip.
The ride quality in particular was appreciated, given the state the UK's roads are in after the recent wintery weather.
It also seems that Kia chassis get better the bigger they are – the Cee'd never feels as planted as the Optima did under quick cornering, but it floats around less than the smaller Rio and has far more composure than the Picanto city car.
It bodes well for the upcoming Cee'd and Pro_Cee'd GT models – Kia's first hot hatchbacks. The Cee'd's undercarriage feels well up to the task of handling extra power.
Engine
Over the last decade or so, diesel has become the automatic choice for many buyers in this class. Here we're going to suggest you at least give petrol a look before signing for the more expensive diesel option.
Firstly, the petrol isn't at all bad on fuel. Officially, the 133-horsepower 1.6 GDI unit returns 52.3 mpg with this car's six-speed manual gearbox. By the end of our week with the car, we'd returned an 48 mpg – just a few mpg off, and well within most peoples' margins of acceptability. Certainly better than buying a 70-odd mpg diesel and returning low 50s, which is often the case.
Performance is also respectable. Kia says it'll reach 62 mph in 9.8 seconds and go on to 121 mph. We could believe both, and while you don't get the same hit of torque as a diesel engine, the 1.6 remains quiet most of the time and far smoother than an equivalent diesel when you extend it.
There's a pleasingly chunky feel to the gearshift too, which is nevertheless light and easy to use. Only the 1.6′s 124 g/km rating, for 100 a year road tax and 15 percent Benefit-In-Kind rating, may swing some customers back to the diesel.
Value for money
18,995 might sound like a lot of money for a Kia. And in truth, it is. But next to rivals, it isn't too bad. The closest Ford Focus, a 125-horsepower 1.0 Ecoboost in Titanium trim, is only marginally more economical (on paper), slower to accelerate and a few hundred quid more.
With the Ford, you don't get a seven-year, 100,000-mile warranty, unlike the Kia. You'd also miss out on the Kia's rear-view camera and navigation system. And it isn't like the Focus is any more of a looker than the Kia, either…
Naturally, if you don't need all the kit then you can drop to '2′ trim in the Cee'd, for 17,195. And right at the bottom, in '1′ trim and with a 1.4 petrol engine, Cee'ds start at just 14,395.
Verdict
The Cee'd doesn't quite feel as special as the company's increasingly talented products might have led us to believe, but it's still a very good car.
Not a perfect one – we found the poor visibility rather spoiled an otherwise impressive cabin. It's also a little on the expensive side – if still decent value – and subjectively, we're not keen on the looks.
But it's also economical, drives well, feels good inside (visibility excepted) and you get plenty of kit for your money. And we suspect that many buyers appreciate qualities like that.
What the press think
Most reviews for the Cee'd have been pretty positive. Some feel it's a little expensive and not as good to drive as rivals, but most appreciate the quality improvements, spacious cabin and good fuel economy. If there's one main criticism, it's that some testers feel Kia could have made an even better job with the Cee'd – something we'd agree with.
For more information check out our full summary of the Kia Cee'd alongside reviews, stats, photos and videos!