Ford Fiesta 1.6 Duratec Review
The Ford Fiesta has been around for 35 years in one form or another and continues to sell in the millions. Many of us learned to drive in one, or have owned one, or live next door to one. As a result it is easy to dismiss it as the easy option, the small car for people who arent interested in cars – which is to do it a disservice as the current model is gathering some very positive reviews, with some motoring experts even claiming that its chassis is faultless.
Those bold statements and great reviews attracted our attention and posed the question: are they are hyperbole or a true assessment of the Fiestas strengths and weaknesses?
Well, theres only one way to find out! Read on to see how we got on with a Fiesta 1.6-litre TiVCT Duratec Stage V for a week.
Exterior
The current model Fiesta has been around since 2008 yet that slightly hunched, truncated shape with its minimal overhangs still manages to look bang-up-to-date and continues to draw your eye in and with good reason. The look might be Euro-spec generic but it is nicely done and few could find significant fault with it.
Our test cars optional black coachwork, 17-inch alloys, privacy glass, rear spoiler, and bold headlights suggest a sporty car, which is, luckily, exactly what you get, a look that is helped by the twin exhausts. No-one could ever mistake it for a mere shopping trolley.
The three-door body gives ample space for the driver to get in and out but access to the rear seats is, as always, a bit awkward. If you have very young children who need help buckling themselves in the five-door version will be much more practical.
Interior
The interior is much bigger than you might imagine; Im over six feet tall (and rugby player rather than footballer-shaped) and even I have plenty of head, shoulder, and foot room – and there is even room for a seven-year-old boy to comfortably sit behind me. Thats quite impressive.
The fit and finish is good, although some of the plastic is suspiciously shiny and the leather used on the seats seems to have been chosen for its durability rather than its softness.
Its all very easy to use and nicely styled though, and comes with a couple of very nice touches: the Sony stereo, a 475-option, sounds terrific for a car in this class and the optional reversing camera (which again costs 475 as part of the auto mirror/headlights/wipers package) transmits its image via the rear-view mirror, a system that works very, very well, and puts it right where you would naturally look.
Driving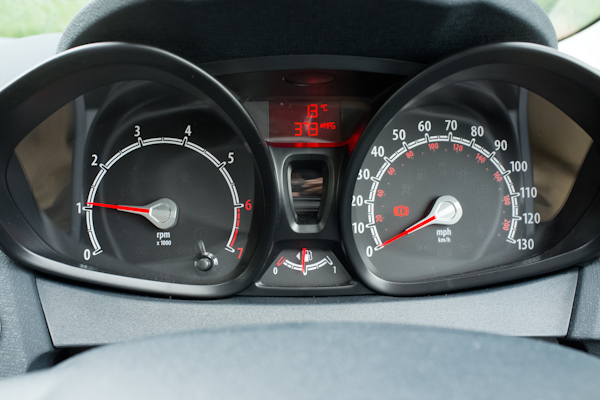 Modern Fords are renowned for the way that they handle and the Fiesta is no exception, scooting and darting about like a ferret down a rabbit hole, a trait that makes it a rewarding and engaging companion on back roads. The pay-off is that its short chassis and light weight make the car feel a bit edgy on the motorway. Its never enough to become problematic but it is noticeable.
The rest of the chassis is equally brilliant with light, accurate and powerful controls and pedals that are ideally placed for heel and toeing. Small cars just dont drive any better than this although I should point out that our car was fitted with lowered and uprated suspension as part of the Metal specification.
Engine
The 1.6-litre Duratec engine develops 132bhp, which is quite a lot for such a small car. Its a shame then that it doesnt ever feel that fast. You also need to keep the engine turning over at 3,000rpm to get the best out of it, something that isnt helped by only having a five-speed gearbox. At least it sounds nice, so giving it a thrashing isnt too much of a burden.
Well, not on your ears, anyway. While the Fiesta can be decently economical, returning up to 47.9mpg, youll struggle to get close to that if you make full use of the performance available (a top speed of 121mph and a 0-62mph time of 8.7 seconds); I got just over 37mpg in a weeks mixed use.
Value for Money
The Fiesta range starts at 9,795 for the Studio, with the Metal starting at 16,000.
But you can go even higher. My test car cost a whopping 17,865, making it way too expensive for such a small vehicle. The Fiesta might be very well equipped, but it doesnt come free.
Verdict
The Fiesta 1.6 TiVCT Duratec is a fine-handling but expensive small car hampered by performance that is only middling. I liked it a lot but cant help thinking that you would be better spending the same amount of money elsewhere. The Suzuki Swift Sport, for example, might lack the Fiestas generous equipment levels but it offers similar performance – and even more fun – for 4,500 less.
Or, if you are determined to spend seventeen grand then youll be better off in a mid-range Focus. If you really want a Fiesta (and you might, as theyre very good) then our advice is to save your pennies by foregoing some of those expensive goodies and buying a more basic model.
Thinking of buying a new Fiesta? Use carwow to compare great prices Ford dealers. Select the Fiesta you want and dealers will submit their best offers. Compare them online based on price, location, delivery time and reviews of each dealer. Contact the dealers when you want and buy direct if you want to go ahead.