The top 10 best estate cars you can buy
Estate cars are an ideal choice for buyers who need a little extra space without resorting to a frumpy MPV or an oversized SUV. They're more practical than traditional saloons thanks to a longer roofline, a useful hatchback rear door and often a couple of neat touches to make the cargo space as versatile as possible. We've rounded up the 10 best estate cars on sale today across a range of budgets.
Put your favourite in our car configurator to find the best deals on any of the models below. Alternatively, if you need the most boot space, check out our list of the best cars with the largest boots and the SUVs with the largest boots. If you're ready to buy a new car straight away, our PCP calculator will give you an idea how much it could cost per month.
1. Mercedes E-Class Estate
When it comes to the sensible stuff, the Mercedes E-Class Estate is as good it gets. At 670 litres – a figure that expands to 1,820 litres if you drop the electronically folding rear bench – this huge executive car boasts the largest boot of any estate currently on sale. The opening is low and wide – so much so that Mercedes says it can even accommodate a standard European pallet.
Beyond the enormous load bay, the E-Class Estate boasts the same gorgeous, spacious interior of the saloon. It also gets its relaxing ride and ability to remain eerily quiet even at a rapid cruise – all the better to appreciate the huge standard kit list including leather seats, an 8.4-inch infotainment system and autonomous parking.
Take a look at the Mercedes E-Class deals page to see how much you could save.
2. Volvo V90
The Volvo V90 hails from a brand famous for building big, sturdy estate cars. The V90 is safer than any of its predecessors thanks to an automatic emergency braking system which can recognise not only other traffic, but pedestrians and large animals, too. The tank-like look of older models has been ditched in favour of a graceful, contemporary shape.
The interior looks gorgeous too and, true to Volvo form, it remains immensely practical. It might not lead the class, but a 560-litre boot will easily cope with a family of five. Larger objects can be carried by folding away the rear bench, which opens up a total volume of 1,526 litres.
Spec up a Volvo V90 through our deals page to see the savings on offer.
3. Skoda Superb Estate
The Skoda Superb Estate isn't just one of the most handsome cars the Czech brand has ever produced – it's among the best ever built by any brand. It's almost unmatched in terms of practicality – not only is the Superb's 660-litre boot volume among the most generous here, but its 1,950-litre volume with the seats folded is the best by a considerable margin.
The space is made more useful thanks to a false floor that allows the boot floor to sit flush with the loading lip. Top-spec models benefit from an electrically operated rear hatch, too. Add in excellent value for money, a roomy cabin and a great range of engines to its unrivalled practicality and it's easy to see why we're so fond of it.
See the reductions available by finding your ideal Skoda Superb Estate on our deals page.
4. Audi A4 Avant
Even the keenest of Audi spotters might struggle to differentiate the Audi A4 Avant from its predecessor but, under this skin, it's improved in every respect. Offering generous room for five, the Avant's boot has grown ever so slightly – at 505 litres, it edges out its closest rivals from Mercedes and BMW. Fold the seats flat and that number rises to 1,510 litres. Loading is easy thanks to a square, power operated tailgate.
The rest of the cabin feels as well screwed together as anything else on the market, while the minimalist dashboard design is as attractive as we've come to expect from recent Audis. The ride is comfortable, the controls easy and direct, and top-notch refinement makes it a great motorway cruiser.
Head over to the Audi A4 Avant deals page to see the latest discounts available.
5. Vauxhall Astra Sports Tourer
The Vauxhall Astra Sports Tourer shares all the strengths of the excellent Astra hatchback – fine handling, a smart interior and a wide choice of engines – and throws in a little extra practicality as a bonus. The boot grows to a respectable 540 litres and, thanks to a low loading lip and square shape, it's easy to pack away bulky and awkward items.
Fold away the rear bench – a process that reveals an almost completely flat load bay – and total volume grows to 1,630 litres. Like the Astra hatchback, the Sports Tourer remains reasonably priced, too – it adds just £825 to the price of the regular car.
See how much you can save on a new Vauxhall Astra Sports Tourer by trying out our deals page.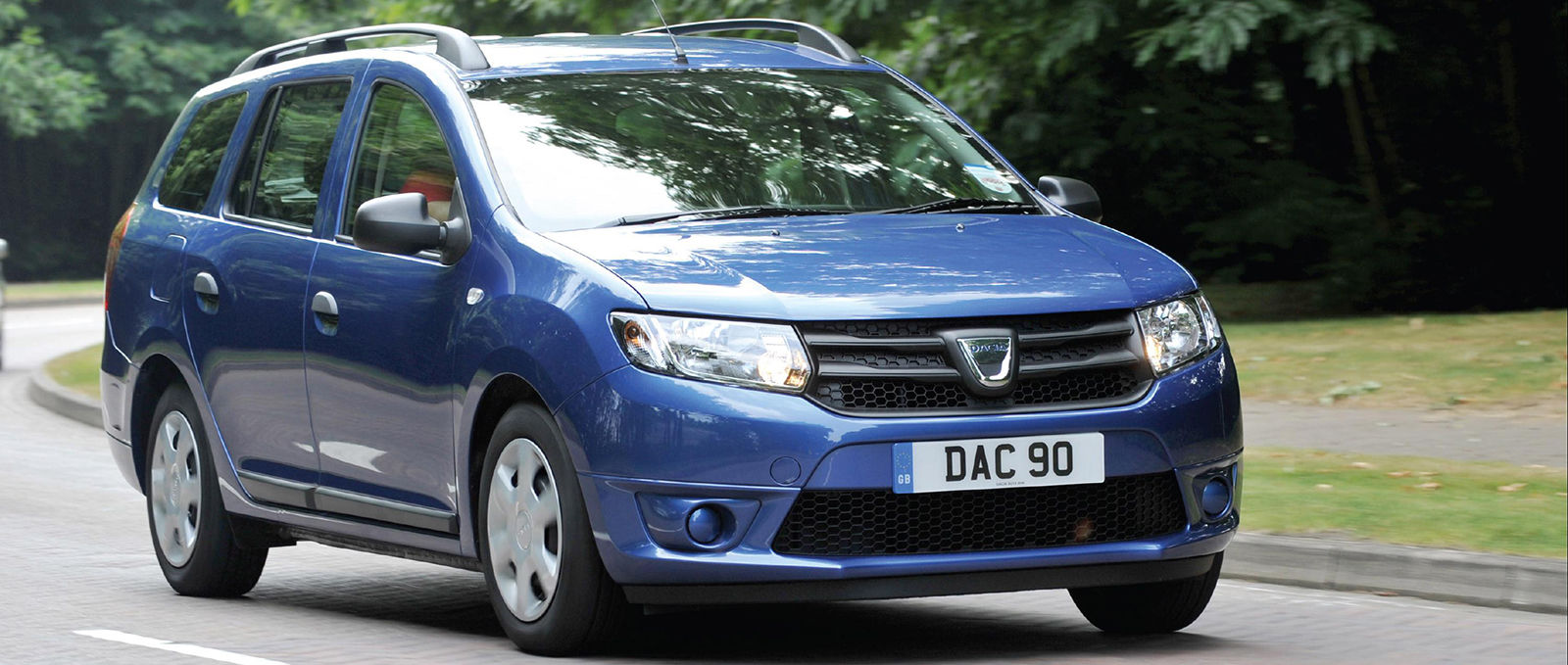 6. Dacia Logan MCV
Subjectively, it's hard to argue that the Dacia logan MCV doesn't have a handful of flaws. The cabin looks and feels old fashioned, performance is fairly limited and it lacks much of the advanced safety wizardry of alternatives here. But take one look at the price and all is forgiven.
It costs from just £6,995 – nearly £10,000 lower than the next cheapest option on our list. For the money, you get a basic, spacious estate car complete with an enormous 573-litre boot. Go for the 74.3mpg 1.5-litre diesel and it'll be cheap to run, too. If a fancy badge is of no importance to you, the Logan MCV is easily the biggest bargain here.
Find all of the latest discounts for the Dacia Logan MCV on our deals page.
7. VW Passat Estate
As an all-round family wagon, there's little to fault with the Volkswagen passat Estate. This easy-on-the-eye estate lugs loads with the best of them – its 650-litre volume expands to a van-like 1,780 litres in two-seat configuration. The boot floor also has just a slight loading lip to overcome, while the shape is usefully square.
An automatic tailgate, which requires only a sweep of a foot under the rear hatch top open, is optionally available – ideal when your hands are full. Its only weakness comes in the form of the Skoda Superb Estate above. The Passat counters its higher price and lesser practicality by offering a posher badge and a little more luxury inside.
Try out the Volkswagen Passat Estate deals page to see how much money you could save on a new car.
8. Audi A6 Avant
The Audi A6 Avant features all the usual strengths you'd expect from an Audi – great build quality, plentiful engine choices and an easy driving experience – but adds a big boot to the long list of plus points. Its 564-litre boot might be topped by one or two rivals, but it remains well prepared for even the most over-excitable of DIY-ists.
The boot itself is square and the opening is wide making loading heavy objects easy. It falls behind its E-Class Estate rival for luxury, comfort and outright carrying capacity, and would struggle to be as much fun as a BMW 5 Series on a twisty road but, overall, the big Audi represents a desirable and easy-to-live-with whole that's more than the sum of its parts.
Want to save money on a new car? Head over to the Audi A6 Avant deals page to find all of the latest offers.
9. BMW 5 Series Touring
Though the BMW 5 Series Touring has been with us since 2010, it remains among the most capable roomy executive transporters. The opening to the 560-litre boot is very wide, while the rails on the boot floor make it easy to slide in larger, heavier objects. The rear seats that optionally feature a 40/20/40 split, don't quite fold completely flat like they do in some rivals, though.
From behind the wheel, the 5 Series Touring feels much like the saloon. That is, it's comfortable yet a little sharper than its closest competitors. Meanwhile, BMW's intuitive iDrive infotainment system makes the 5 Series an easy car to live with.
10. SEAT Leon ST
The sharply styled SEAT Leon ST goes to show that a sensible, reasonably-priced family estate car needn't be boring to look at. The flamboyant body creases and rakish profile might catch the eye, but it wouldn't be much use if the Leon couldn't handle a stack of suitcases.
Fortunately, the Leon ST manages to blend style and practicality with ease. The boot measures 587 litres and, once the rear seats are folded, as much as 1,470 litres presents itself. Handily, the front passenger seat folds flat too, so long items can squeeze in, too.
Take a look at the SEAT Leon ST deals page to see how much carwow could help you save.
Save money on your next new estate car
Have any of our top 10 caught your eye? Our car deals page will find you the best savings on the models featured here. If you can't figure out what your next car will be, our car chooser is here to help. If you're planning to buy a new car using personal finance, our PCP calculator can help give you an idea how much it could cost.