Peugeot 2008 1.6 e-HDi Feline – Full UK Review
It's probably safe to say the compact crossover is now "a thing".
Nissan started the ball rolling with the love-it or hate-it Juke, and since then we've seen a host of others – MINI Countrymans(Countrymen?), Renault Capturs, Vauxhall Mokkas and in the next few months, the Ford Ecosport.
Peugeot's 2008 sits comfortably among all these, offering its own blend of rugged styling and luxury trimmings. We were impressed with the 2008 at launch – so how does it fare after a week at the wheel?
Exterior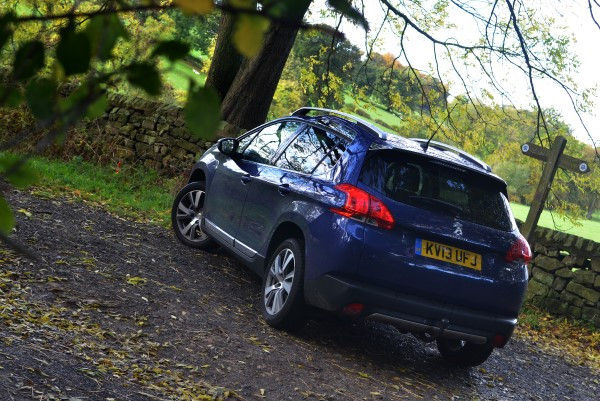 The 208 is among the more handsome superminis on sale today, and its transition into city-bound crossover has been largely successful.
While this is easy enough to do when you're dabbling with the top-spec models like our Feline test car, a quick glance at Peugeot's online car configurator reveals the bottom-end Access+ still works well, perhaps more country-glam than the city-bling of the Feline.
That bling consists of Virtual Blue metallic paint (a 495 option), 17 'Eridan' alloy wheels, chrome mirrors, directional fog lights, dark tinted rear windows and stainless steel scuff plates. Happily, features like the LED daytime running lights and 'claw effect' LED tail lights are standard across the range.
Another defining detail is the unusual chrome strip above the rear side glass, following the raised roof line. It's has a hint of Land Rover Discovery, which isn't a bad thing. All over, the Peugeot looks more expensive than you might suspect.
Interior
The impression of expense continues inside. It's hard to understate just how far Peugeot's interiors have come on. If you've not sampled the brand in a decade, put off by earlier, shoddier efforts, it's worth taking a peek in the 2008 to appreciate the French company's progress.
It feels well-built. From doors to dash, everything has a solid, almost Germanic feel about it. The Alcantara-faced seats in Feline spec are comfortable and beautifully-trimmed, while the tiny steering wheel and metallic gearknob both feel like quality items.
The design may divide opinion, though. You have the same dashboard and wheel design, meaning the same requirement to set the wheel relatively low and seat a little higher. It's less a problem here with a naturally higher seating position than in the 208, and we got comfortable within minutes, but it's very much a personal taste thing.
So too, we suspect, is the handbrake. Shaped a little like an aircraft's throttle, with the release button accessed by fingers on the lower edge, it takes some getting used to.
Better is rear seat and boot space. With the former, adequate kneeroom and plenty of foot space means all but the tallest of passengers should be comfortable. Headroom is pretty good too, a situation replicated in the front.
The boot is wide and well-shaped, without too much of a lip. Flip the seats forward – they fold flat – and space expands to 1,172 litres, a healthy enough volume.
Driving
You might be unsurprised to learn that the 2008 drives very much like a slightly taller 208. That is to say it grips well, has a nice quick steering rack (without much feel, admittedly) and rolls only a little more than its squatter sibling.
What may surprise you is that it's still pretty good fun. That isn't always the case with small crossovers, and when it is – Nissan's Juke, for example – the trade-off is usually a nobbly ride.
Not so here. The 2008 soaked up Yorkshire's shoddiest roads without many complaints, and that's despite riding on large wheels. Smaller-tyred variants might be even better. Rolling refinement was good too, and there's not too much wind noise at speed.
Grip would actually be higher but for our car's mud and snow tyres, fit as standard when Grip Control is specified. The slightly more mobile tyre tread even allowed for some amusing tail-end slidiness on roundabouts, curtailed safely by the car's stability systems.
Engine
Peugeot and Citroen make some cracking diesel engines, and the 1.6 HDi here is no exception. In 115-horsepower form, it has enough go for a 10.4-second 0-60 dash and 117 mph flat out – more than most owners will ever need.
Better than the bare numbers is the healthy wallop of low-down torque. Officially, its 199 lb-ft maximum arrives at 1,750 rpm, but there's usable acceleration from a touch below 1,500 rpm. Like many diesels it's given up by around 3,500 rpm, but between those figures progress is swift.
Combined with the winter-biased tyres there was certainly enough punch to make the front wheels squirm against the traction control on damp roads. Rapid gearchanges were needed too – easy enough with the precise six-speed 'box, but the action is a little clunky for our liking.
Refinement can't be meaningfully faulted – it makes a bit of a din if you rev it to the red line, but this is largely pointless anyway. Keep it below around 3,500 rpm and it's a smooth, relatively quiet unit, settling down further on the motorway where 70 mph corresponds to a relaxed 2,000 rpm in top gear.
Value for money
Naturally, you'll pay a little more for a 2008 than you will a 208. When we tested the latter in January, our car came in at 17,445. Opt for five doors and you're looking at 18,395; the larger 2008 starts at 19,145.
That actually seems quite good value, considering the styling additions and extra interior space. If you really wanted to scrimp, an Access+ with the 1.2 VTi engine starts at under 13,000 – similar to a Juke or Captur.
You won't be paying much on fuel either. Officially, our 1.6 HDi test car achieves 70.6 mpg combined. That's a little lower than the Renault, but to its credit we managed around 60 mpg on the trip computer. Our two-way, 50-mile, 70 mph motorway run was also impressive, at 62 mpg.
A benefit of such frugality is a low 20 yearly car tax bill, free in the first year. Certain 2008 models do drop this to zero. Drive away on Peugeot's Just Add Fuel scheme – 3 years insurance, warranty, servicing, tax and roadside assistance, and a new 2008 could be well within reach.
Verdict
All things considered, the 2008 is pretty hard to fault. It neatly side-steps the usual crossover dilemmas – poor handling, unjustifiable extra expense, no real equipment benefit – by remaining as fun to drive (and nearly as frugal) as the regular 208 while costing only a little more.
Throw in that Grip Control option – nigh-on essential for the UK's worsening winters – and the extra practicality of a bigger boot and taller cabin, and the 2008 is a real winner.