2014 Peugeot 508 2.0 BlueHDi Allure – Full UK Road Test
One might assume, as one of the older models in Peugeot's rapidly-improving range, that the 508 saloon is a little off the pace these days.
Not a bit of it. Subtle improvements here and there to a car that already impressed us on first acquaintance means the 508 is still a worthy choice, whether company or private buyer. Both will be attracted by the model we have here thanks to its low 109 g/km CO2 output, but how does the 2.0 BlueHDi unit perform in the real world?
Exterior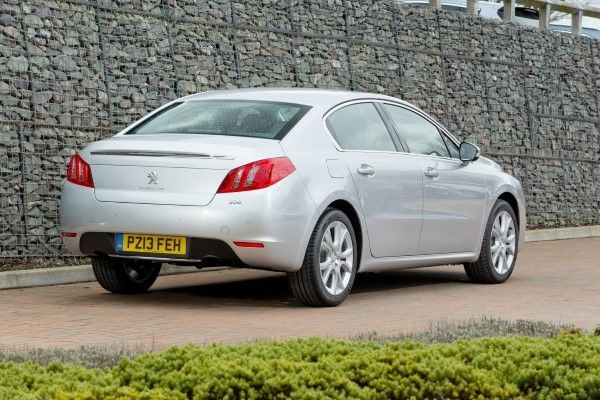 You don't see many 508s on the road so when you do they actually stand out in a way rep-mobiles never used to, when bought in their hundreds of thousands.
It's an attractive car anyway, the 508. Some may still have reservations over Peugeot's large, gaping grille, or the considerable swathes of metal across the back end, but it's a handsome three-box design not encumbered by fashionable sweeps of metal, flame surfacing or needlessly quirky attributes.
The 508 is at its best in side profile, where it's rather handsome. Metallic Alpine Blue paintwork helps, as classy as darker colours without being as anonymous. It's a 520 option, which is par for the course as far as paintwork upgrades go. We also like Peugeot's claw-style LED rear lights, and the LED and Xenon front lamps also work well.
There's little really to pick fault with, beyond the Peugeot badge itself. Attractive it may be, but it'll be a while before Peugeots have the cachet of their German counterparts in the company car park. Even if there's a dozen of them to every 508 you see…
Interior
Our test car was furnished with Allure trim, one step below the GT we tested last year. It loses the GT's swish full leather upholstery, but that aside there's little to separate it from its range-topping brother. There's good space front and rear – easily enough for two pairs of adults – and a large boot. Though the boot lid does deposit water straight into the boot when open – a constant annoyance during our not-so-dry test.
The driving position, electrically adjustable here (with electric lumbar supports and heating) proved comfortable over considerable distances – we took the 508 to Geneva and back from North Yorkshire. It's a serene place to be at speed too, with very little wind noise and generally good visibility.
The dashboard layout is still refreshingly simple and modestly attractive. Several passengers commented on the dials – they're clear and easy to read, and have a classy appearance with their chrome rings. Unusually, you also get oil and water temperature gauges – something not many sports cars even have these days.
A familiar Peugeot bugbear raises its head though: The sat-nav system is, once again, pretty poor. You can't input postcodes, the graphics are looking dated these days, and at one point it chose to reset itself of its own accord. Luckily, we were just cruising down a motorway. But if it did that in the middle of a city you'd probably be less than impressed. Peugeot, please junk this one soon. At least the buttons to operate it are simple and intuitive.
Driving
Back in the 1990s, Peugeot's 405 and 406 were two of the drivers cars of choice in the class. They rode and handled very well indeed. The 407 lost some of this ability, but the 508 has mostly regained it, offering up a talented mix of tidy handling and an unflustered ride.
The ride in particular is better than the GT we drove last year, perhaps attributable to alloy wheels an inch smaller in diameter – 18 instead of 19. As a result it deals with the constant jiggles that British roads impart much better, and by the time you're at motorway speeds it's about as good as cars get in this class.
It seems unfair to criticise the Pug for lack of steering feel since so few cars these days are particularly talkative. More pertinently, the steering feels well-balanced and sharp enough on turn-in. The turning circle is reasonable too.
Ultimately it isn't as entertaining as a Mazda 6, for example, nor a Mondeo. But if entertainment isn't your bag, you'll still appreciate the well-judged ride and the excellent long-distance refinement.
Engine
The 2.0 BlueHDi in our test car is a relatively new lump. It develops 150 horsepower at 4,000 rpm, and 370 newton-metres of torque from 2,000 rpm.
Torque is typically most relevant to diesel drivers, and for a relatively heavy object – the Pug is 1.5 metric tons on the dot – it's just enough to provide relaxed progress, particularly at motorway speeds. For real acceleration you'll need to drop from 6th to 5th gear at these velocities, as 70 mph equates to around 1,700 rpm, but up the ante to 80 mph – the French limit – and there's enough in reserve.
It's surprisingly economical at these speeds too. Most of our journey was done on the French autoroute, and at these kind of speeds the on-board computer crept ever closer to 50 mpg, without actually crossing that limit. At a constant 70, you'd easily see over 50 mpg. Our end of week total fell just below – with a useful tank range of over 700 miles.
All of this takes place in decent refinement, the 2-litre unit only getting noisy at higher revs. There's a constantly-audible background grumble at 70-80, but you quickly tune it out and it doesn't induce fatigue. As for performance, the official figures are 9.8 seconds to 62, and 131 mph on the Autobahn.
Value for money
One of our few issues with the GT model was its 29k price tag. 54 horses down, manual rather than auto and lacking the GT's all-leather trim (part leather is standard in the Allure) it's surprising to see our test car still costs just shy of 26,000. 25,895 is the kick-off, and our car featured that metallic paint and a 310 colour head-up display on top of that. Unfortunately, the frugal BlueHDi engine isn't available in a cheaper trim line.
It's hard to pick a direct rival, too. Closest in VW's Passat range is the 2.0 TDI Bluemotion Tech Executive – cheaper at 23,660 and identical performance, but a tax band higher and at 61 mpg, less frugal than the HDi's 67 mpg.
Ford's equivalent Mondeo is also cheaper, has similar performance, lower economy and higher emissions.
It falls to Mazda to beat its classmates though – identical money to the Peugeot nets you a Mazda 6 2.2D Sport Nav, both a second quicker to 60 and over 5 mpg better combined. It'd be our choice.
Verdict
We like the 508, but just like last year's GT there are a few too many niggles. The god-awful infotainment system is one, the boot that drenches your luggage, suit and important documents whenever it rains is another, and Peugeot's robust pricing is the other major concern.
In fact, it's our number one concern. We're not about to compare the Allure to BMWs and Audis this time (which angered a few readers in the GT review), but even against VWs, Fords and Mazdas the 508 looks expensive. You do get plenty of kit for your dosh and a good-looking shape to boot, but for us, it's hard to overlook Mazda's even more attractive 6, with better performance and economy and a sportier drive.
Given Peugeot's recent rise in form though, we're looking forward to whatever the next-generation 508 has in store.