The SEAT Leon is an understated, oft-ignored sight on our roads. It seems to have been about forever, quietly gaining a solid reputation and an above-average buzzscore – as drivers discover its sporty, but reasonably priced, charms.
We borrowed a Leon FR for a week to find out whether you really can save a bundle by choosing one instead of a Golf, its VW Group sibling that costs considerably more to buy.
Exterior
The Leon is a familiar shape as its been around for three years or so now and its generic hatchback shape has little to shout about – but then there is little to criticise either.
Its a neat, unobtrusive design with a fluidity and tension around the haunches that hints at performance. Its a shape that grew on me, although I ended up liking it rather than admiring it.
The rear door handles are hidden in the C pillars, giving the illusion that the five-door hatchback is actually a three-door coupe. Visually it works very well but is less successful in practise as my seven-year-old son found the rear door handles too high to be able to open them unaided.
The FR has attractive 17-inch alloy wheels, unique front and rear bumpers, adaptive bi-xenon headlights, sliver door mirrors, and twin chrome exhaust tailpipes. They work well as a whole, lifting the Leon from the humdrum while remaining discrete.
Interior
The interior is simple, well laid out, and robust. Comfortable too, as the steering wheel adjusts for reach and rake, the front seats are firm fitting and very supportive, and the pedals well spaced and wide.
The Leon also has a myriad of practical flourishes: a rest for your right foot for when youre using cruise control: a spring-loaded cover for the 12-volt socket; a USB point, auxilliary socket, and an optional iPhone/iPod dock; three (count em, three!) front cup-holders; a clever tyre pressure monitoring system; intuitive phone synching; and the most straightforward switches, minor controls, and instruments youve ever seen. From first getting into the Leon it took me two-minutes flat to programme the sat-nav, synch my phone, and adjust seat, steering wheel, and mirrors. Thats a new PB.
The interior is easy to keep clean, with the exception of the light grey Alcantara seat inserts, which are a nightmare, especially if you have children. Id advise you to stick with the standard seats, saving 350 into the bargain.
There is more room inside than you would imagine, with ample space in the back, even with a tall driver behind the wheel. Boot space is generous too.
Driving
When you are buying a hot(-ish) hatchback you are looking for three things: economy, practicality, and fun. Luckily the Leon FR ticks all three boxes.
Its 138bhp and 236lb ft of torque arent earth shattering, but they are more than enough to let the driver have some fun when the roads are empty, especially when the chassis is this good. Initial understeer is quickly neutralised and eventually turns into mild oversteer; nothing alarming, just enough to tighten your line and remind you that youre driving on a public road, not a racetrack.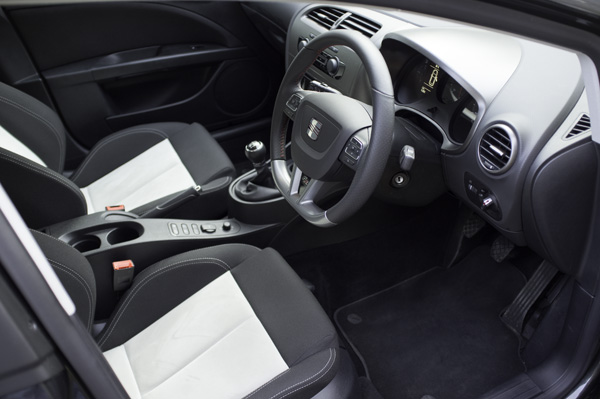 If the chassis does have a flaw, its in the brakes, which lack initial bite and ultimate stopping power when you are pushing on. I didnt notice a problem until I drove a challenging circle of about ten miles replete with adverse camber corners, sweeping bends, and tight hairpins most of which have great visibility round them, allowing you to exploit them fully. Its a road that tests a cars chassis like few others and while the Leon was tremendous fun I found that I did need to brake considerably earlier than I should have.
Everyday domestic duties are despatched with equal aplomb. There is ample space for parents and three kids plus a weeks shopping, and its small size mean that its easy to park and manoeuvre in a town or city. The standard rear parking sensor works well and is accurate, giving the driver extra reassurance when shuffling the car around in tight spaces.
Engine
The 2.0-litre TDI is a lovely engine, delivering its 138bhp and 236lb ft in a quiet, refined, and willing way. It never sounds coarse or strained and at no time did I ever wish that I was driving anything or powerful or the petrol-engined version, for that matter.
It revs willingly to just under 5,000rpm but there is no need to thrash it; far better to ride that fat wedge of torque and let the engine haul you out of the bends.
The cars economy will, of course, depend on how you drive it. I averaged 44.5mpg over 350 miles of mixed spirited, town, and motorway use, a figure that most owners should be able to equal and, probably, exceed.
Value for Money
The Leon is very reasonably priced and goes nose-to-nose with its rivals. The FR that I drove is well equipped and the only option Id add to the basic spec is the 850 media system, which includes a stereo, Bluetooth, and sat-nav.
The whole Leon range offers good value for money and comes with a strong reputation for reliability and customer service, while the Leon FR proves that 20k can buy a very quick, very economical, and beautifully balanced hot hatchback.
Verdict
My week with the SEAT Leon FR was a real treat, made more so because I had so few expectations. Lets face it, you dont expect a diesel SEAT to get your adrenaline pumping, do you?
But thats exactly what happened. I enjoyed driving the Leon far, far more than I was expecting and ended up taking it for long, solitary drives just to enjoy that great engine and chassis.
Its not just for B-road blasts, either. The whole car has a polish and vigour to it that caught me by surprise and I found myself enjoying it more and more as the week went on, even when I was just popping to the shops or acting as the family taxi. Highly recommended.
---
Looking for a great deal on your new SEAT Leon without any hassle?
With carwow you can compare upfront offers from main UK SEAT dealers and get huge savings. Compare offers for the SEAT Leon you're after by discount, delivery time, location and reviews of the dealers from previous carwow buyers. Communicate with dealers online, without them hassling you or putting any pressure on you to buy. If you're interested in their offer, buy directly, there are no online payments. There's no need to haggle and no hidden costs.
it's the best way to buy your new car! Find out more.