2016 Volvo XC90 options review
Anyone who's bought a new car knows all too well that even once you've picked your perfect model, that isn't nearly the end of it. That's because the next question to contend with is "would Sir/Madam like any optional extras?"
Whether it's a relatively simple coat hook or the most advanced navigation system, very few cars throw everything in for one, straightforward price. This week, we've taken a look at the new Volvo XC90's options list, picking out our favourite features ranging from the 'high priority' to the 'pretty cool but not really necessary'.
The XC90 hardly skimps on the standard kit in the first place. Even the least expensive model features an exhaustive equipment list, including cruise control, rear parking sensors, full LED headlights, dual-zone climate control, 12.3-inch touch-screen with satellite navigation and an electrically adjustable driver's seat. And all of that is without mentioning the the near-endless list of safety features.
So what else is available, and is any of it worth your money?
Essential options
Metallic paint (£700-£1,000)
Although obviously not essential from a practical point of view, you'll be left with little other choice than to fork out at least £700 for metallic paint when you consider the only free paint finishes are solid white and red. It is also worth bearing in mind that cars at this price point are far more desirable on the used market if they are finished in metallic paint, so it's certainly worth it.
Check out our guide to the XC90's full range of colour options.
Family pack (£450)
If you have small children, then a £450 investment in the Family Pack is a very sensible one. The central seat in the middle row of seats gains a two-stage booster cushion allowing little ones to sit more comfortably, and child locks keep them more secure. Meanwhile, a load protection net prevents bulky items from flying forward from the boot in a crash, and the rear passenger windows gain integrated blinds.
Useful options
Winter pack (£575)
Sometimes, on a cold winter's day, you need all the help you can get to get up to temperature. In that instance, the heated steering wheel, washer nozzles, windscreen, and front seats should help you feel nice and toasty.
Alternatively, Volvo offers the HUD winter pack. At £1,175, it offers the same as the regular winter pack, but with the addition of a head-up display – showing speed and navigation instructions in the driver's field of vision, reducing the time required to look away from the road. Given this would otherwise be a £1,000 option on its own, it perhaps represents better value for money.
Intellisafe pro (£1,500)
Intellisafe Pro combines the optional safety features together in one package. It includes a blind spot warning system, rear collision mitigation (which in the event of an accident helps to reduce the chance of secondary collisions), and lane keeping assist. Volvo's adaptive cruise control, which includes queue assist – working at low speeds to make driving in traffic more straightforward – rounds off the included features.
Xenium pack (£2,000)
The Xenium pack makes great sense for the sheer number of toys it offers for the price. A 360° parking camera, automatic parallel and bay parking system, and a full length powered glass sunroof are all included for £2,000. When you consider that a more basic rear view camera costs £400 and the sunroof alone comes to £1,295, then everything else included seems like remarkable value.
Frivolous options
22″ 5 double spoke alloy wheels (£2,250)
The Sportiest R-Design model already features a hardly-miniscule set of 20-inch alloy wheels, but what if they still seem a little too puny to you? Volvo has you covered in the form of these beefy 22-inchers. It's a sizable £562.50 per corner, and the ride is compromised slightly but, to some, the trade-off in looks will be worth it.
4-corner electric air suspension (£2,150)
When suspended on the standard springs and dampers, the ride quality of the XC90 is among the very best in the class. Those who feel it doesn't quite offer the range of adjustment (or who just want something else to fiddle with) can select the option of air suspension. Five modes can adjust the compromise between comfort and body control, depending on the mood of the driver. It's an excellent setup but, when the regular system is more than good enough, it becomes a slightly more difficult feature to justify.
Nappa soft leather – perforated and ventilated (£1,750)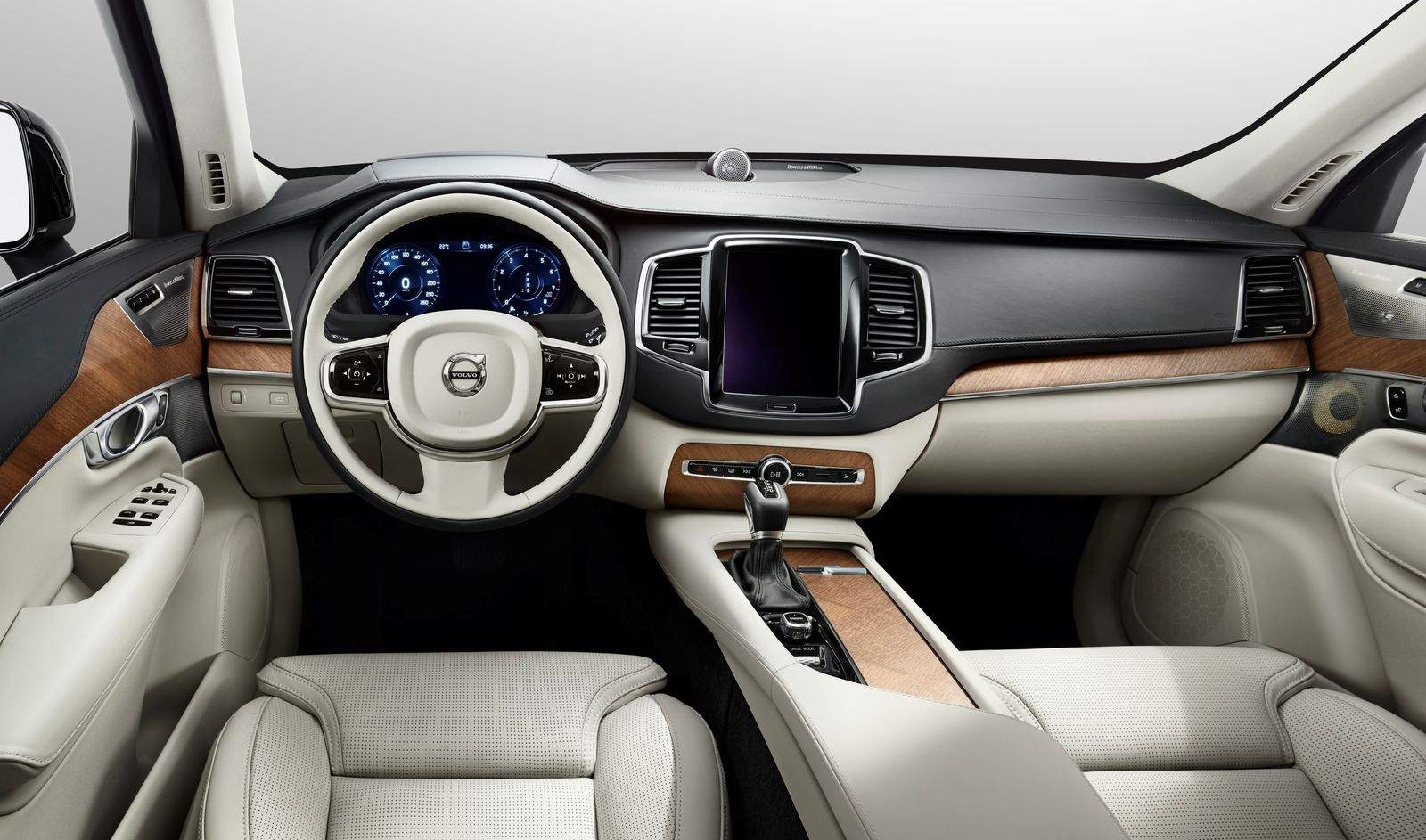 Every XC90 is equipped with a full leather interior, but there is the option of upgrading it to an even softer hide. The most expensive Nappa leather trim features perforations in the seats, providing the facility to vent cooling air against your back – perfect on a hot day.
For an extra £1,150, the tops of the instrument panel and door trims can be finished in leather in place of the standard soft touch plastic. It adds an extra level of luxury to the cabin, so if you're willing to stump up the cost, it's a very pleasant addition. While you're at it, why not add a massage function, too? For another £650, your back can be pressed and vibrated in a variety of stress relieving ways. As if the XC90 wasn't a relaxing enough place to be already…
Sensus connect premium sound by Bowers and Wilkins (£3,000)
The regular infotainment system is more than up to the task, but Bowers and Wilkins know a thing or two about producing quality hi-fi systems. The British firm claims its system is "the most innovative, sonically refined in-car audio system in the world".
A small tweeter – a speaker designed for higher frequency sounds – sits on the top and centre of the dash (see image above), which makes vocals sound even more lifelike. A further 18 speakers and 1,400 watts of power more than take care of the rest. Combined with those massaging leather seats and space for seven people, the cabin of a specced-up XC90 is nicer than most people's lounges…
What next?
Take a look at our full review of the Volvo XC90 and the cars it has to beat – the Range Rover Sport, Audi Q7 and Mercedes M-Class. Then head over to our car deals page to see our latest discounts, then check out our car configurator to see how much you could save on your next car.