Suzuki Swift 4x4 Review - Nurse Gladys Emmanuel Would Approve
The
Suzuki Swift
- especially the Sport - has been warmly received by the UKs motoring press, who love its honesty, zest, and no-frills attitude. Its a great recipe and one that is completely in tune with todays austerity customers who are looking more widely than ever before in search of genuine value.
We tested the Dacia Duster recently
, and while we applaud its price point, we felt that it demands too much from its owners, who must be prepared to tolerate bargain basement build quality every time they drive it, a thought that depressed us and thus ruled the Romanian 4x4 out of contention; call us soft, but we like a splash of quality here and there to brighten up our daily drives.
Enter stage left the Suzuki Swift 4x4, a bargain basement mini-SUV that should, on paper at least, blend practicality, pizzazz, and an attractive price point to produce the ideal car for rural dwellers who need 24/7 mobility.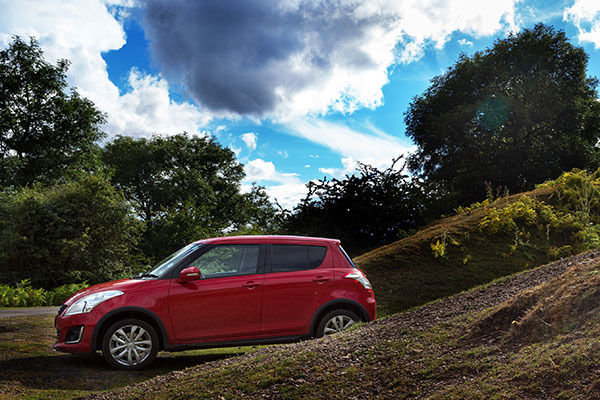 Exterior
You know the Swift, and if its a bit bland in places, its bland in an attractive, inoffensive way. Its cute, but not supermodel beautiful; its the girl next door whose appeal grows with familiarity.
The SZ3 4x4 gains an increase in ride height of 25mm over the standard Swift but remains much the same as its two-wheel-drive relative in the way it looks, bar a discreet 4x4 badge on the boot.
The SZ4 gains height plus front and rear skid plates, and black wheel arch extensions and side skirts. Its a well trodden path but one that is popular because it works; the Swift thus equipped looks 'urban chic' rather than 'rural tough' but no matter; this isnt a fully-fledged off-roader and doesnt claim to be.
Interior
The interior is much the same as the pre-facelift car, which isnt a bad thing. Its neat and attractive and well screwed together. There is plenty of room up front too, even for tall drivers, though back seat legroom does suffer with the front seat pushed all the way back, of course.
The SZ3 is equipped with the usual equipment that weve come to rely on and expect: Bluetooth, alloy wheels, air-con, electric windows in the front, drivers sat height adjustment, and a leather steering wheel with audio controls on it.
The SZ4 has all this plus cruise control, keyless entry, electric rear windows, a steering wheel that is adjustable for reach as well as rake, rear privacy glass, automatic headlights, and fully automatic air conditioning.
Driving
The Swift 4x4 is a car of two halves; on road and off it. Driving it around town shows it to be a more-than-decently competent hatchback that darts and tucks itself through traffic like a pro. Its small footprint, good visibility, and easy-to-judge extremities make city work a doddle.
On the open road the engines lack of torque makes itself known and turns overtaking into a gamble that you probably shouldnt offer stakes on most of the time. But, it keeps up with traffic well enough, although you do tend to find that you have to engage a lower gear than you first judged.
Over mild-to-moderate off-road surfaces the Swift is surprisingly competent, the permanent four-wheel-drive system diverting drive to the rear wheels when necessary. It is utterly foolproof in that the driver doesnt have to make any decisions; all you do is press the throttle and go.
Traction is limited by the road tyres, of course, while the lack of ground clearance will leave you stranded if you get too ambitious, but the Swift is more than adequately equipped for all-weather mobility with a bit of rough track fun thrown in. (This is, of course, the sort of off-roading that the overwhelming majority of people indulge in. Few, if any, need anything more)
Engine
The 1.2-litre petrol engine is the weakest link in the Swift 4x4s armour. Its perky enough and reasonably civilised, but a torque figure of just 87 lb-ft means that it struggles. The car might only weigh just over a tonne but the 4x4 system adds 65kgs, which doesnt sound like much on its own, but as a percentage of the total
Acceleration is, as youd expect, slow. 62 mph takes 13.4 seconds to reach if you try very hard, but when you are rolling along 92 bhp seems just fine and the payoff is very good fuel economy - 50 mpg should be attainable with care. CO2 emissions are 126 g/km.
Value for Money
The Swift 4x4 SZ3 costs 13,819 and the SZ4 costs 15,739. This places it in a very comfortable position given the equipment levels and refinement, which is streets ahead of the
Dacia Duster
.
The even better news, is that the Swift 4x4 is included in Suzukis VAT Free promotion, so the price you will pay until the end of September is actually only 11,516 and 13,116 respectively. That is very good value indeed.
Verdict
The Swift 4x4 suffers only one serious fault: it is slow. If speed matters, then youd be better off looking at a
Skoda Yeti
with one of the larger engines. And paying a lot more.
If you can forgive the lack of mid-range torque then the Swift 4x4 makes an awful lot of sense for those of us who need to keep mobile no matter what the weather. Doctors, community midwives, teachers, and others for whom immobility is more than an inconvenience will find the Swift does everything they need at a very reasonable price.
And that it doesnt make you feel like a pauper every time you open the door is an unexpected and very welcome bonus. Nurse Gladys Emmanuel would approve and would trade in her Morris Minor in a Heartbeat. (Which reminds me, rural coppers would like it too)