Volvo XC70 road test – cross-country abilities put to the test
Volvo was one of the first manufacturers to realise the value of a slightly raised and slightly rugged version of an otherwise standard estate car, and that tradition continues with the current Volvo XC70.
An annual pilgrimage to the 24 Hours of LeMans endurance race in France allowed us to rack up well over one thousand miles in Volvo's cross-country wagon, so how did it fare over a week of long distances with a car full of people and luggage?
Styling
The XC70's styling transformation from the V70 that it's based on is relatively uncomplicated, but it makes a big difference. The bodyshell is much the same as the V70, but large plastic bumpers, side cladding, muscular wheel arches, chunky roof rails and other rufty-tufty addenda put it closer visually to Volvo's stalwart XC90.
And in the black-on-black of our test car, the XC70 is possibly even more eye-catching. The raised ride height gives quite an imposing look to the car, and the gloss black alloy wheel finish endows it with a healthy dose of attitude.
Usefully, the Volvo's tyres are tall and wide enough that the black wheel finish should be protected from craggy terrain or more likely kerbing incidents.
There are two points worth noting with this particular all-black colour scheme. One is that black tends to show off dirt rather quickly, so you'll spend plenty of time washing the thing. The other is that a black car with a black leather interior can get rather hot on mid-summer days. Anyone planning on camping with an XC70 in similar spec would be advised to open all the doors for a few minutes before climbing inside!
Interior
Thankfully, the Volvo's air-conditioning is more than up to the task of cooling the cabin down again,and the body-shaped air direction controls and the simple knobs to adjust heat and fan speed are easy to work out, despite the plethora of buttons on the centre console. Those buttons do lend the console a slightly cluttered feel but you'll only use a few of them in day-to-day driving.
The rest of the interior is even easier to appreciate. Volvo makes some of the comfiest seats in the business and the XC70 is no different. All it takes area few prods of the electric adjustment switches and the seat can comfortably accommodate your backside for hundreds of miles. You then find yourself surveying the road from a slightly raised driving position compared to the standard V70. You also have a logical, attractive dashboard and a neat set of digital (TFT) instruments with selectable 'Sport', 'Classic' and 'Eco' layouts. None of the settings change how the car actually behaves.
Passengers too are well catered for; the four main seats are exceedingly comfortable and offer plenty of leg and headroom. The middle pew, occupied during our trip, drew some derision – it's harder, offers little support and cuts down on headroom somewhat. Still, you're unlikely to use it often.
The boot is (as you might expect) massive. We made best use of the drop-down cabin divider to separate luggage from passengers, but suffice to say the load area was big enough to hold tents and camping equipment for five, with some room to spare. There aren't many cubby holes in the cabin though, so it can be a struggle to house smaller items when there's a full complement of passengers.
Driving
You wouldn't expect a near-two-tonne, off-road-biased estate vehicle to deliver sports car thrills, and the XC70 doesn't. What it does is handle neatly enough to make its other driving qualities even easier to appreciate.
The first of those is great ride quality. We've driven softer cars, but the Volvo's combination of bump-absorbing springs, longer-travel suspension (the result of the raised ride height) and a stiff bodyshell means all but the toughest bumps are dealt with quietly and without too much jostling. It rides quietly too while you may feel bumps, the car doesn't protest when you actually hit them.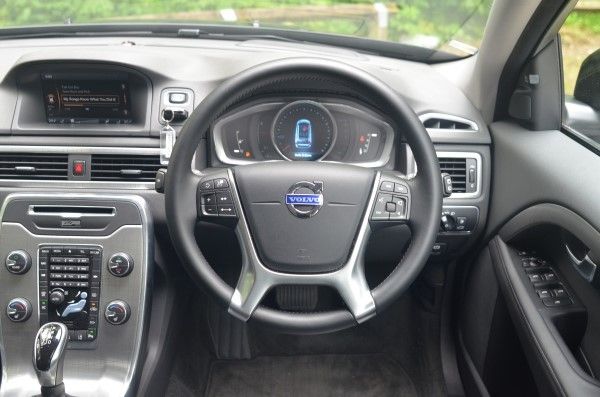 There's also pretty good grip given the Volvo's size and weight, and while there's not much feedback through the steering wheel, it has a satisfying weight when you turn it. As a result the car feels stable on the motorway, and the XC70can be placed easily through corners. It's not bad in town either, though an XC70 wouldn't be the most natural choice as a city car because of its size.
We didn't truly test the Volvo's (possibly limited, in our front-wheel drive test car) off-road abilities, but the bumpy, dusty and grassy field at the French campsite was no issue at all, nor were the muddy, rocky surfaces of the local beauty spot used in our photographs. There's one other thing to note about that front-drive layout: hard acceleration does see the front wheels tug at the steering wheel as they attempt to find traction. All-wheel drive XC70s are more expensive, but will ultimately have more grip when the going gets really tough.
Engine
Our D4-badged test car uses Volvo's new 2.0-litre four-cylinder diesel engine, soon to be found in virtually every model in Volvo's range. The engine impressed on our first test and was no less appealing over a longer trip. At the same time, there's still room for improvement.
Our main complaint isthe engine's sound. It's a little more grumbly at idle than we remember it from our first drive, and although the noise subsides at a cruise it can get a bit raucous under harder acceleration. Part of that is down to Volvo's new automatic gearbox; the eight-speed unit changes swiftly but does hang onto revs under hard acceleration, letting noise levels increase.
If you're planning to put your foot down, we'd advise knocking the lever into the manual mode and changing up a good few thousand rpm before the red line; it's quicker and a little quieter. That won't solve the gearbox's other slight issue though it can be a little clunky at very low speeds.
Performance from the 181-horsepower version of the D4 unit isn't bad, and the engine certainly didn't complain about moving a car that was full of people and luggage. Given typical French autoroute speeds of 80 mph (and more, when tasked with catching an early train)and all that extra weight, the 40 mpg figure we achieved on-test doesn't seem bad either, and largely matched that of the Skoda Superb Outdoor 2.0-litre TDI we joined in convoy.
Value for money
Volvo's XC70, here in SE Nav trim, kicks off at a thoroughly reasonable 34,120. At 42,645 our own test car's price is a little eye-watering, but there are some features we'd recommend you stick with for maximum enjoyment from your Volvo.
One is the automatic gearbox. At 1,550 the 8-speed Geartronic unit is a fairly significant cost, but it does suit the car's easy-going character and seems to enable reasonable economy, despite the slight reservations listed earlier. We'd supplement our test car's 1,100 Winter Pack with Active Bending Lights with the regular Winter Pack (500 with heated windscreen, seats and headlight cleaning system). The swivelling headlights are fancy, but not worth the extra.
Volvo's multitude of safety systems are all rolled into the 1,900 Driver Support Pack. We'd do without, but if you're seeking extra peace-of-mind then the active cruise control, automatic emergency braking system, blind-spot detection and other functions could be useful. We suggest you head to Volvo's website and find a brochure there's really too much optional kit to list.
Time to compare the Volvo to its rivals.
It's more expensive than the 28,000 Skoda Superb Outdoor we also tested,which has four-wheel-drive (though the XC70 is available in all-wheel-drive format too). The Volvo's 57.6 mpg combined figure (62 mpg with the manual) is better than the Skoda's 53.3, and it's more powerful. Audi's A4 Allroad is close on price to the Volvo, but not as frugal either, nor as spacious.
Verdict
Expense of our test car aside and the fact you'd have to pay even more for an all-wheel-drive variant we found the XC70 an excellent traveling companion and as practical as Volvo's image would lead you to believe. The interior and boot are vast, the cabin quiet and comfortable and the economy not bad given the full payload.
So it's a high score from us. The car's cost, the fact it wasn't objectively better than the cheaper Skoda Superb Outdoor on our week-long camping trip, and the fact it isn't truly groundbreaking all limit us from rating it any higher. But if you're interested in cars of this type, we'd be more than happy to recommend it.
Check out a full run-down of the XC70's statistics on our XC70 review page you can also read expert reviews, check out photos and watch videos.