SEAT Ibiza Road Test – A Car to Rave About
The SEAT Ibiza competes in a crowded marketplace; the Ford Fiesta is at the very top of its game and its stable mates, the Audi A1 and VW Polo who share a common platform with it are hugely competent, aggressively marketed, and keenly priced.
But, as ever, the devil is in the detail and SEAT has a well-deserved reputation for churning out cars that are uniquely-honed to reflect the brands demographic: young, urbane, and sporty. SEAT is very proud of its Ibiza and when they offered to lend me one I jumped at the chance to see if it really is as good as they claim.
Exterior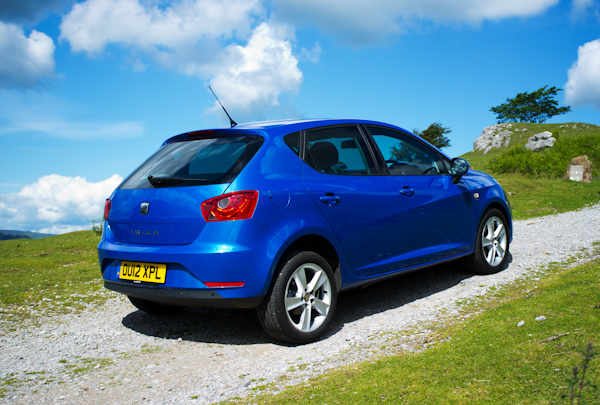 The Ibiza is full of sharp edges, swooping lines, and geometric shapes, all united with a flowing tension that prevents the car looking harsh or aggressive. The result is impressive and elegant, helped by the lovely hue of blue on my test car.
I have to admit that I prefer the three-doors shape but the five-door is much more practical, at least if you use the rear seats very often.
Interior
The interior is neither over-designed nor overly parsimonious, with everything you need and nothing you dont. This means manual air-con, a height-adjustable drivers seat and steering wheel, electric windows, remote central locking, alloys, and a leather-trimmed steering wheel and gearknob.
The driving position is perfect and the pedals are perfectly spaced to allow a spot of heel n toe action when youre in the mood. I covered 550 miles in a week including a couple of four-hour stints and emerged as fresh as the proverbial after every journey.
The back seats dont offer masses of space but a ten- and a seven-year-old boy fitted in there without complaint. The boot is decent without straying into ample.
Driving
SEAT claim to be the sporty arm of the might Volkswagen Group and in the Ibiza, at least, that true. The little hatchback fairly flies along thanks to a bewitching combination of a great chassis and rev-happy engine.
It changes direction without a hint of either under- or over-steer and stops on a penny; roundabouts become a study in late braking and inch-perfect placement. Bodyroll is practically non-existent and while the ride is on the firm side it is still very good. Seriously, if you dont enjoy driving this car then you should get a medic to check for a pulse
I cover the DSG auto box more thoroughly in the Engine section but would also point out that its long-legged ratios make it a very refined high-speed cruiser, so its worth considering even if you normally prefer to change gears manually.
Engine
The turbocharged 1.2-litre engine develops 104bhp and 129lb ft of torque, neither of which are earth shattering. But.
Youll be surprised at what an effective little engine this is. The key is the torque, all of which is available at just 1,550rpm making it very flexible and feeling more muscular than the bald stats suggest.
Its quick too, sprinting to 62mph in 9.7 seconds and going on to a top speed of 118mph while also providing enough mid-range urge to enable you to overtake in safety.
My test car was equipped with the seven-speed DSG automatic gearbox, which suited it very well. Drive was a bit lethargic, shifting into top gear at just over 30mph and remaining stubbornly there despite frantic prods at the throttle. Never mind, just blame Euro fuel consumption tests and slide the lever back one more notch into Sport where things are much more satisfactory; I shifted between the two using Sport when I needed acceleration and Drive when I was cruising. Driven like this I managed 43.7mpg, someway short of the official 53.3mpg but still very impressive.
Value for Money
The basic 1.2 TSI Ibiza SE costs 14,105 and is worth every penny. The combination of decent performance, sublime handling, and low insurance (group 12E) make this the pick of the bunch for the knowledgeable enthusiast.
Other models might go faster but none are more fun. The only options that you should consider are the Bluetooth pack at 410 and the sat-nav pre-install at 40 you can do without anything else.
Verdict
Youve probably guessed that I quite like the SEAT Ibiza. Of all the cars Ive driven in the last twelve months none has been as much fun as this feisty Spaniard.
I adore its poise, its elegant handling, linear brakes and precise steering. That the willing and frugal engine endows it with a decent level of performance is an unexpected, but very welcome, bonus.
---
Looking for a great deal on your new SEAT Ibiza without any hassle?
With carwow you can compare upfront offers from main UK SEAT dealers and get huge savings. Compare offers for the SEAT Ibiza you're after by discount, delivery time, location and reviews of the dealers from previous carwow buyers. Communicate with dealers online, without them hassling you or putting any pressure on you to buy. If you're interested in their offer, buy directly, there are no online payments. There's no need to haggle and no hidden costs.
it's the best way to buy your new car! Find out more.