Top Ten 7 Seater Cars
/
April 14, 2013
There are a total of 40 new seven seat cars on sale in 2013, and we're taking a look at the top 10. To see what other seven seat cars are for sale, use the carwow Car Chooser.
We've ranked the cars by buzzScore, our rating system based on the average of scores given in expert reviews. The cars are ordered in ascending buzzScore, the higher the buzzScore, the better the car!
Click on any of the cars' highlighted names to be taken to that model's full summary page - where you can read the critics' reviews, owner impressions, see photos and check out each car's vital statistics.
Number 10: Ford Galaxy
The huge Ford Galaxy gets a buzzScore of 7.7. It's probably one of the more stylish large MPVs, and one of the better to drive too. Its biggest downside is that its little brother, the Ford S-Max, does the job even better and is less expensive.

Price: £25,155-£33,810
Number 9: BMW X5
The BMW X5 is the most expensive car on the list, but doesn't get anywhere near the highest rating with an official buzzScore of 7.7. It's very smart both inside and out, but the back seats are a bit of an after-thought, adults would struggle to fit in them. It drives well though and has more prestige than many of the other 7-seaters here.

Price: £45,545-£83,765
Number 8: Renault Grand Scenic


The Renault Grand Scenic is great value for money and one of the safest MPVs, with a 5 out of 5 Euro NCAP safety rating. It gets a buzzScore of 7.9, with the only major criticisms being that it's quite hard to fold the seats down along with worries over its reliability.

Price: £17,335-£25,812
Number 7: SEAT Alhambra
SEAT has scattered some of its latin flair on the Alhambra, but there's a good dose of German sensibility in there too. It gets a buzzScore of 8.0, and some very impressive reviews. There is not only plenty of room for 7, but also space for their luggage. Unlike some here, it also has sliding doors, which make getting in and out of the car really easy.

Price: £23,770-£33,165
Number 6: Peugeot 5008


The Peugeot 5008 is one of the best family cars on sale. It won a whole host of awards at launch, and the buzzScore of 8.1 backs up the generally positive reviews. There are a wide range of engines to choose between, all get great reviews. It has one one of the best interiors you'll find in an MPV, with easy-to-fold seats and a multitude of cubby-holes in which to store your family's paraphernalia.

Price: £18,345-£25,595
Number 5: Volkswagen Sharan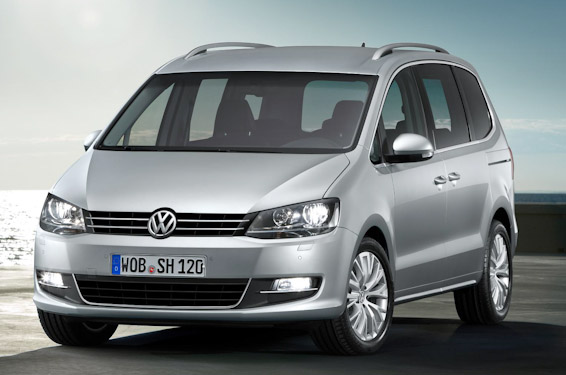 Reviews of the Volkswagen Sharan, cousin to the SEAT Alhambra, are largely positive. It's clearly designed for family use, with a child-friendly interior and useful sliding doors for better access to the rear. For getting a buzzScore of 8.2 Volkswagen should be congratulated, but it's not the most exciting looking MPV, nor is it particularly fun to drive. However it has so many plus points that it's still well worth a look!

Price: £24,300-£33,695
Number 4: Ford S-Max


Several years after launch, the Ford S-Max is still one of our favourite MPVs with seven seats. It's a stylish car, fun to drive and has plenty of space inside. With a buzzScore of 8.2, it's obvious all the top reviewers like it. There are some really efficient engines to choose from, so it won't cost too much in fuel.

Price: £22,800-£32,560
Number 3: Volkswagen Touran
Volkswagen's Touran is a new entrant on our updated list, and comes straight in on the podium--in reality, a joint second with Ford's Grand C-Max. The looks may not excite, the rear seats may not be the biggest and some of the diesels sound a little noisy these days, but otherwise it's excellent - practical, well-built and very comfortable. A buzzScore of 8.3 levitates it over Volkswagen's larger MPV, the Sharan.
Price: £19,015-£27,555
Number 2: Ford Grand C-Max
The Grand C-Max clearly got the attention of European Car of the Year judges in 2011, when it was the only big MPV that made the list. Since then it's remained near the top of the 7-seater charts, with a buzzScore of 8.3. Although fine for young families, you may want to give it a miss if your children are older, the back seats aren't too spacious. It'll be one of the cheapest cars on the list to run, as some of the engines can get a massive 58mpg.

Price: £19,945-£27,160
Number 1: Land Rover Discovery 4


The Discovery 4 is an outstanding car, with an an exceptionally high buzzScore of 9.2. It's well built, excellent off-road and a very comfortable way to travel. Though not cheap, many of the reviews say it feels like a car that ought to cost a lot more. If you have the cash, it's the best seven-seater option available.

Price: £38,825-£57,750
Check out our car chooser, which shows every single new car on sale, with the ability to filter cars by your preferences. It's really rather great!
Comments
blog comments powered by Disqus