Toyota Yaris Hybrid - First Drive
The Yaris Hybrid could be one of Toyotas most significant models in recent years. The Yaris is the companys best-selling model in Europe, and the Hybrid is the flagship of the range.
Toyota is claiming class-leading emissions figures, and the lowest price of any hybrid on sale. Will it turn the Yaris into a class-leading eco-supermini? And will it match the high fuel economy figures? Read on to find out more
Exterior
Toyota has made quite a few changes to the Yaris Hybrid, to visually separate it from the regular model.
The first of these is a new front bumper, grille and headlight treatment, visually tying the car in with the larger Prius and making it seem much more sporty than the normal Yaris models, too. It works well, and the LED parts of the daytime running lights look great. The rear end gets new LED-adorned lights too, in clear, dark surrounds.
Throw in some alloy wheels and a new pearl-white paint option, and it adds up to a car that looks both more attractive and more expensive than the regular Yaris. It also looks a little more high-tech without the overt hybrid look of the Prius. As such, it may appeal to buyers who want the benefits of hybrid technology, without making too much of a statement.
Interior
Much of the interior will be familiar to buyers of the current Yaris, and most of the eco-tweaks are fairly subtle.
Most noticeable is a clean, light-grey colour-scheme found on the dash and door trims. Its pleasingly soft to the touch and textured with little geometric patterns. Elsewhere, youll find hints of the Hybrid Blue that appears on the exterior badging, including blue stitching on the wheel and seats (on higher-spec models), blue needles in the dials, and a clear blue plastic insert on the gear selector.
Its a perfectly pleasant place to spend time, and ergonomically sound. Theres nothing to excite, but we suspect that wont be a concern to most buyers. Of much more importance is the spacious interior, decent-sized 286-litre boot (which hasnt been affected by the Yariss transition to hybrid technology) and good visibility.
Driving
Toyota chose Amsterdam to launch the Yaris Hybrid, and there are few places more suited to the relaxed driving style a hybrid encourages. Hills are virtually non-existent, urban speed limits are relatively low, and the picturesque towns encourage you to slow down and enjoy the view.
All of that is beneficial for fuel economy, of course - more of which later - but suffice to say the Yaris Hybrid is an incredibly easy and relaxing supermini to drive. The CVT automatic is smooth and responsive, and far nicer to use in town than any manual-equipped rival. Ride quality is good too, shrugging off Amsterdams many cobbled and bricked streets without transmitting it into the cabin.
Many cars are more fun to drive than the Yaris Hybrid, but the steering is quick enough to make the car feel nimble, and braking - most of which is handled by the regenerative effect of the electric motor at lower speeds - is strong and progressive.
Engine
The Yaris hybrid uses a 1.5-litre, four-cylinder petrol engine, mated to Toyotas Hybrid Synergy Drive. This puts 98 horsepower through a continuously-variable transmission (CVT).
Some may be put off by the CVTs habit of allowing the revs to rise and fall independent of road speed (and it can get noisy under heavy acceleration, more so than diesel rivals), but Toyota has revised it to feel more natural, and the revs now rise and fall more progressively. Around town, the engine cuts out so much allowing the electric motor to run instead, youll rarely be bothered by the engine anyway.
The benefits of the hybrid system, Toyota says, are the lowest CO2 figures in the class - at only 79 grams per kilometre, the lowest of any non-plug-in car too - and a power output higher than any of its eco-diesel rivals. It also out-performs many of them, at 11.8 seconds to 62mph. Top speed is 103mph.
Value for money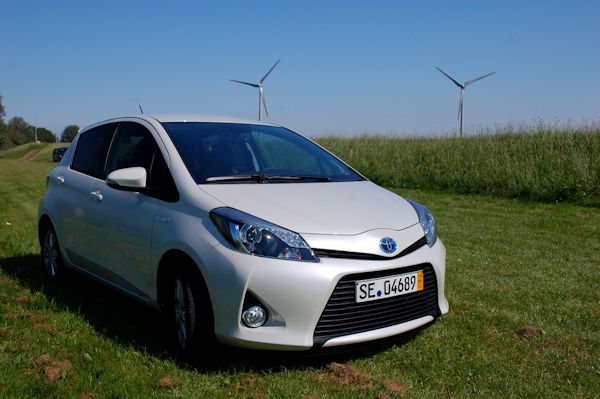 The Yaris Hybrid range starts at 14,995 for the entry-level T3, and rises to 16,995 for the top-spec T-Spirit.
Thats not only 1,600 cheaper than the less sophisticated, slower, less efficient, congestion charge and road tax-attracting Honda Jazz Hybrid, but also cheaper than the Ford Fiesta Econetic, Volkswagen Polo Bluemotion and several other eco-special diesels. That makes the Yaris Hybrid something of a milestone, as the usual hybrid price premium has been erased, allowing it to compete on even terms with diesel rivals.
Our T-Spirit test car had plenty of equipment, though if youre speccing-up a basic car, the only main option wed suggest going for is the easy-to-use Toyota Touch Go infotainment system, which includes sat-nav and car data, and integrates nicely into the dashboard. The Glacier Pearl white paint and the keyless push-button start are also tempting, adding to the high-tech feel.
Economy is excellent. Toyotas official figures for the T3 and T4 on 15-inch wheels are 80.7mpg urban, 91.1mpg extra-urban, and 80.7mpg combined - reduced by a few mpg on T-Spirit models with 16-inch wheels.
After a deliberately economical drive - but not one slow enough to hold up other traffic - we achieved an amazing 76.3mpg, in a mix of town and country driving. Perhaps more impressive, after some distinctly un-economical driving and avoiding as much electric driving as possible, the car still struggled to turn in much less than 55mpg, according to the on-board computer.
Naturally, your figures will vary - the Netherlands is distinctly free of economy-sapping hills, and our routes encouraged the lower speeds that hybrids thrive on. If you regularly do longer, faster journeys, you may find a small diesel to be more economical - though its worth remembering that diesel costs more than petrol, too.
Throw in Toyotas 5-year, 100,000-mile vehicle warranty, 8-year, 100,000-mile drivetrain warranty, running costs 13 percent lower than that of a regular Yaris over 60,000 miles (according to Toyota) and an impeccable reliability reputation, and the Yaris Hybrid could prove ridiculously cheap to run.
Verdict
The Yaris Hybrid is an excellent car. Its not the last word in excitement, but it is the last word in economy and emissions, and makes diesel rivals seem dirty, unrefined and expensive.
It perhaps makes most sense as a long-term proposition, to offset the price-difference over a regular petrol Yaris. The long warranty, excellent economy and projected low running costs will make it virtually unbeatable over five years or so, and resale will only be strengthened as the price of petrol continues to rise. If you tend to keep your cars for a longer period, the Yaris Hybrid is well worth considering.
Its also the most convincing application of hybrid technology yet. Economy is very good indeed, no compromises have been made to the cars packaging, its priced well, and it even looks good. If you want an economical small car, we can highly recommend the Yaris Hybrid.
What the press think
Reviews have been generally positive so far. Some have criticised the Yaris for not being much fun to drive, though whether that really concerns buyers is a different matter. The car is praised for its emissions and economy though, and most also like the improved styling over the standard Yaris.
If you like the sound of the Yaris why not check out our full summary of the
Toyota Yaris
along with reviews, stats, photos and videos!