Porsche 918 RSR – New Hybrid Race Car
Porsche this morning unveiled the new 918 RSR. Its a stunning race car powered by a V8 petrol engine and two electric motors. Its not for sale though, and theres no word on whether it will race at all. Porsche are simply calling it a racing laboratory, which sounds intriguing!
Last year at the Geneva motor show Porsche unveiled the beautiful 918 Spyder concept, and the styling of the 918 RSR is clearly based on the Spyder. Power for the RSR comes from a 563hp V8 engine and two electric motors which both contribute 102hp each, bringing a total of 767hp.
The electric motors are at each of the two front wheels and the power for them is generated through braking and stored in a optimised flywheel accumulator (no, we dont really know what that means either!).
When the electric motors are fully charged, they can give the driver around 8 seconds of extra boost, perfect for overtaking during a race. Alternatively, the power can be used to improve the fuel consumption, meaning less pit stops.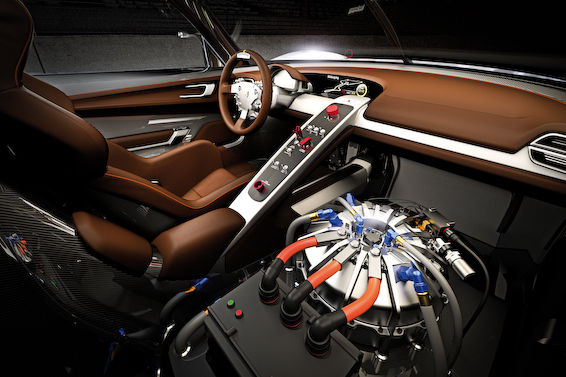 The RSRs interior is the smartest we've ever seen in a race car, with a gorgeous leather lined bucket seat and a minimalistic centre console. Where the passenger seat should be, is the aforementioned flywheel accumulator, which looks like some kind of mini nuclear reactor.
Its highly likely that Porsche will use the 918 RSR to develop a road going supercar based on the technology. Porsche have made it clear they want more hybrid cars in their range. They've already brought out the Cayenne Hybrid, and a hybrid Panamera is expected shortly.