Peugeot RCZ-R Driven On Road And Track
The true definition of a sports car is hotly contested in the motoring community, but few would argue the Peugeot RCZ coupe was one.
Not that the RCZ is a bad car - far from it. It's just it's always felt a little more like a stylish GT than a true sports car, better at wafting you down the motorway with swiftness and comfort than tackling a B-road or shining at a track day. To this end, you'll be unsurprised to learn that the diesel is the most popular model, snatching 44 percent of the model's sales so far.
The new RCZ-R is a completely different prospect. Developed by Peugeot Sport and launched at the Goodwood Festival of Speed last year, the RCZ-R is no badge-engineered coupe with mere sporting pretentions.
Its specification list includes a reworked version of the RCZ's normal 1.6-litre THP petrol engine, with uprated internals and Mahle forged pistons. At the front, there's a set of serious-looking 380 mm floating disc brakes on aluminium pins. You get a Torsen differential. A close-ratio gearbox with a shorter shift than the regular RCZ. A fixed rear spoiler. A 17 kg weight saving from components alone. A new lower, firmer suspension setup.
Unless you're pedantic enough to require rear-wheel drive in your sports car definition, it's hard to argue that the RCZ-R is anything but a bona-fide sports car.
Not that the changes have detracted from the RCZ-R's road car abilities. It's still as stunning to behold as the regular RCZ, for one - itself enhanced in last year's facelift , and now taken further with the 10mm lower suspension and 19-inch alloys. RCZ-R detailing is subtle - there's badging front and rear, and the eagle-eyed will spot the parallel twin exhausts, rather than the single twin unit on other RCZs.
Inside, you get a set of stunning Alcantara-clad bucket seats, a gearknob from the 208 GTI and a smattering of red stitching on virtually every surface. The back seats, surprisingly, have remained - Peugeot tells us their occasional usefulness outweighs the benefits you'd get from removing them.
The bumpy roads around Oulton Park in Cheshire were rendered less than suitable for the RCZ-R's 267-horsepower output by a sprinkling of rain, but a 15-minute drive was enough to determine the R has prodigous overtaking power. There's huge torque available from low revs, more than enough to catch the traction control completely off-guard, but also enough to plant your foot in almost any gear for a brisk overtake.
There's plenty of grip too, most of the time, and the R instantly feels fun to drive. It's not too uncompromising either, with a controlled (if firm) ride and a highly tractable engine - it doesn't object to you just bimbling around in a higher gear. If you do so, you may get close to the R's 44.8 mpg combined figure - the best of any petrol RCZ. A good start.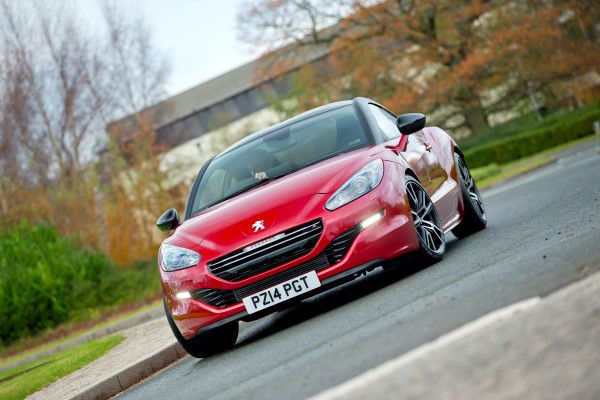 Really though, the track is where the RCZ-R shines.
On Oulton Park's smooth tarmac you can exploit every one of those horses, and in tighter corners the Torsen diff drags you along like you're attached to an elastic band somewhere beyond the horizon.
Tracks have a way of shrinking power outputs that would seem insane on the road, but the RCZ still feels quick around Oulton's twists and turns, with a satisfying bark to the reworked exhaust. Thankfully, those supercar-style brakes are more than up to the task of slowing you down again, and while a wet track precluded any serious test of their abilities, brake fade simply wasn't an issue.
The R's extra steering weight over the regular RCZ was appreciated on track, and even though outright feel is still lacking there's more than enough precision and response for fast, consistent lapping. The RCZ-R's chassis makes light work of track driving, and there's nice balance too - on some of Oulton's greasier sections, the back end played more than a passive interest in your direction.
The gearbox too is thoroughly satisfying to use, snapping between ratios with a robust mechanical feel. In fact, all your interactions with the car exude the harmonious traits of the best drivers' cars, allowing you to concentrate on the road rather than uncooperative controls. It just feels "right".
Verdict
We aren't sure what's better - that the RCZ-R is such a brilliant car to drive, or that Peugeot has officially got its mojo back. First the 208 GTI and now the RCZ-R, each vehicle is definitive proof that there are a group of engineers at Peugeot who truly understand how to make a fast, fun vehicle.
We'll have to reserve full judgement on the RCZ-R until we've spent more time on proper roads. And ideally, a drier racing circuit. But on first impressions, the RCZ-R is one of the most capable, fun cars we've driven in quite a while. And at 31,995, the price isn't bad either - Peugeot has taken over 200 pre-orders in its first fortnight on sale.
Just make sure that, if you buy an RCZ-R, you take it on track. You'll be glad you did.