Peugeot Bipper Tepee Style HDi – Full Review
Family car buyers have never had it better. From spacious superminis to funky crossovers, the market is awash with the interesting, the practical and the keen of value.
Where do cars like the Peugeot Bipper Tepee fit into all of this? We've tested these van-like contraptions before, not least in the shape of the Fiat Qubo – to all intents and purposes, the same car. Fiat's effort scored highly in our estimation – so how does its Peugeot cousin stack up?
Exterior
We may have used the word "ugly" to describe the Qubo in our review, and it's true the Fiat, Peugeot and Citroen trio isn't the prettiest of families. The Peugeot is perhaps easier on the eye than the Italian offering, its greater use of chunky, unpainted cladding giving it a rough and ready look that appeals on a basic, unpretentious level.
This car's 'Neysha Blue' paintwork is also an attractive shade, particularly in the sunny week we had the car. Okay, so the wheels – steel, rather than alloy – are neither flashy nor fill the wheel arches, and the angled side glass isn't as practical as it might be, but this is very much a vehicle bought for utility over style.
Interior
That utility can be best appreciated from inside. Despite the car's compact exterior size, the Bipper's interior is cavernous compared to the average supermini or family hatchback, and all passengers enjoy a high, upright and comfortable seating position.
From the driver's seat, that affords an excellent view out of the large windscreen, deep side windows and into the suitably large side mirrors. The pillars barely intrude into your view either, and the flat-sided nature of the car means placing it is a doddle, particularly around town. Mirrors correctly adjusted, it's even possible to see the rear wheels when parking – so you've no excuse for bumping the kerb!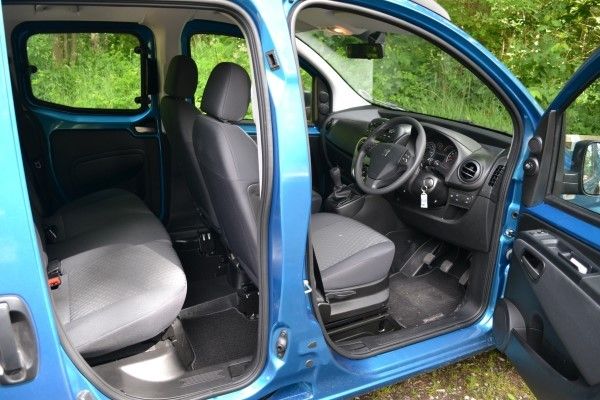 It's an airy space too, which cools down quickly whether you choose to drop the electric windows or use the air conditioning standard on Style trim. The rear windows only pop out, like a three-door car – though as a family car, this could be considered a safety feature for kids in the rear seats.
Access to the rear seats is excellent, as you'd expect with sliding doors. The rear bench isn't quite wide enough for three invididual pews, but even adults will have plenty of knee- and headroom.
Move even further rearwards and you'll also find a large, 356-litre boot. This can be extended to 737 litres by dropping the (rather heavy) rear seats, though you'd only need this for the largest of loads. The top-hinged tailgate opens wide, but you may want to park nose-in to spaces – you'd struggle to open it parked too close to a wall or another car.
Fit and finish is only average. The plastics feel hardy, but it's very obviously a commercial vehicle in here, and the glovebox on our car didn't close properly. It's vast though, easily holding large items – and here the car's van-based roots are a godsend, with cubby holes absolutely everywhere.
Driving
We were pleasantly surprised by the last van-based Peugeot we drove, the Partner Tepee. It's fair to say the Bipper is a little more compromised than its larger brother, but not unpleasant all the same.
Well, apart from the ride quality, perhaps. While it does a decent job of absorbing little ripples, it's nevertheless fairly stiffly sprung – you assume, to endow this relatively tall, narrow vehicle with some stability in the bends. This means things can get a bit bouncy at higher speeds, though the largest movements are largely kept in check.
It does mean the Bipper feels quite nimble – and even verges on the fun. The steering offers good feedback and fairly quick (2.75 turns lock-to-lock), and it eggs you on into driving like the proverbial French boulanger on his way to deliver the day's baked delicacies. Coupled with the excellent visibility, you can hustle the Bipper at surprising speeds.
Less adept are its motorway manners. It rides nicely enough but the brick-like shape generates plenty of wind noise, and tyre and engine noise can also intrude. Our experience of high-sided vehicles suggests it also may be a bit of a handful in crosswinds. It's much happier around town – potholes aside – where its small proportions mean threading it in and out of traffic is a joy.
Engine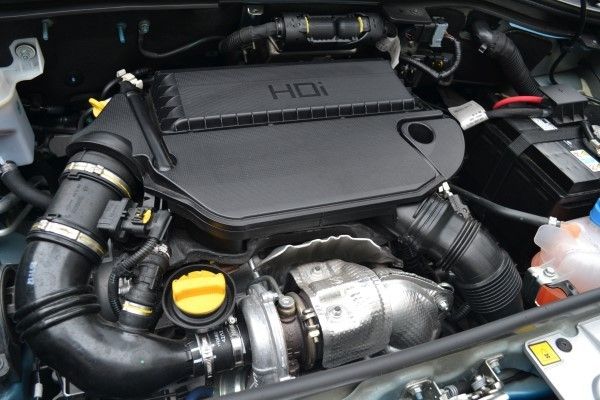 A modest 1.3-litre turbocharged diesel sits under the bonnet, producing only 75 horsepower – less than that of the identically-engined Qubo. It's not a fast car, as a result – 0-62 mph takes 16.8 seconds and it won't even reach the ton.
It never really feels that slow though, perhaps a result of the high driving position, willing engine and higher-than-average noise levels. A snappy five-speed gearshift allows you to make good use of the power and torque too, and frankly you need little more power than that around town anyway.
Better still, it's highly economical. Officially it'll do 62.8 mpg combined, and after several hundred miles of 70 mph motorway, some country road blasts and a little town work, our car averaged 58 mpg on the trip computer.
Reset for the town and country drives, it still showed over 50 mpg – a light, fairly small vehicle with a pugnatious little diesel engine will always return decent economy, it seems.
Value for money
Our test car, a Bipper Tepee Style, has an on-the-road price of 13,345. That's cheaper than the 15,000 or so of the Qubo we tested before, though the Fiat does come with a little extra kit. To the base price, our car also added 450 of metallic paint, 210 of Bluetooth connectivity and rear parking sensors for 210.
What neither trim level can offer are any high-tech goodies, the likes of which are common on modern small cars – though we did appreciate our car's USB-linked stereo, which hooked up to an iPhone with ease.
Safety has improved since the Bipper first arrived too, with front passenger and side airbags joining a driver's airbag as standard equipment.
Just over thirteen grand isn't a bad price to pay for a car of the Bipper's practicality though, and if you're prepared to drop air conditioning and roof bars, a basic 'S' model comes in at 12,595. Tax is low on both – it sits in the 30 band C.
For comparison, an entry-level diesel version of Peugeot's new 2008 crossover starts at 14,295. It's a little more economical on paper, costs a little less to tax and will look fancier on your driveway, but it can't match the versatility of the Bipper.
The only real thorns in the Bipper's heel are that the larger Partner Tepee looks even better value, given its extra volume – a 1.6 HDi begins at 14,310 – and that the model has no official EuroNCAP crash test rating.
Verdict
You don't see many Bipper Tepees on the roads (though their regular van cousins are everywhere), which is a shame. We suspect many dismiss the car for its looks, but to do so is to miss out on a characterful and supremely practical little car. However, we've seen fit to mark it down one point for lacking that reassuring crash test rating, and some of the bits of tech that families now expect in their cars.
Save for the recently-introduced Dacia range, few cars better illustrate those qualities we used to love in French cars than the Bipper – affordability, economy, simplicity and practicality.
Like the old Citroen 2CV or Renault 4, the Bipper isn't in the least bit fashionable, but does its job very well indeed.
What the press think
Reviews for the Bipper Tepee are generally positive, with its practicality and decent driving characteristics gaining praise. Reviewers are less keen on its looks and low equipment tally.
---
car wow can get you exclusive savings on your new Peugeot Bipper Tepee. We get dealers to compete so you get the best, upfront, no-need-to-haggle prices.
It's a quick and hassle free process, you tell us the car you want and get multiple quotes in 24 hours to compare from official Peugeot dealers who don't get ever your details. Simply message dealers anonymously to ask any questions and buy directly when you're ready. There's no pressure to buy, you're in control.