Retro Road Test - 1986 Toyota Corolla GT AE86
If someone had told you, around the late eighties or early 90s, that people would happily trade five-figure sums in 2013 for a Toyota Corolla, you'd probably have thought their shell suit was cutting off the oxygen to their brain.
Yet here we are, a quarter-century wiser, and some Corollas really do go for that sort of money.
It isn't without reason, of course. The Corolla in question is not one of the staid front-drive hatchbacks that started to appear in the late 80s, but the rear-wheel drive Corolla GT, its growling engine pilfered from the iconic 1980s MR2 sports car.
The cheap thrills to be had from this classic drivetrain layout is why the price of virtually anything rear-drive has started rising in recent years, but that alone cannot explain the Corolla's popularity. To do that, you need to look to Japan, and the drifting motorsport craze which the internet has helped to propagate.
Best summed up as the art of going sideways - though there's more technique than that description implies - the Corolla, or 'Hachi-Roku', owing to its AE86 chassis code, has been central to the sport's popularity.
The risk is that such a vehicle succumbs to its own hype, and is completely unable to live up to the near-godlike reputation its fans would have you believe.
Mere minutes behind the wheel of Toyota UK's immaculate heritage fleet Corolla are enough to confirm this isn't the case.
For a start, what once might have been considered a slightly bland shape is now curiously appealing. Modern society's habit of devouring anything retrospective has seen the wedgy lines and simplified detailing of 1980s cars come back into vogue.
The silver and grey two-tone colour scheme couldn't look more appropriate; nor could - once you step inside - the wall-to-wall blue velour, blue carpets and bluish-tinted dashboard plastics. The squashy seats feel comfortable and despite limited adjustment - the three-spoke wheel is fixed - a purposeful driving position is easy to find.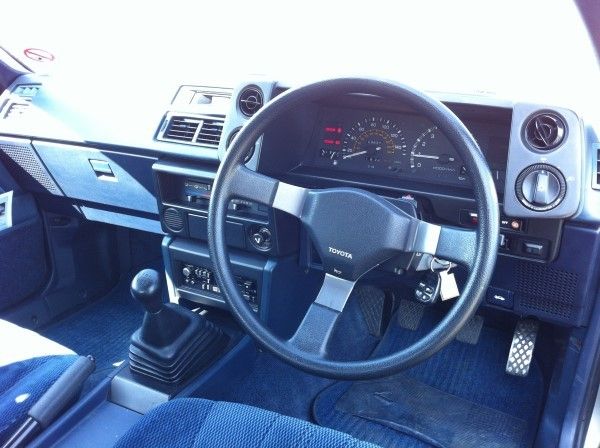 The four-pot fires to a busy idle, noise levels elevated by this car's aftermarket exhaust. The controls instantly relay messages once underway. The nasty plastic gearlever isn't much to look at but snicks beautifully between ratios, and the throttle response makes fools of most modern cars - including the AE86's spiritual successor, the GT86 coupe. All the while, the car's modest acceleration (around 120 horses are at your disposal) is accompanied by a satsifying rasp from the exhaust.
Despite lacking power assistance, the steering never feels as heavy as you're expecting, though it does weight up quickly as you push the Corolla harder into turns.
As you'd expect from a car wearing relatively small wheels and relatively tall tyres, it actually flows along the road quite nicely. It feels firm, conversely leaning somewhat in quicker corners, but it isn't spine-jarring like some modern hot hatchbacks.
Ultimately it feels quite secure and manageable in the dry, though in the wet we expect it's a different story. With a live rear axle and only skinny tyres to overcome, it wasn't at all difficult to send the rear end on its own path through some tighter turns.
Once the car has taken such a stance, it feels remarkably natural - and in doing so, we're back to the reason this car is as popular as it is today.

Conclusion
Not fast and certainly not sophisticated, the Corolla is still proof of a concept that Toyota has used to great effect with the GT86. With low weight, direct controls and a compact body, driving fun need not be all about speed and high cornering forces.
Our drive in the AE86 was followed by a spin in the new GT86. It might sound clichd to say so, but the two shared much in common. If the GT86 retains as much appeal in thirty years as its Corolla ancestor does today, it could prove to be a worthy investment.
If classic cars aren't your thing, check out our full summary of the Toyota GT86 alongside reviews, stats, photos and videos!
Also, why not read our retro reviews of the 1972 Datsun 240Z and 1984 Vauxhall Astra GTE?