Skoda Yeti Greenline II – Full UK Review
There's something quite appropriate in driving a car called Yeti, in white, through countryside glittering under a layer of snow.
It would be more appropriate still if our Yeti had come equipped with winter tyres or four-wheel drive to cope with the unusually cold March weather, but our Greenline-badged car is built as much for economy as utility. Does it sacrifice any of the usual Yeti's go-anywhere appeal at the altar of efficiency? All would be revealed after a week and over 900 miles of driving…
Exterior
Last time we tested a Yeti we reasoned that it wasn't the prettiest-looking of vehicles. Styling is hugely subjective of course, and to that end, this writer loves the Yeti Greenline's looks.
Okay, it isn't the most sleek or edgy of vehicles, but the high contrast white paint and black and grey detailing looks fantastic. The chunky lines and lofty ride height (actually lower than standard on the economy-biased Greenline) give off just the right impression, as does Skoda's large slatted grille, and the round driving lights on the bumper.
The black-painted A, C and D-pillars emphasise the thick, white-painted B-pillar, and the large roof rails balance out a shape that might otherwise look a bit too elongated. Knowing that the Yeti's boxy volume is practical only adds to its visual appeal.
Interior
As implied, the tonka-toy exterior translates to a spacious and usable interior.
Starting at the back, you'll find a large, accessible boot. Cargo nets and dividers help you account for different luggage types. Space can be expanded further by rear seats that fold forward or tumble, and you can also removed the centre seat, as with the Roomster, to give two rear passengers even greater space.
They'll find plenty of space with it installed, with excellent leg and headroom. It's the same story in the front, and the leather seats on our Elegance-spec model proved comfortable and supportive over hundreds of miles.
The driving position is near-ideal, and we appreciate the space set aside for resting your right foot while driving on cruise control – a minor detail hugely welcome on long journeys, yet missing from the majority of cars.
All controls within easy reach – while stereo and heating buttons and knobs are all easy to fathom and feel high-quality. That high quality feel is echoed throughout the interior, at least in terms of build. Some plastics feel a little basic, but tough too – and in this sort of car, the interior's ability to last is more important than its touchy-feely qualities.
Driving
We have to admit, there were times during our week with the car, while the whole country was wrapped in a cold, icy blanket, that four-wheel drive or winter tyres would come in handy.
Even so, the Yeti endows you with a feeling of confidence on the road, from the slightly raised driving position, through the accurate, well-weighted steering, to the composed ride quality over most surfaces and perfectly-judged control weights.
It handles as well as any car in the class has a right to, and behaves predictably even in poor road conditions. It's also stable on the motorway, the brakes are responsive and strong, and you don't fear for your spine every time you thump through a pothole. It's hard to ask anything more for a car of this type – other than perhaps true off-road ability, something better served by the four-wheel drive versions.
Engine
We've been here before with Skoda, when testing the previous-shape Octavia Greenline II Estate. A 1.6-litre TDI turbodiesel resides behind the Yeti's bluff frontage, developing a modest 105 PS and a more relevant 184 pounds-feet of torque from 1,500 rpm.
On-paper performance isn't blistering – 12.1 seconds to 62 mph and a top-end of 109 mph – but in day to day driving we rarely found it wanting.
Drop a gear or two on an A-road (it's a five-speed 'box) and there's more than enough power for overtaking, with urge in reserve when sitting at motorway speeds. It's at its quietest on the motorway too, becoming more audible when accelerating hard or trundling around town.
For some reason, the standard start-stop system seemed a little uncouth compared to our Octavia experience – though we never caught it out. If you find yourself caught by the same traffic lighs every day, you'll appreciate the silence and fuel savings.
Economy is of course the main Greenline's main benefit – 61.4 mpg combined, officially. Frigid conditions saw us average nearer 50 mpg on several motorway trips, though one lightly-trafficked run at 70 mph saw nearly 60 mpg on the computer.
Value for money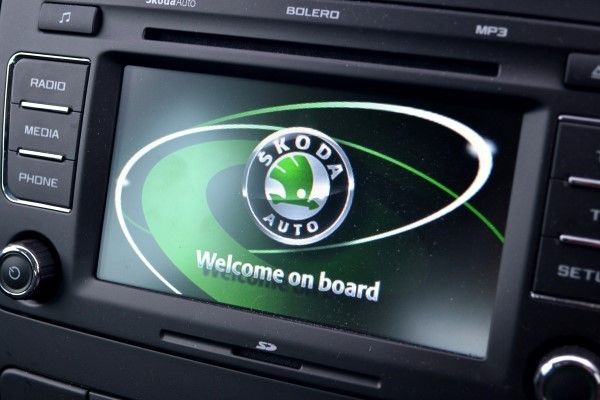 Our car, a Yeti Greenline II in top-end Elegance spec, would set you back a slightly hefty 20,665, though you can knock a full 3,300 or so if you drop to 'S' trim.
The higher-spec model offers a different 16-inch alloy wheel design, leather seats, bi-xenon headlights, leather wheel and gearknob, a 'maxi-dot' trip computer and the touchscreen infotainment display for your extra dosh, though some of these are available on the interim SE trim too.
CO2 of just 119 g/km will keep road tax low and the Greenline II's impressive economy will minimise fuel bills. Insurance won't sting too hard either, in group 12E.
The Yeti remains reasonable value too – even considering its list price, you'd spend more on a Nissan Qashqai of equivalent spec and economy, and many other rivals simply can't match the Greenline II's low tax and high MPG.
Verdict
Skoda makes some hugely talented cars these days, but none so useful as the Yeti.
The styling is perfectly judged, the interior practical, hard-wearing and comfortable, it's very economical, performs well, and it handles as well as anything else in the class.
It also remains good value in the face of tough competition (even if the Dacia Duster undercuts it massively on price) and should be utterly painless as an ownership proposition. Throw on a set of winter tyres for five months a year and you'd have a near-perfect all-round family car.
What the press think
Unsurprisingly, the Yeti Greenline II's mix of economy and usability goes down well with the wider press too – and could well be the pick of the Yeti range. The Greenline's good performance and low running costs win it plenty of fans.
---
Buying a new Skoda Yeti
Use car wow to get exclusive deals on your new Skoda Yeti. We get the best UK main dealers to compete. You compare the best upfront, no-need-to-haggle prices. Buy direct from the dealer. It's fast, 100% free and there's no hassle from dealers.
Go to our Skoda Yeti deals page now to see how much you can save and get started! For more information, check out our Skoda Yeti review with stats, photos and videos!