Suzuki SX4 Review - All Things to All Men?
The SX4 is, according to Suzuki, a Sport X-over that combines responsive driving dynamics, 4x4 capability, high levels of practicality and styling that suggests a freestyle approach to life. If true, then the SX4 will have achieved the automotive Holy Grail: being all things to all men.
Bold claims demand a thorough investigation, so we subjected the SX4 to a typical carwow in-depth review, testing each and every one of the claims made of it. Lets see how it fared, shall we?
Exterior
While Im not convinced that anyone should rely on their car to suggest what their lifestyle is, it is true that the SX4 is neatly, if unremarkably, styled. Compact exterior dimensions with an upright stance maximise interior space within a small footprint, something that both passengers and drivers will all appreciate; passengers because an upright position gives them more room and the driver because the SX4 is remarkably easy to place.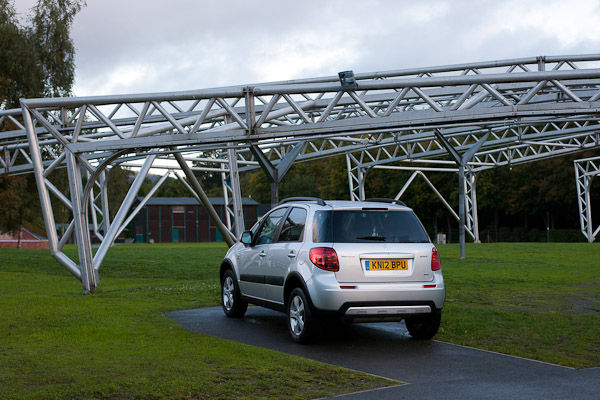 The SX4s chunky looks are more urban-chic than rural-tough, although simple touches like the bold rubbing strips and roof-bars do help toughen the little Suzukis image. No-ones going to mistake the SX4s off-road ability with that of a
Land Rover Defender
but as a subtle hint towards its dual-role it works well.
Interior
The interior is tough looking, simple, and all the better for not being overly complex; everything that you need is perfectly placed and decently executed. You are never in any doubt that this is a relatively cheap car, but it comes across as a virtue, rather than a vice. Carpets and seat covering have utility, not luxury, in mind but if, as Suzuki suggests, this is a car with genuine off-road ability, this means you arent going to be too precious about getting them muddy.
Back seat space is not limo-like, but it is adequate thanks to that high roofline, although dont even think about putting anyone in the middle seat; it just isnt wide enough. Boot space is on the acceptable side of good, and the split back seat does fold increasing it further.
The SZ5, which is the top-of-the-range model and the one that we are reviewing, adds tinted privacy glass, a six-speed gearbox, and cruise control to standard across-the-range features that include six airbags, remote locking, air-con, CD tuner, and front electric windows.
The mid-range SZ4 gains front fog lamps, alloy wheel, rear electric windows, and heated door mirrors, as well as that silly keyless entry that is the only jarring note. (Keyless in this case means the fitment of a permanent key in the ignition lock. It isnt keyless and looks ridiculous, but in Suzukis defence, they arent the only manufacturer that does this)
Driving
For such a tall car, the SX4 handles surprisingly well. The controls are smooth and light to operate, and the gearbox, in particular, is lovely to use. The steering might be a little bit heavier than is normal for a small car but it isnt heavy enough for anyone to find troublesome.
The ride is good, and the suspension is compliant enough to absorb even the biggest pothole without causing the driver to flinch. Sturdy 16-inch alloy wheels with sensible tyres help no end here and they dont hinder the handling either; other manufacturers would do well to take note.
The SX4 is, despite the name, available in both two- and four-wheel-drive versions. We tested the all-wheel-drive model that features a three-position switch. Auto leaves it in front-wheel-drive, adding power to the rear wheels as necessary. Lock keeps it in four-wheel-drive, while 2WD locks it into front-wheel-drive for road use in good conditions. Id suggest leaving it in Auto and letting it decide for itself.
I didnt take it too far off-road, but there is little doubt that it will cope with a reasonable amount of rough stuff, with muddy car parks and fields being easy fare.
Engine
The 2.0-litre DDiS diesel engine develops 236 lb/ft of torque and 133bhp, enough to push the little Suzuki to 62mph in 11.2 seconds and on to a top speed of 112mph.
The diesel engine is a bit noisy, but still manages to feel civilised, and few will find much to moan about. Fuel consumption should be around the 45-50mpg mark and emissions are 139 g/km. Its flexible and easy to drive and manages a steady motorway cruise with ease.
Value for Money
If you want four-wheel-drive or the 2.0-litre diesel engine then you will need to buy the top-of-the-range SZ5; it comes with both and costs 17,400. The more basic, two-wheel-drive models start at just 12,595, which begs the question is: what do you want from your SX4?
If you need a family car that is practical, good to drive, and has a measure of off-road ability then the SZ5 is a very attractive option. If you just want four-wheel-drive looks without the complication, weight, and expense of having the rear wheels driven then the cheaper models will do the job very well indeed and save you a bundle.
Verdict
I wasnt expecting much from the Suzuki SX4, if Im honest. Im not a big fan of crossover vehicles as a rule, but by the end of the week I was warming to it. We live in a rural area and I could see the attraction of a fine-handling car that will keep you mobile in any weather conditions. The SX4 doesnt demand anything of you as a four-wheel-drive car, but will be there when you need it. The fact that the rest of the car is pretty darned good is a nice bonus.
It has few rivals at this price point; its better than the
Nissan Juke
but not as good as the (admittedly more expensive)
Skoda Yeti
. As ever, you pay your money and you take your choice, but I, for one, wouldnt mind one on my drive.