Suzuki Swift Sport – Road Test
The Suzuki Swift Sport would be an easy car to dismiss; 134bhp is barely enough for a 21st century hot hatchback (despite being plenty, back in the day) and its lukewarm performance is eclipsed by other more powerful, albeit more expensive, rivals.
And yet the Sport has gained a reputation for punching well above its weight thanks to a great chassis and rev-happy engine. That limited power output makes it cheap to buy, run and insure, making it a winning combination for younger drivers who dont want to compromise too much.
Exterior
Short, squat, and low sums up the Swift Sports looks. The cars front-end swoops down to ground level and the combination of dramatic front lights and huge grille give it a purposeful stance that hints at the cars potential performance.
The three-door bodyshell and roof-spoiler give a tension to the cars lines that make it look like its moving even when its sitting still; its a clever trick and adds considerably to the appeal, an appeal that twin-exhaust tailpipes can only increase.
Interior
That three-door bodyshell might look good but it does make access to the rear seats difficult, a problem that is compounded by the fact that the front seats back dont return to their original position automatically meaning that youll be constantly fiddling to get comfortable after theyve been used. While were whinging I also think that the front seats could do with being a little bit lower too; I felt perched on, rather than sitting in, the Sport.
Other than this the interior is good. The quality is much better than I was expecting and I had plenty of space in the front too, helped by pedals that are ideally placed for heel-and-toeing and a steering wheel that has a wide range of adjustment. The overall impression is that the interior feels refined and much more grown-up than the price tag suggests.
Its not perfect, of course. Space in the back is limited, but the boot is big enough for a weeks shopping, making the Swift more practical than you might imagine. Couples will find it suits them perfectly while families, even if their children are small, might struggle.
Driving
The Swift is, quite simply, wonderful to drive with a sweetness and balance to the chassis that is rare these days. Suzukis engineers obviously appreciate that power isnt the most important trait in a sporting car and have delivered a platform that flatters and rewards you when you are pushing hard, but is compliant enough to be relaxing when you just want to pootle; despite the Swifts agility and poise at speed the ride is absolutely fine.
The brakes are great too, giving you the confidence to leave your braking to the very last minute when youre having fun. You can feel exactly what theyre doing and you can wring out every last ounce of grip, poised on the edge of ABS without once triggering it. The Swift acquitted itself very well on the evo triangle and few cars have been more fun there even if some have been considerably faster.
Engine
Ah, the engine. As my friend Jackson observed, the biggest problem the Swift has is that it could do with more power. (He also observed that the engine sounds like a bear growling at full chat, a simile that I find hard to refute.)
And yes, this is in direct contradiction to my statement in the preceding section that power isnt the most important trait in a sporting car. The trouble is that the chassis is so good it could handle another 30bhp or so with ease.
Never mind; we have what we have and the little 1.6-litre engine does produce 134bhp, so it could never be called feeble. It also loves to rev; wing it round to the full 7,000rpm and it pulls well.
Itll also give you 40+mpg day in and day out, so its reasonably economical too. And the big advantage of limited power is that you can drive it hard more often than you could if it had greater performance and there is something very attractive about a hot hatchback that you can thrash without killing yourself.
Value for Money
The Swift Sport costs 13,499, which is remarkable value for money. Its also cheap to run, insure and tax. And, best of all, it doesnt ever feel like you are driving a budget option.
Verdict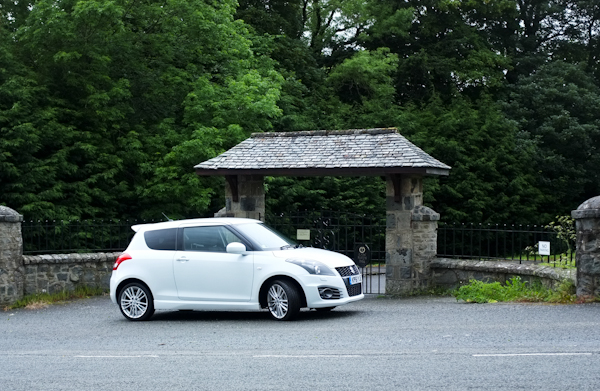 With the exception of the front seat problem (probably unique to those of us who are well over 6 tall) the Swift Sport is hard to fault. I drove it for more than 300 miles on a variety of roads, alone and with passengers, and at widely differing speeds and it despatched the school run with the same aplomb as it did a full-bore thrashing – and it did it all at an average of 41.4mpg.
The
Renault Twingo Sport
is probably the Swifts closest competition yet it lacks the Japanese cars poise and refinement. Frankly, if you were thinking of buying a cheapish hot hatch youd be a fool not to take a long, hard look at the Swift Sport.