Seat Mii 1.0 Review – Is Basic Best?
The SEAT Mii was one of my favourite cars of last year. From the quirky surroundings of the old Oxford Gaol, it beguiled me with its vim and pep and sheer unbridled enthusiasm. The Mii demonstrated – along with its cousins the VW up! and Skoda Citigo – in the clearest possible way, that cheap is good, slow is fast, and light is always, always, better than heavy. Here was a poverty-spec car that positively urged you to pay less and drive faster, which is, surely, the Holy Grail of new car design. At least for the consumer.
And yet, I had a niggling doubt at the back of my mind that the Mii might turn out to be the automotive equivalent of a Bangkok hooker; a quick high followed by an even bigger low as the reality of what youd done sank in. In this life you generally get what you pay for, and a four-digit price on the screen should ring the same alarm bells as an overly large Adams apple
So I asked SEAT if theyd lend me a basic model for a week to find out. And they said yes.
Exterior
Imagine Felicity Kendall as a car. Thats the Mii; cute, small, and sexy-as-hell even in Sunflower Yellow. It doesnt have a bad line or an awkward curve on it. Steel wheels help to underpin the careful minimalism that defines the car, but hell, everything looks better on steel wheels.
Can a cheap yellow car look premium? I think so, and I think the Mii proves the case for me. Looks are, inevitably, subjective and youll have your own opinion but I doubt many small cars are more intelligently designed than this.
Interior
The interior is no-frills in the extreme. Manual window winders, an ignition key that you actually have to put into an ignition switch, no air-con, and a proper handbrake lever. And you know what? Its lovely. Works brilliantly.
The design team and engineers removed cost (which, for our purpose, also means weight) at every turn. One example: the rear parcel shelf doesnt have anything to hang from; you just raise it and it clips into position. A win/win then for the accountants and keen drivers. LJK Setright would approve.
Its roomy, too. The boot might not be wide or long but it is deep, so you can carry quite a bit in there. Nudge the drivers seat a shade closer than you might like and proper-size human beings (as opposed to the small, expensive ones) can sit behind you. In fact, the only criticism I have is that the steering wheel felt a bit far away no matter how I adjusted the seat.
S-level trim adds air-con and Ecomotive adds stop/start, electric windows, body-colour trim, and a whole bunch of other stuff you dont need. SE gets you the sybaritic delights of electrically adjustable-and-heated door mirrors, alloy wheels, and a leather-trimmed steering wheel. All stuff-and-nonsense that increase weight and complexity and drain your wallet. Resist.
Driving
Of course cute looks and an all-up weight of just 929kgs (with driver!) count for nothing if the result is a car that drives like a pig. The Mii doesnt.
Nothing Ive driven this year is more fun that the Mii. It sparkles in town being nippy, easy to park, and small enough to be able to exploit gaps that others would be forced to ignore.
It is even better out of the city.
The official performance is hardly awe-inspiring: 0-62 takes an almost unbelievably long 14.4 seconds and the top speed cant even drag itself into triple figures.
Both are lies.
In real-world use, with a reasonable level of commitment and a lot of forward planning, the Mii is as fast as anything on the road today. As fast and a lot more fun. The key is a willing engine and an utterly faithful chassis, whose fidelity allows you to predict exactly what its going to do and when. Its ultimate limits, on skinny 14-inch wheels and tyres, might be low but theyre predictable and benign. And the pay-off is a decent ride and light, accurate steering.
Only the insecure (and there were plenty of those offended by the sight of a yellow Mii overtaking them) and professional racing drivers need more power than this. Everyone else just needs to drive it properly.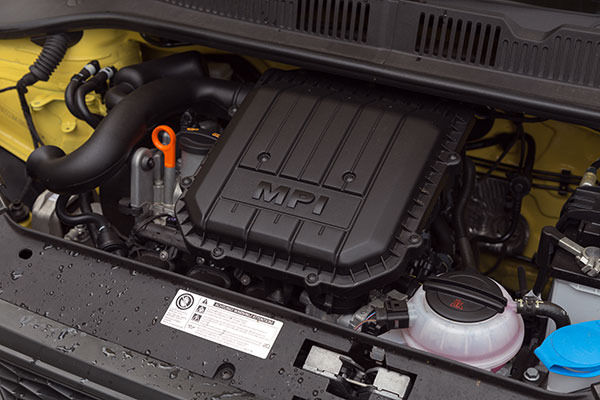 Engine
The 1.0-litre, three-cylinder 60bhp engine is a lovely little thing, crackling and snorting along like nothing else; think illegitimate love child of a Porsche 911 and Subaru flat four. With some NASCAR in its DNA from way back too. Thats a great soundtrack to live with.
Fuel consumption should be 60+mpg but it wont be. Youll be having too much fun for that, but low 50s is pretty darned good anyway and on a smile-per-mile basis only the Fiesta ST has it beaten.
There is a 75bhp version. You dont need it unless you want an auto box. Which is tempting.
Value for Money
Our test car was a butt-naked, basic spec car and costs 8,060. That is ridiculously good value. Just dont go mad on the options, will you?
Verdict
You might, if you read between the lines and see past my journalistic cynicism, have formed the impression that I quite liked the Mii. Youd be right. As a refreshingly honest take on budget motoring the Mii is unrivalled (unless you buy an
up!
or Citigo, of course).
The lack of gadgets will, I promise, escape your notice. You will never, ever miss electric windows, or air-con, or anything else it doesnt have. Because what it does have is character and integrity and honesty. You buy a Mii because you want one, not because its all you can afford. Seriously, the only good thing to have come out of the global recession is this.
Now, youll have to excuse me. Im going to sit in a quiet corner and mourn the moment that the jolly nice chap from SEAT came to take it away…