2014 Vauxhall Meriva 1.6 CDTi Exclusiv - Full UK Road Test
The 1.6-litre engine in this weeks Vauxhall Meriva test car debuted in the Vauxhall Zafira Tourer at the back end of last year, as the first strike in the Luton-based companys three-year plan to launch 13 new engines across their car range.
Its smaller than the 2.0-litre diesel engine we are familiar with yet is more powerful, more economical and has lower emissions. Which makes the new engine look like a win for the consumer and a loss for the Exchequer on paper, at least
Exterior
No one could ever accuse the Meriva of being boring to look at: bold headlights, suicide rear doors and distinctively creased flanks add up to a terrific-looking family wagon.
Im not convinced that the rear Flex Doors are any more practical than more conventionally hung doors but they do look cool and anything that helps stave off the middle-class, middle-age family blues has got to be a good thing, hasnt it? Nor is there enough unnecessary frippery in these post-Austerity days; anything that helps signal an end to the doom and gloom of the past eight years with such carefree design abandon should be welcomed with open arms.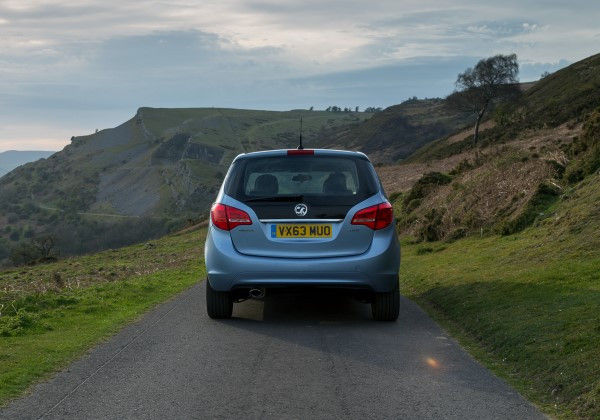 Its just a shame about the presence of that B-pillar though, as the doors on the Ford B-Max sans B-post are more practical and even cooler.
While we are talking of money, you should be aware that my Crian Blue Meriva on its 17-inch, 5-spoke alloys is the result of an additional outlay of 525 and 565 respectively. Only you can judge whether theyre worth four figures but the recession is over
Interior
The funk is, used to such good effect on the exterior of the Meriva, is, sadly, not as evident inside. Indeed, the main indicator of funk is the sliding centre console in between the front seats and that costs an extra 55, a price Id pay that willingly as it looks good, works well and helps brighten up an otherwise worthy-but-dull interior.
Or am I being too harsh; is worthy-but-dull exactly what a family car should be? The Flex Space rear seats fold and slide in a number of ways, helping maximise the room available. Headroom and legroom is good in the front and back, and boot area is generous, especially with the rear seats folded down; so if it is a little dull, that might be because the emphasis was placed firmly on worthy.
Driving
The Meriva drives exactly as youd imagine; its quiet, comfortable, and handles well. The gear change is as sweet as anything this side of an MX-5 and the rest of the controls are appropriately weighted and ergonomically sound. Sneer if you like, but building a car this undemanding to drive takes real engineering prowess; enthusiasts will ignore quite significant faults and call them character. This is not something that harassed parents are so willing to do.
I covered a variety of journeys along a variety of roads and didnt have a single cause for concern. It is, in short, a decently competent five-seater and if it is never going to set the road light you must accept that doing so was never in the design brief.
Engine
The 1.6-litre CDTi diesel engine produces 136PS and 236 lb/ft of torque, enough for 122mph and a 0-62mph time of 9.9 seconds. More impressively, the mid-range oomph is always enough to spirit you past slower traffic, helping make the Meriva a genuinely quick way of crossing the country. Subjectively the new engine is flexible and quiet and if you ignore the rev counter you might almost be fooled into thinking it burns petrol, not diesel.
The ecoFLEX Start/Stop system can be caught out sometimes, stopping the engine too keenly and being tardy restarting it. I got delayed on a busy roundabout twice by an engine that had stopped and didnt restart automatically, necessitating a twist of the key to get it going again.
Not ideal, but probably something that isnt representative of the entire range given that no one else seems to have reported a similar problem.
I didnt get a chance to check the fuel consumption properly but Vauxhall claims that 64.2mpg is possible. As with all official cycle figures you might want to treat that with a pinch of salt and accept that mid-50s is still a very good figure in the real world. CO2 emissions are 116 g/km, placing it into VED class C.
Value for Money
As weve seen, the Meriva is quite a cheap car. The model that I drove costs 20,515, while the range starts at just 12,495. That makes it very good value for money.
Standard equipment on my Exclusiv included a Flex Floor luggage compartment (a fancy name for a false floor, I presume), a height and reach adjustable steering wheel, height adjustable drivers seat, an electronic parking brake, heated and powered mirrors, and ambient lighting.
Not loaded then, but this is a 20,000 car, so what do you expect? The reality was that it had everything I needed and nothing I didnt and you cant say fairer than that, can you?
Verdict
If you drove the Meriva in isolation youd be impressed. Its quiet, flexible, and stylish as most of its competitors. Its also cheap to buy, cheap to run, and fulfils its role perfectly. It would slot into any conventional familys life very well indeed, providing budget transport that feels anything but.
The trouble is that other cars do all this and more: the Skoda Yeti, the default car in its class, is nicer to drive than the Meriva and even more practical while the Ford B-Max is almost as practical as the Yeti and even better to drive. So dont dismiss the Meriva, just make sure you drive the competition too and then get a quote on your new car from carwow to make sure you get the best possible price with none of the aggravation!