Maserati GranCabrio Fendi – We count at least 50 Fendi 'F's'
Maserati have just announced a special edition GranCabrio designed by Italian luxury fashion house Fendi. On the surface it looks great, however within its shimmery shell is branding gone slightly overboard.
The GranCabrio Fendi is coated in a special paint called Grigio Fiamma Fendi, which is apparently a dark grey with an iridescent gold finish. Though to us it looks brown, particularly from the press photos which make it appear enveloped in chocolate (it would actually make a pretty good chocolate ad), but that's okay because were fans of brown cars.
Looking at the exterior, the only other clues to this Fendi edition are brake calipers in Fendi yellow and a Fendi logo replacing the Maserati logo in the centre of the wheels. So far, so subtle.
Inside however, the Fendi branding goes a little crazy. The trademark double-F leather is plastered all over the seats. In fact, the letter F appears at least 50 times, as though someone didnt know when to stop copying and pasting. There's also a special golden Pergamena Fendi wood that runs across the dashboard as well as Fendi yellow Maserati badges on the headrests and a yellow gearstick.
Fendi have used only their most precious leather to line the instrument panel, gear lever and floor mats. On the floor mats…really?!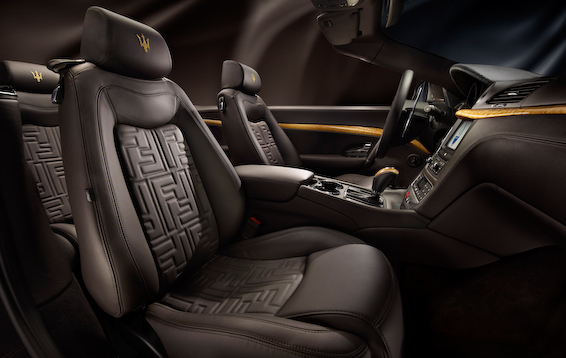 You also get a commemorative silver plaque that will feature the Fendi logo, Maserati badge and a 5-digit number (Five is apparently a special number for Fendi). This plaque will be on the dash and also on either side of the roof when its up. Finally, it comes with a black car cover, stamped of course, with the Fendi logo.
No word yet on numbers or pricing.
Verdict
The Maserati GranCabrio is one of our favourite convertibles. This special edition is pretty sweet, far better than some tie-ins that other fashion houses have done with cars. We like the colour, its just the slightly overdone seats and the iconic Maserati trident in yellow that make it look a little gaudy up close.