Mitsubishi L200 Barbarian Driven
I have a soft spot for twin-cab pickups. I drove the Great Wall Steed recently and absolutely loved it, giving the budget, made-in-China truck a carwow score of eight out of ten. That is a very good score – and not one I had expected to give before I actually drove it.
But colleagues have suggested that if I loved the modest Steed then Id love one of the premium pickups that dominate the market. I thought they might have a point, so asked the kind folk at Mitsubishi if I could borrow an L200 for a week to explore for myself whether its worth the 5,000 premium.
Exterior
Weve all seen the double-cab L200; its big and curved and just a tad brash. Mine came with a chrome rear bumper, side steps, and rollover bars. Dial in 17-inch alloy wheelsand a prominent tribal tattoo transfer bearing the word Barbarian, and you have the very antithesis of the working vehicle.
Thereis a very good reason for that:company car rules favour a commercial vehicle with a payload of at least one-tonne. Those with an understanding of the benefit in kind (BIK) rules and who are canny enough to put up with a commercial vehicle as their everyday wheels can make significant savings to the amount of tax they pay compared to a more traditional company car.
My test car came with a roller shutter over the load space. It looked good but didnt keep the area dry and limited the amount you could stack into the back of the L200, even with it fully retracted. Im not sure Id bother if I were buying one (ditto the rollover bars).
Interior
The interior is, thanks to those tax rules and the need to draw in pampered car drivers, surprisingly sybaritic. My Barbarian trim-level L200 had leather seats, electric windows, central locking, Bluetooth, a reversing camera, touch-screen sat-nav, and climate control, all allied to a very comfortable driving position. Think utility SUV and you wont be far off – and there is real comfort to be drawn from industrial-chic design done this well.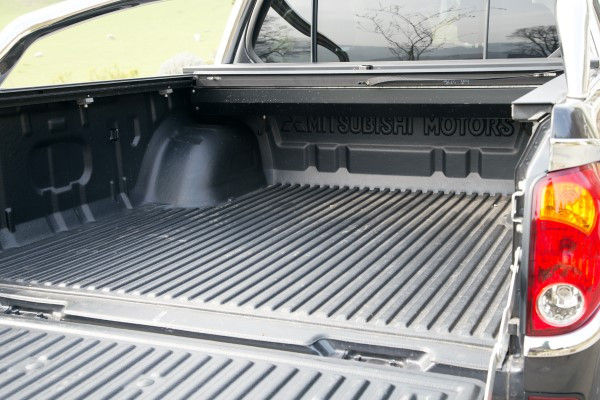 The rear-seat legroom is excellent too, as is visibility. In fact, only two gripes detract: the chromed rollover hoops look uncannily like the outline of a small hatchback when you glance over your shoulder; and the Kenwood sat-nav/radio combo is clunky and unintuitive. It froze a few times too, which really isnt good enough these days.
Driving
The combination of an automatic gearbox, excellent driving position, and lofty stance make the L200 a very civilised car to drive. Sure, you never forget its industrial underpinnings (a chassis that'salmost pre-Industrial by now, comprising a ladder frame and leaf springs at the back) but I covered 200 miles in four hours along a mixture of winding country lanes, fast A roads, and motorways and never once regretted my choice of car.
Nor did the rear drum brakes affect my enjoyment, proving to be powerful and progressive -even when asked to stop fully laden and from high speed.
Its sprightly, too; overtaking is easily accomplished and the rear-wheel-drive chassis is competent enough to allow some spirited cornering too. And when the going gets tough, the dual-range gearbox (four-wheel-drive and low-range can be selected on the move) and differential lock kept me moving through some deep, gloopy mud. In fact, the biggest obstacle to the L200s off-road prowess is its length, which can preclude some tighter turns.
A 75-litre fuel tank, coupled with a fuel efficiency figure of 30.1 mpg, gives a range of around 500 miles. Add in the towing capacity of 2,700 kg, five seats, four-wheel-drive, and a one-tonne load capacity and you have a very versatile, multi-purpose work vehicle indeed.
Engine
The 2.5-litre, four-cylinder turbo diesel engine produces 175 bhp and 258 lb/ft of torque, enough to propel the 1,885kilogram pickup to a top speed of 111 mph, via a 0-62mph time of 12.1 seconds. In truth it feels faster and I was never left wanting more power.
Even with a full load of soil in the back it still accelerated and stopped with aplomb; it might be getting on a bit now but it still has the Good Stuff.The CO2 figure of 218g/km is nothing to write home about though, placing the L200 into VED class K.
Value for Money
Companies should be able to claim the VAT element of the purchase price back, making the L200 good value as a business purchase. Company car buyers, as weve seen, benefit too.
The real question is whether a loaded L200 is worth 5,000 more (youll have to fork out 22,899 for Barbarian like mine) than something like the Great Wall. Im unconvinced it is but would understand entirely if you disagreed.
Yet even the tight-fisted (or fiscally prudent, as they might prefer to be known) can get behind the wheel of an L200 for not a lot of money because the range starts at just 16,049 for a basic 4work.
Verdict
I enjoyed my week with the L200, and not just because it gave me the chance to collect a couple of loads of soil and to do several tip runs. I drove the length of the country in it for work and delivered the kids to school in style. As a result, I now understand why some company car drivers would choose to drive one of these instead of a car; the compromises are few and far between and are, for me, at least, far outweighed by the advantages of that lovely bigload space.
Head over to our full Mitsubishi L200 reviews page for more expert reviews, photos, videos and statistics.