Jeep Grand Cherokee 3.0 CRD - Full UK Review
It should be easy to dismiss the Jeep Grand Cherokee V6 Diesel. There is, surely, no place in todays eco-guilt-ridden society for a two-tonne, 5-meter behemoth that churns out 218g/km of CO2, is there?
So, it should be easy to crack off a thousand words of pious waffle so I can get on with the business of driving something more interesting and much more fun to punt around in, yes?
So, here we go
Exterior
That the Jeep Grand Cherokee is big isnt a surprise. That it is so enormous, is. As weve seen, it is nearly five metres long and nearly two metres wide. It is also 1.8 metres tall and everything else is in proportion, which means huge wheels and tyres, seats, doors, and boot. This is not an easy-to-park, compact city car.
But it looks good. Purposeful. Chunky and effective. Reliable. Once your family are locked safely behind those vault-like doors theyre safe and secure from anything this side of a nuclear blast, which is how it should be.
The Jeeps design harks back to the Good Old Days, when you trusted your bank manager, you could smoke anywhere, and SUVs looked like SUVs. It has presence in buckets and is unashamedly brash; no car has drawn more attention this year, partly due, Im sure, to the 670 Deep Cherry Red paintjob.
Interior
The interior is huge, comfortable and far more modern than youd imagine; try as I might I couldnt find any plastic masquerading as wood. This is a Modern Jeep and while it isnt as contemporary and funky as a Land Rover Discovery inside, it isnt a million miles away anymore even if the quality of some of the plastic trim isnt Premier League.
The seats, and their position relative to the steering wheel and alloy pedals, are terrific and they are heated AND cooled, a pleasure that might only be indulged in rarely but when you need it you really do need it.
During this years summer (do you remember that glorious Thursday in early June?) when the tarmac was melting and the flags were cracking, those icy seats kept this writers bum very cool indeed. Thank you Jeep.
Rear seat legroom and boot space is beyond reproach. In fact, I only have two gripes: the handbrake is a foot-operated lever that catches on your left calf during long journeys and the chrome floor rails in the boot encourage large boxes to slide around alarmingly. Other than that no sensibly sized family will find much to concern them and plenty to delight them.
Driving
Its big and heavy and has a high centre of gravity, so if you drive it like a sports car or even a saloon you wont enjoy the experience. There is a lot of mass in the Jeep and it shifts around perceptibly under acceleration, braking, and cornering. And yet, if you drive smoothly and pause for a beat to let things settle the old girl can be hustled along at a fair old lick.
Living in North Wales Im blessed with lots of very smooth, very fast roads with constant radius curves and good visibility and the Jeep was a hoot. Quibbles? The dashboard flashes and beeps its BRAKE! BRAKE! BRAKE! message far too often using (presumably) GPS to assess your speed and the severity of forthcoming bends. It is too sensitive and hugely annoying as a result.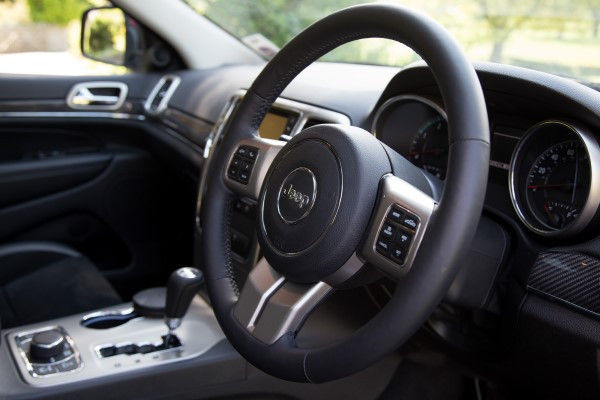 And before you think that an idiot motoring journalist who drives too fast has a cheek to moan about anything that tries to slow him down I would point out that my wife, who drives, frankly, like Mother Teresa on Mogadon, complained about it too. So there. (The five-speed auto gearbox is outclassed these days too and needs another ratio or two and some fine tuning as it can be a bit tardy to kick down at times.)
City work is less painful than you imagine thanks to good visibility and effective parking sensors (even if they are far too sensitive and beep annoyingly far too often). Motorway journeys are accomplished in a reasonably tranquil atmosphere and off-roading, even quite tough off-roading, is straightforward thanks to a Land-Rover-esque rotary controller to set the car up for mud, rocks, or sand.
Engine
The V6 diesel engine in the Jeep is a peach of a thing being powerful, quiet, torquey, and decently economical. It produces 236bhp and more than 400lb/ft of torque giving a commendable turn of speed; youll hit 62mph in 8.2 seconds and go on to reach a top speed of well over 120mph. These are impressive figures that only hint at its in-gear acceleration, which is very, very good indeed making A-road overtaking stress-free and enjoyable.
This performance will cost you, of course. The official fuel consumption figures are Grimm as no-one will ever manage to get 34mpg in real life. But they arent grim as I got late twenties over the course of several hundred miles of fast A-road, city work, and off-roading so 30mpg should be attainable with care.
Value for Money
The Grand Cherokee is stuffed with kit and represents good value for money at around 45,000 for the S-Limited I drove. The range starts at 38,500 for the Limited and rises to almost 60,000 for the clinically insane 6.4-litre V8 petrol that no one needs but wed all love...
Verdict
Other motoring journalists tend to either love or loathe the Jeep Grand Cherokee and Im a lover. There is no denying that the Discovery is currently the best in its class, yet Id be sorely tempted by a Jeep. Its a just that little bit different, engaging to live with, and stuffed with personality and if its rivals are sleeker, more efficient, and possibly more reliable, none of them is more fun.
Jeep calls the sunroof CommandView, the air suspension Quadra-Lift, and the four-wheel-drive system Quadra-Trac II. It understands that in a homogenised, half-fat, guiltridden world some people still want to enjoy driving and car ownership. It is, of course, a car for the Americans that can be enjoyed worldwide and if no one actually needs a car like this lots of us still want one and - for the time being - the consumer is still King.
Advice? Buy a Disco with your head and a Jeep with your heart. Either way, you win.
For more information check out our full summary of the Jeep Grand Cherokee alongside reviews, stats, photos and videos.