Kia Cee'd Sportswagon 1.6 CRDi Review – Family Estate Tested
Looking for a family hatch but want a little more space?
You're in luck, because the estate market is booming right now. Everybody seems to offer one, seemingly part of most manufacturers' incessant niche-filling that has also spawned the crossover craze.
Kia is on a roll right now and it's Cee'd is well worth a look for those otherwise considering a Focus or Octavia. How does the Sportswagon estate stack up in the face of such tough competition?
Exterior
Not a bad looking thing, is it? At least to our eyes, the Cee'd Sportswagon is actually a more attractive shape than the hatchback that spawned it, its proportions spread across a greater area and the rear detailing more successful given a more voluminous rump.
The hatchback itself wasn't such a bad looking thing but Kia's slightly gloopy look didn't sit as comfortably there as it does on the Sportwagon. The front is still among the more distinctive family hatchbacks on the road, Kia's unique grille design flanked by two large headlights equipped with LED daytime running lights.
It looks sleek in profile too with a slightly nose-down stance, the window line enhanced with the use of chrome trim. And at the back, the tailgate is much more attractive than that of the hatch – possibly because it cuts deeper into the rear bumper and forces the number plate to migrate onto the tailgate, breaking up an otherwise large mass of metal.
And the details? Well you won't quite get Golf-style attention to the small things, but in general it's a nicely considered exterior. Looks good in grey too – white really didn't help our last Cee'd test car.
Interior
Our test car was supplied in mid-range '2' spec. You miss out on the gloss black interior trim of the '3' model, and the satellite navigation unit. There's simple air-con rather than climate control too.
But in most respects you don't really lose a lot here by opting for the lower-spec model. The seats both front and rear are equally shapely and equally comfortable – there's a decent range of adjustment – and your main touch points with the car still feel of reasonable quality. The Cee'd has one of Kia's better interiors, best illustrating the maker's strides with quality and aesthetics over the last few years.
It shouldn't be a great struggle to squeeze four adults into the Cee'd and the extraboot space (528 litres, to the 380-litre hatch)is welcome too. It's a pity the rear seats don't fold completely flat, but on the plus side you get several extra cubby holes in and around the boot area and a still-large 1,642-litre volume.
Kia has done fairly well with refinement inside the Cee'd. It cruises quietly at motorway speeds and always feels solid on the road. Visibility out the front is only average – those A-pillars are massive – but it's otherwise not too difficult to get a view of what's around you.
Driving
Usual Kia story here – the Cee'd is perfectly competent in every area, but is unlikely to really get the pulse racing. How much weight you place on those qualities in a sensible family hatchback is open to personal interpretation.
In our own opinion it's not really a bad thing. The Cee'd errs on the side of a comfy ride rather than hot-hatch handling, which is arguably how it should be. And while you won't find much steering feel or pin-sharp cornering abilities it's more than up to the task of whatever road you throw at it. Again, the Cee'd is better here than most other Kias and never really feels flustered even under pressure.
If you do want to ramp up the fun a little the Cee'd does have comfort, normal and sport steering modes. Sport is reasonably satisfying if you're driving a little aggressively; comfort is ideal around town.
Frankly, we don't really see the need for the normal setting. We can't foresee a time where you'd ever want the car to feel less sporty than sport, or less comfortable than comfort. It doesn't appear to change throttle response and it certainly doesn't change the suspension settings, so most of the time you'll just leave it in comfort and get on with it…
Engine
In our last test of the Cee'd, with the 1.6 petrol engine, we suggested taking a look at it before signing your life away on the diesel.
There's nothing particularly wrong with the 1.6 CRDi diesel unit tested here – in fact, it's perfectly pleasant. It's smooth enough, if a little more noisy than we've come to expect from the latest 1.6 diesels, and there's enough shove to cover the daily driving needs. 0-60 happens in under 11 seconds and you'll top out at 120 mph. Nothing particularly strange there, and figures that seem achievable with the drivetrain's slick gearbox and keen responses.
However, economy in day-to-day driving isn't overly impressive by modern standards. We managed little over 50 mpg after a week, which is barely 5 mpg over the figures we returned in the petrol.
The trouble is, Kia doesn't give you a choice in the Sportswagon. You get a 1.6 diesel or… a 1.4 diesel. But if you're reading this and mulling a hatchback purchase, bear it in mind.
Value for money
Opt for the aforementioned 1.4 CRDi diesel, only available in basic '1' spec, and you'll pay from 16,895 for the Cee'd Sportswagon.
Move up an engine and a trim level to our test car, and prices start at 19,295. For that you get a decent stereo that's easy to hook up to your MP3 player or Bluetooth device, some silvery plastic trim, a set of attractive alloys and a few other goodies.
Compared to rivals it's typically well-priced. You'll pay similar for a similarly-specced Hyundai i30 Tourer (essentially the same car under the skin). A Focus Estate is also similarly priced (but has a smaller boot). A Golf Estate with the 1.6 TDI and equivalent SE trim is a fair bit more.
Most likely to tempt you from Kia's showroom is Skoda, whose Octavia Estate 1.6 TDI SE is more efficient, no slower and no more than 800 more expensive. You'll also pay less on tax (zero, to the Kia's 30 annual fee) and find even more space to squeeze your family into. The Kia counters with that massive seven-year warranty – hard to ignore for private buyers.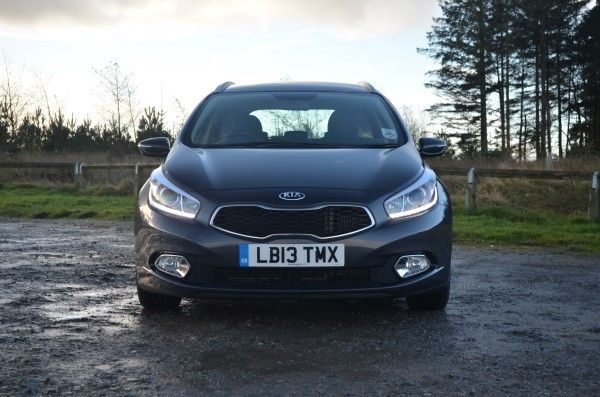 Verdict
Nice car, the Kia Cee'd Sportswagon. It's attractive inside and out, practical and comfortable to drive. We can't overstate the importance of Kia's huge warranty package either, which is a real comfort for buyers both new and used.
It's a pity the diesel engine isn't a little more economical though. Knocking on the door of 50 mpg isn't that impressive these days. And it's hard not to spot the big Czech elephant in the room, since Skoda's Octavia Estate costs barely more but offers a compelling blend of Germanic quality and even greater interior space.
We'd choose the Skoda. But we could understand you opting for the Kia.