New Nissan Qashai Reviewed – Is This The Best Family Car On Sale?
This is probably the most important new car we'll test in 2014. The new Qashqai isn't achingly pretty, nor does it thrill you in the corners. But more than virtually any other vehicle, the Nissan Qashqai is the vehicle that brings most of you to our website.
That's not surprising, given that it's one of the UK's top-selling vehicles. In fact, despite this replacement model, the last two years have been the most successful since the original car debuted – it has sat at sixth place in the UK sales charts in both 2012 and 2013.
Not bad, for a car which Nissan took a huge risk on to bring to market. The old Almera and Primera had never set the world alight, but the raised ride height and chunky proportions of the original Qashqai grabbed buyers at just the right time – and it hasn't let go since.
It's hard to imagine the new model not doing likewise. It's a little bigger than before, and a little more edgy, but overall there'll be little to offend seasoned Qashqai buyers. The front, with a distinctive 'V' cut into the bonnet and ending up at the Nissan badge will appear on other Nissan models, and while the side and rear profiles could be mistaken for any modern crossover – the Mazda CX-5 and Hyundai ix35 come to mind – it's very obviously a replacement for the Qashqai we're all familiar with.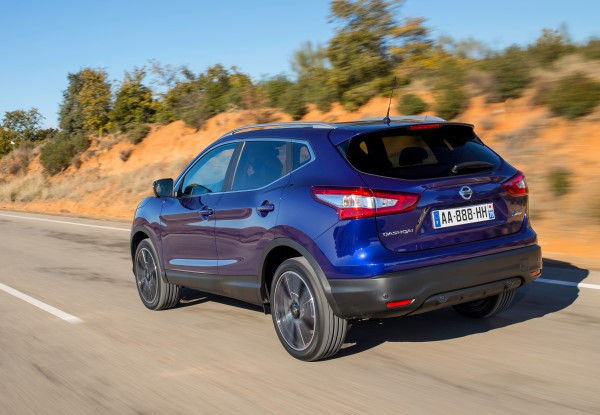 Inside it's a similar story. The design is unexciting – this is a generic car interior if ever we saw one – but it's a struggle to really complain about it. It's comfortable in the front and rear, it's build very well indeed – soft-touch plastics and sturdy switches abound – there's respectable visibility and the instruments are clear.
The boot has grown over the old model, benefitting from the extra length. There's no seven-seater on the way though – you'll need to upgrade to the next-generation X-Trail when it arrives to benefit from an extra rear row.
What's better than all of that is the Qashqai's refinement. We're not sure exactly what Nissan has done under the skin, but this is a truly quiet, relaxed car. It's aided further by a cossetting ride quality that allows only the fiercest of bumps to really disturb you, shrugging off general road ripples with little effort. Surprisingly it isn't too roly-poly in the corners either. While the average family hatchback handles better and feels more nimble, most Qashqai drivers will never approach the limits at which it starts to feel at sea. Our only desire would be for a quicker steering rack – you often need a half-turn more than you'd expect to negotiate a given corner.
We drove three engines on the Madrid launch, of the four coming to the UK.
Of these, the unexpected star was the 115 PS 1.2-litre turbocharged petrol – it rarely feels underpowered, but always feels turbine-smooth. Noise is apparent only by its absence in most driving – our co-pilot was amazed when we first pulled away, not realising the engine had already been started. Official economy is 50 mpg.
Many buyers will opt for the free-to-tax, 99 g/km, 74 mpg 1.5 dCi diesel. We don't blame them: Like the 1.2 it has sufficient punch for most situations (we had two people and luggage on board), the throttle response is snappy and the gearbox easy to use.
The 1.6 dCi, more powerful at 130 PS to the 1.5's 110, was available to test in front-drive, CVT format. Nissan has retuned the CVT for a more natural feel, but we weren't so keen – it's neither as responsive as a regular automatic nor as seamless as a traditional CVT.
It'll do 64 mpg in manual guise, 61 mpg with the CVT and 57 mpg if you opt for the all-wheel drive manual. We'd leave them all for the front-drive, manual 1.5 dCi. Or indeed the 1.2 petrol, which starts at 17,595. The priciest Qashqais begin at 23,145 in Tekna trim – but for a full list of models and prices, head over to our full Qashqai guide.
Verdict
The new Qashqai is a brilliant family car. We can think of few vehicles less likely to set your pants on fire, but if you want a five-seat car with a healthy boot, good fuel economy and a comfortable cabin it's hard to recommend anything better. It's also available with plenty of safety equipment and there's even a neat mobile application coming soon, using augmented reality as a substitute for the car's chunky user manual. Expect a featurette on carwow in the coming weeks.
Think of it as a car with the talents of a Volkswagen Golf, but a little cheaper, a little better-equipped and with a useful few inches of extra ride height. It really is that good.