Kia Pro_Cee'd GT Tested - First Time Lucky?
The Kia pro_cee'd GT is an important car for Kia, not because the company will sell tens of thousands of them, but because it's an image car.
Hot hatchbacks can't help but reflect well on the rest of the range, giving cars a sporting appeal and giving owners something to aspire to as they trundle around in the diesel version of the same car. But should those customers be aspiring towards the GT, or would they be better off in one of the Kia's competitors? We spent a week with one to find out.
Exterior
To these eyes, Kia has done a cracking job styling the GT. With its flowing lines the pro_cee'd takes a very different approach to the harder-edged styling of many current hot hatchbacks, but there's enough aggression here to give off the right impression.
The first thing you'll probably spot is the unique daytime running light setup, which Kia has nicknamed "ice cubes". The four square LEDs on each side give the cee'd real identity and help mark it out from cooking models whose DRLs are integrated into the headlight units.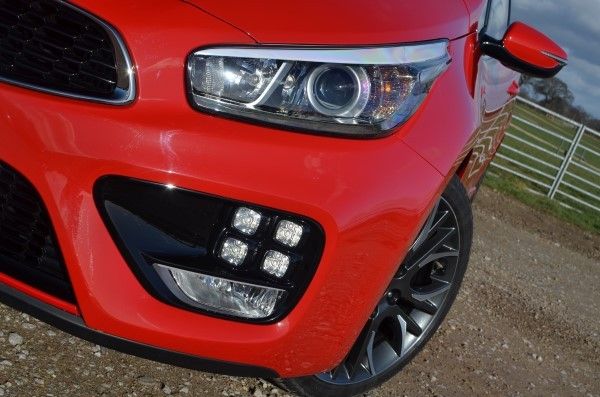 They're part of a subtle bodykit that extends around the car, with a deep front bumper, a set of side skirts and a rear bumper with twin tailpipes. The alloy wheels look great too, though the intricate multi-spoke design will probably be a nightmare to clean.
Throw in this car's bright red paintwork and you've a hot hatchback that really turns heads. If there are criticisms, they're only minor - from some angles the Kia can look a little dumpy (particularly around the rear), and the curvy organic forms may date the car quicker than timeless shapes like the Golf GTI.
Interior
We like the interior of the regular cee'd, and the GT is no exception. A chunky set of Recaro bucket seats is the first thing you'll notice compared to lesser models. They look fantastic and hold you in place while cornering, though unusually for such sculpted seats we did find they induced a little back-ache after long periods at the wheel. They make access to the rear a little tricky too, though once ensconced rear space isn't bad.
Next up are the GT's fancy dials. The center dial is a full TFT display that can be switched between a regular speedometer and a fancy graphic showing the car's torque output, turbo boost and coolant temperature. We left it on the latter most of the time, mainly because it also includes a digital speedo that's easier to view at a glance than the analogue setup. It's a pity though that the rev counter and enormous fuel gauge look so low-tech next to the central dial.
Another interior highlight? The gearknob. That's because it's a proper spherical knob and therefore better to use than any of the stupid convoluted shapes that most manufacturers fit these days. Note to all: We're bored of weird and wonderful gearknob shapes. They are almost always awful. Kudos to Kia for not caving in to those temptations.
The rest is largely standard cee'd, which is to say nicely laid-out and well-built. Visibility is atrocious towards the rear though - the car's rising belt line and letterbox rear screen make reverse parking complete guesswork. The boot, however, is a decent size.
Driving
Much of a hot hatchback's driving sensations are down to its engine, but we'll leave that for the next section.
What we can tell you is that the pro_cee'd GT is perfectly competent handler, with plenty of grip and direct steering that lets you pick your line with accuracy. The ride quality is also no worse than we'd expect for a car of this type, and while it's hardly comfortable when things get really rough, it does at least deal with smaller bumps, shrugging off the rippled surface of your average British B-road.
It struggles to truly entertain, though. The steering may be accurate but it lacks feel. You can dismiss the slightly gloopy sensation in regular cee'ds since they don't purport to be sporting vehicles, but in the GT you'd hope for a little more.
It's a hefty old lump too, the cee'd, and you can really feel that weight as you start to push the car harder. It takes its toll on the brakes too, which started to go worryingly soft after a few hard downhill stops and left us with that slightly worrying will I, won't I stop? sensation coming into a particularly tight corner...
Engine
Luckily, you're never travelling quite as quickly as you might be as the GT's engine feels ever so slightly under-nourished.
With 201 horsepower its output is now more like that of B-segment hot hatchbacks than the Meganes, Golfs and Octavias found in the cee'd's C-segment, but 200 horses is still a decent output so it's likely the 1,359 kg kerbweight that saps some of its performance. Officially, you'll hit 60 mph in 7.4 seconds.
The 1.6-litre capacity is also partly to blame, we suspect. While companies have got very good at extracting power from smaller engines (the Peugeot RCZ-R we tested recently makes 270 horsepower from its 1.6) they can still lack a little low-down torque, and that's certainly the case here.
On the plus side, the engine is commendably smooth. We'd happily take a little more rasp from the exhausts - the 1.6 lump does sound a little bland - but it's at least reasonably happy to rev. And despite it feeling a little tardy, it did still have enough torque to trouble the tyres out of tight turns, adding an extra degree of interaction.
Value for money
Here's where Kia always fights back. The pro_cee'd GT comes in at a fiver under twenty grand, which is also on par with those hot hatches from the class below.
And you get a hell of a lot of kit for that price. Those Recaro seats and the other interior changes for one. The nifty dials too, 18-inch alloys, liberal use of LED lighting, Bluetooth, USB and AUX ports, a host of airbags, power lumbar support, stainless steel pedals, auto headlights, cornering lights, privacy glass... the list goes on.
Also, as a Kia, you get the usual 7-year, 100,000-mile warranty and a year of Kia roadside assistance. No current rival can match that, certainly not for the price.
As for economy, the GT will officially do 38.2 mpg combined. That's not all that impressive when some rivals are comfortably into the 40s, and the 171 g/km CO2 rating means a 200 yearly tax bill. At least our car managed an indicated mid-30s to the gallon by the end of the week despite plenty of spirited driving - so the official figure may not be that hard to reach here.
Verdict
The Kia pro_cee'd GT is a perfectly nice car, but it's a long way from being the best hot hatchback we've ever tested.
While it's easy to forgive it for being a little slower than rivals or a little less interesting to drive because it's priced so competitively, that can't really help it over the group of smaller hot hatchbacks also available in the market. A Peugeot 208 GTI, Ford Fiesta ST or Renaultsport Clio may not be quite as spacious, but all are quicker, have greater badge kudos and offer more fun in the corners.
A hot hatch should make you glad you've picked it over lesser models in the range. But really, we kind of preferred the diesel cee'd Sportswagon we tested back in December to the sporty GT...