Hyundai ix35 CRDi – Full UK Review
The days when Hyundai were a bit of an automotive joke are over and have been for a while. Hyundai is building much-improved cars these days that drive well and look good.
The ix35, like most of the rest of the manufacturers range, is gaining some good reviews thanks to much improved build quality and that famous five year warranty that does so much to encourage private buyers to dip their toe into ownership.
It might not be the most exciting car in its class to drive but its unlikely that many potential owners consider sporty handling a priority anyway, preferring to spend their hard-earned wages on a car thats reliable, safe, and practical. Dull criteria? Maybe, but thats the reality of family car ownership for many and its one that the manufacturers ignore at their peril.
Exterior
If you think that Hyundai is how the Koreans spell cheap then you're in for a shock because the ix35 looks really rather nice, especially in the muted grey of my test car. There are plenty of sweeping lines to add tension and some flair to its otherwise conservative shape, a sleight of hand that is aided and abetted by the front and rear lights. (Peer closely and you'll see hints of the Nissan Juke and the Range Rover Evoque, but then thats not exactly rare these days, is it?)
The stance is good too, mid-way between SUV and estate, which is handy, because this is exactly what most owners will use them for.
Interior
The pleasant surprises continue when you climb into the Hyundai; the interior is really rather good and is much better than the brand name infers.
Sure, there is plenty of plastic masquerading as metal, but the overall effect helped enormously by the fact that it is very well screwed together is reassuringly durable.
The ergonomics work too. All of em, whether you are sitting in the front or backseats. This is a well-designed family car that would slot into your life very easily.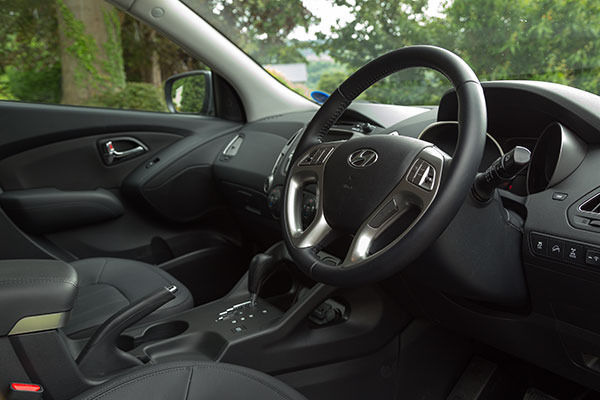 Driving
The ix35 is very pleasant to drive. Mostly. It goes well, handles neatly, grips hard, and stops without fuss. Its quiet and the ride is good enough that you only ever notice the bigger potholes. Body roll is there, of course, but it never intrudes enough to cause any nervousness much less a problem.
The problem is the steering, which is probably the most unpleasant Ive experienced this year. Motoring journalists frequently criticise modern power steering systems (increasingly boosted using electricity rather than hydraulics) for lacking feel but at least they are usually, if not almost exclusively, linear in their assistance. Not the Hyundai, which is unpleasantly heavy for the first few degrees of movement before freeing off and being on the light side of acceptable thereafter. This might not sound much of a problem but it spoiled every single drive for me to make me reach for other car keys on occasion.
Engine
The 2.0-litre diesel delivers 181bhp and 289 lb/ft of torque, enough to whizz it to 62mph in 9.8 seconds on its way to a 121 mph maximum speed. Those might not be spectacular figures but there was always more than enough mid-range urge for me to overtake in safety, even when it looked a bit marginal. Id rather have that than an artificially engineered headline set of figures every time.
Fuel consumption is claimed to be 39.2mpg, but those figures are never an accurate reflection of the sort of consumption that owners can expect; I managed just over 34mpg, which seemed more than OK to me.
Emissions are 189g/km, placing it into VED band J.
Value for Money
The ix35 range starts at 17,555 for a basic model with two-wheel-drive, which is good value, especially as you get a five-year warranty, roadside assistance, and annual health checks thrown in as standard.
However, if you engage in a game of one-upmanship with the neighbours its going to hurt; my test car, a ix35 Premium 2.0 CRDi 4WD with a handful of extras, cost 28,490. Thats a lot of money and although part of me admires Hyundai for moving into this market, thirty grand gets you the keys to some very, very nice family cars.
Verdict
The ix35 was frustratingly close to being hugely impressive. My last drive in it was a 150-mile journey comprising motorways and fast A-roads on the way back from the international launch of the new Range Rover Sport. That I didn't ever feel that I was slumming it after two days playing James Bond speaks volumes.
But that steering is just too awful for words. If you can live with it then the ix35 does the job as well as anything in its class and does it all much better than some.
However, I cant help thinking that most buyers would be better off with a Skoda Yeti for heavy-duty rural use. And if heavy-duty rural use would be over-the-top then you could save a few pounds by choosing a Peugeot 3008, which makes a fine fist of the sort of off-roading most of us do and does so using only two driven wheels and Peugeots rather clever Grip Control.