Ford Transit Custom Review – That's Not An MPV, THIS Is An MPV…
I recently wrote that Land Rovers Discovery is every car youll ever need. And I stand by that. The Discovery is a quite magnificent machine that seems to defy the Law of Physics. All-weather mobility and load hauling has rarely been so much fun.
Then a friend told me that Fords press fleet includes rather tasty Transit Custom. I scoffed. He, being far wiser than me, persisted. I relented. Here is my week with Big Red.
Exterior
Big Red is, of course, huge. Based on a long-wheel-base Transit chassis it weighs in at 5.3-metres long and the best part of 2,000kgs. It is, in short, a beast.
Ford designates it a Double Cab in Van, or DCiV for short, which means it has six seats (three up front and three behind) as well as a load space big enough to carry a full-size pallet.
This makes it the most versatile vehicle you could ever own. I used it to shift a workshops worth of woodworking equipment in one trip, followed by a piano, before loading it with a familys worth of stuff for a days water-sports at the beach.
And when Id finished, I brushed it out, mopped it down, and it was as good as new. Try that in your people carrier.
Interior
Three sets up front makes for a very sociable car; it surprised us how often my wife and I had just one child with us, and sitting them up front meant that we talked more. And took turns in choosing music from my iPhone before singing along. We really were (and I know this sound like hyperbole, but it isnt) Walton-family-happy like this. And when we went to the beach our boys could invite a friend along each. Six seats work well.
Its civilised in there too. Ford aficionados will recognise the dashboard but the Transit adds its own twist; comfort with practicality and a large twist of durability. So everything is just that bit more rugged than in a car; the cupholders are huge for example, and secret storage abounds, including underseat storage that would defeat the casual intruder.
You sit high, of course, commanding a view that crossover drivers would kill for. Headroom is vast and the seating position nigh-on perfect thanks to a steering wheel that adjust for reach and rake, and a comprehensively customisable seat that might lack lateral support but is otherwise comfortable enough.
Legroom in the back is ample even for pro-basketball players sitting behind a lanky motoring journo. It might not be the most cutting-edge interior but it is hugely practical and if youve got a family you know which one is the more important
Driving
Transit vans of old suffered from dreadful axle tramp under acceleration, lurid slides under spirited cornering, and awful brakes. They steered badly too, were uncomfortable, and lacked even the most rudimentary attention to NVH. They were, in a word, horrid.
The new Transit couldnt be more different. It rides well, even when its empty. It steers nicely, corners accurately, brakes smartly, and possesses more mechanical grip than you will ever need.
It is, in fact, almost MPV-like to drive. Almost, but not quite. My LWB Transit demanded more caution than usual in towns and cities, especially when parking, but the natty reversing camera (neatly and logically installed in the rear-view mirror) helped no end and by the end of the week I was throwing it around like a pro.
You will too, after a day or so. Remember, with size comes capacity: itll tow 2,300kgs, which should endear it to all but the most enthusiastic caravanner, and has a payload of over a tonne. Oh, and youll get over 30mpg with ease. I managed 32mpg without even trying.
Engine
The 2.2-litre engine develops 153bhp and 284lb/ft of torque, so its a lively thing, especially under initial acceleration when empty. Ford doesnt quote an official 0-62mph time but I was never embarrassed by a lack of urge, even at motorway cruising speeds.
The speed limiter shouldnt have been a problem, set as it was at 71mph. But it was. Still, its optional and only the most cautious and fastidious fleet manager would hamstring his drivers like that. You wouldnt bother, would you?
Value for Money
My Transit would have cost me almost 35,000 including VAT (which isnt going to bother most business users. Remove the dreaded tax and youll pay under 30k.). That might sound like a lot for a van. It isnt.
This is a car that seats six in comfort while still being able to carry anything you might reasonably want to move. If you are into mountain biking, kayaking, climbing, karting, any hobby, in fact, that needs a lot of equipment, then the Transit would be ideal for you.
You can throw an enormous amount of wet kit in the back where it will be kept safe – and it wont mess up the cab. Thats a very attractive proposition to an awful lot of people.
Best option? Just 36 (plus VAT) for a 240 volt power supply, which is ridiculously good value.
Verdict
The Transit is Britians seventh best-selling vehicle, a position it absolutely deserves. Its tough, refined, versatile, comfortable, safe, capacious, and economical. It is, therefore, the perfect family car for the active family.
If you can get past the name, the awkward social connotations, and its utilitarian nature (which isnt half as bad as you imagine, although youll never forget that you are in a van rather than an MPV) youll uncover a very impressive vehicle and one that is far more practical than any people carrier on sale today.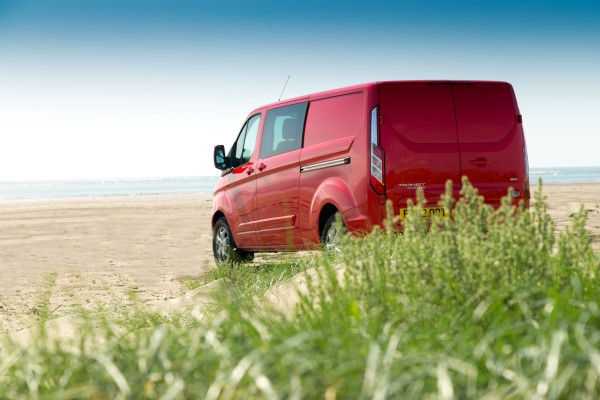 I loved it, and I suspect you will too. The only question is whether you can bring yourself to pull the trigger and buy a commercial vehicle rather than a neighbour-impressing MPV