Jaguar is on a roll at the moment, churning out a succession of very fine cars indeed that go well, handle beautifully, and look stunning. Their petrol-engined models are paragons of virtue, being quiet, powerful, and wonderfully smooth; everything, in fact, that you'd expect from a Jag.
Does that hold true for the diesel-engined models, though? Can a big cat ever be powered by a diesel and retain its claim to Jaguars heritage? Aren't they just poverty-spec cars bought by accountants with no soul?
Exterior
The XF shape has been with us for a while now and shows no signs of being dulled by familiarity. A huge grille, from which the bonnet creases radiate, dominates the front. The headlights conspire to reinforce the aggressive countenance, an effect that is softened by the chrome trim on the lower air intakes. Its instantly recognisable and utterly gorgeous.
The side view is just as impressive, with swooping lines and tension in the rear wheel arch and side sills. If you were being hypercritical you might suggest that the rear wheel arches would benefit from some additional flaring but with the 20-inch wheels fitted to our test car they are filled quite nicely anyway.
There are dozens of beautiful details on the XF, some of which are obvious and some less so: the chromed air vents on the front wings and grille; the lines formed by the LED headlights; the mesh front grille; the XF badges; the Jaguars head on the badge; the delicate door handles. Its a very sensual car that reveals itself in stages.
Overall, the XF looks much more like a coupe than a saloon, which is good aesthetically and doesnt steal too much rear headroom either.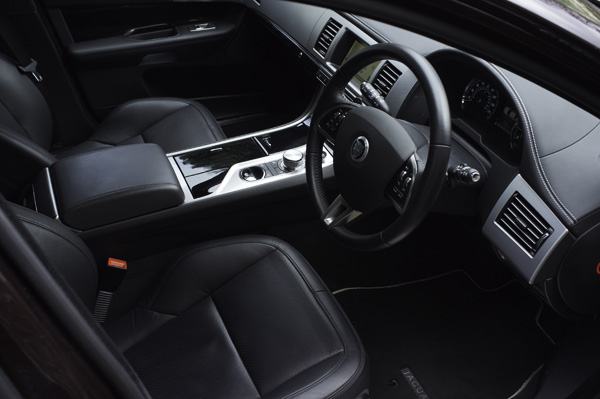 Interior
It's just as elegant inside with the liberal, but perfectly judged, application of leather, suede, brushed steel, and mirror-bright veneer. The effect is restrained and effortlessly stylish. Not as Bauhaus-chic as an Audi, or as brutally-efficient as a BMW but not too British-woodnleather either.
It's practical, too. The seats are comfortable and adjust over such a wide range that I experienced under-thigh support for the first time in my driving career, thanks to a seat base that extends independently. The seats are cooled and heated too thanks to tiny perforations in the leather covering, allowing you to watch the on-board TV in comfort no matter how extreme the weather is outside.
The steering wheel adjusts for reach and rake, and the controls for the phone, stereo, cruise control, and flappy-paddle gearbox are easily reached and intuitively operated. Oh, and it's heated, which would be a welcome treat in the winter.
The boot is enormous giving you 540-litres to play with, a figure that is boosted by another 420 if, like us, youve got the folding rear seats.
Driving
The Jaguar XF has two driving modes; waft and attack. Waft encourages a laid-back driving style that seduces you into caressing the throttle, letting people out of side-turnings, and ignoring tailgaters.
It's slick, silent and compliant giving you time to think and relax. To listen to the 1200W Bowers and Wilkins 17-speaker stereo, perhaps, or phone an old friend just so you can drop the fact that youre driving a Jaguar into the conversation
Not so in attack. Snick the rotary gearknob round to the S position and press the Dynamic button and the XF changes into its Army fatigues. It snarls and growls and throws itself around in a startlingly effect impression of a sports car.
The gearbox holds onto lower ratios for longer, the throttle is sharper, and the computer that controls the chassis interferes less. It's as impressive as it is fun and when its time to grow up you snick the gear knob back and press the Dynamic button again and serenity is returned.
Engine
The 3.0-litre V6 twin-turbocharged diesel engine produces 271bhp in S specification, but its the torque that really impresses. Four hundred and forty-three lb ft is an enormous amount and ensures that you are rarely left wanting. It might lack some of the aural appeal of the supercharged 5.0-litre V8 petrol engine but in real-world condition few will be able to exploit the petrol engines extra power.
The headline figures are a 0-60mph time of 5.9 seconds and an artificially-limited top speed of 155mph, impressive stats that are backed up by serious in-gear thrust, especially if you select S on the eight-speed automatic gearbox. I tried shifting manually too, but gave up as the auto boxs computer was doing it just as well as I could and with far less fuss.
Over several hundred miles I managed to eke out nearly 30mpg, which is pretty good going given the Jaguars size and how much fun I had in it
Value for Money
No one needs a £50,000 Jaguar on the driveway; a £30,000 Mondeo would do the job with almost as much panache.
But, it wouldnt be a Jag and cars like this are all about how they make you feel. The emotions that they stir up, the adrenaline that they provoke, and the way that they enrich your life. Few cars are as emotive as a Jaguar and the XF is a worthy addition to their distinguished heritage, even with a diesel engine under the bonnet.
And anyway, you can have the keys to a new XF in your pocket for under £30,000 if you choose wisely
Verdict
If you can afford to buy one it is unlikely that youll ever regret it. It's a beautifully finished car that is as good to drive, as it is to look at.
It's not perfect, not quite, but only limited rear legroom lets it down and even that isn't too bad.
Alternatives include the
BMW 5 Series
and the
Mercedes E-Class
, both of which are incredibly competent but neither of which have the Jaguars soul, which might be a cliche, but cliches become cliches because they are true.
---
Want huge savings a great experience buying your new
XF?
Try carwow for a car buying experience thats actually enjoyable!
There's absolutely no hassle involved. Simply select the XF youd like to get offers on, and compare upfront offers from trusted main Jaguar dealers, vetted by us. You can message or call dealers anonymously to ask any questions and buy direct if you'd like – theres no pressure to buy.
There's no need to haggle, no online payments or hidden costs. Its car buying without the games.
Start getting offers on your new XF now and see what you can save. Its free!