Mazda 3 Fastback – UK real world review
As part of Mazda's plan to move its range away from the old Ford-based models, its mid-sized family hatchback the 3 was replaced in 2014 with a new model no longer derived from the Ford Focus.
In that previous iteration, Mazda was one of the few remaining brands to offer a saloon-bodied variant of a Golf-sized hatchback and, like many of them, it wasn't an especially pretty offering. Indeed it looked like someone had just rammed a boot compartment onto the back of the normal car – a body style earning the derisory 'shatchback' nickname.
This time round, Mazda's design team has integrated the boot into an all-new rear-end treatment that the Hiroshima company terms 'Fastback', and we've been spending the week with one to see what we make of it.
Styling
Quite a significant proportion of the car is exactly the same as the hatchback, so there's no surprises at the front at least. If you're familiar with Mazda's current styling ethos, that means you get a "KODO Soul of Motion" nose that adorns every one of their newest products – the Mazda 6, the Mazda CX-5 and, most recently, the Mazda 2.
It's a pretty sharp look, with a chrome lip framing the bottom of the five-pointed grille and the top of those projector headlamps. Unlike many corporate fascias which give mixed results across the various different size classes of vehicle, it seems to suit the 3 just as much as it suits the 6, making for one of the sector's most handsome choices.
At first glance it's actually quite hard to spot where the Fastback's design diverges from the regular hatch – even the rear pair of doors look like they're interchangeable between the two models. The rear screen seems to be slightly narrower and descends at a marginally shallower angle than on the hatch and there's fractionally more bodywork between the trailing edge of the door and the light clusters – it's as if the rear has just been subtly stretched and the rest of the body has fallen in line. Compare it to the Audi A3 saloon to see how a more expensive competitor looks.
Compared to the sudden termination of the hatchback's rear, the Fastback lends a much more interesting profile and seems to be the more complete design. Far from being the ugly duckling of the family, it's quite the looker – and it contributes to the car's super low drag coefficient that rivals the best of hybrids.
Interior
It's something of a hit and miss affair in the cabin. In this SE-L trim you get "premium" black cloth trim which is pleasant enough that, unless you're obliged to feel the touch of cow against your buttocks, you won't miss leather. The gear gaiter, handbrake and steering wheel are still bovine though, with classic red leather stitching and the upper dash is so soft-touch you could fall asleep on it. However the first flaw lurks in the shape of contrasting finisher materials – there's piano black, mock steel and fake carbon fibre bits liberally dotted about the place, which is at least one material too many. There's still room for some scratchy black plastics beneath knee height too.
All the controls are perfectly sited and easy to operate, with some built-in redundancy for the very large central screen which you can operate by dial, button or touch alone. This is a lot more useful than you might think, because it allows you to do whatever you're used to doing. However the screen seems to stick out somewhat, and it looks detachable but isn't – it'd be nice if it was angled towards the driver, the fact is isn't seems an oversight.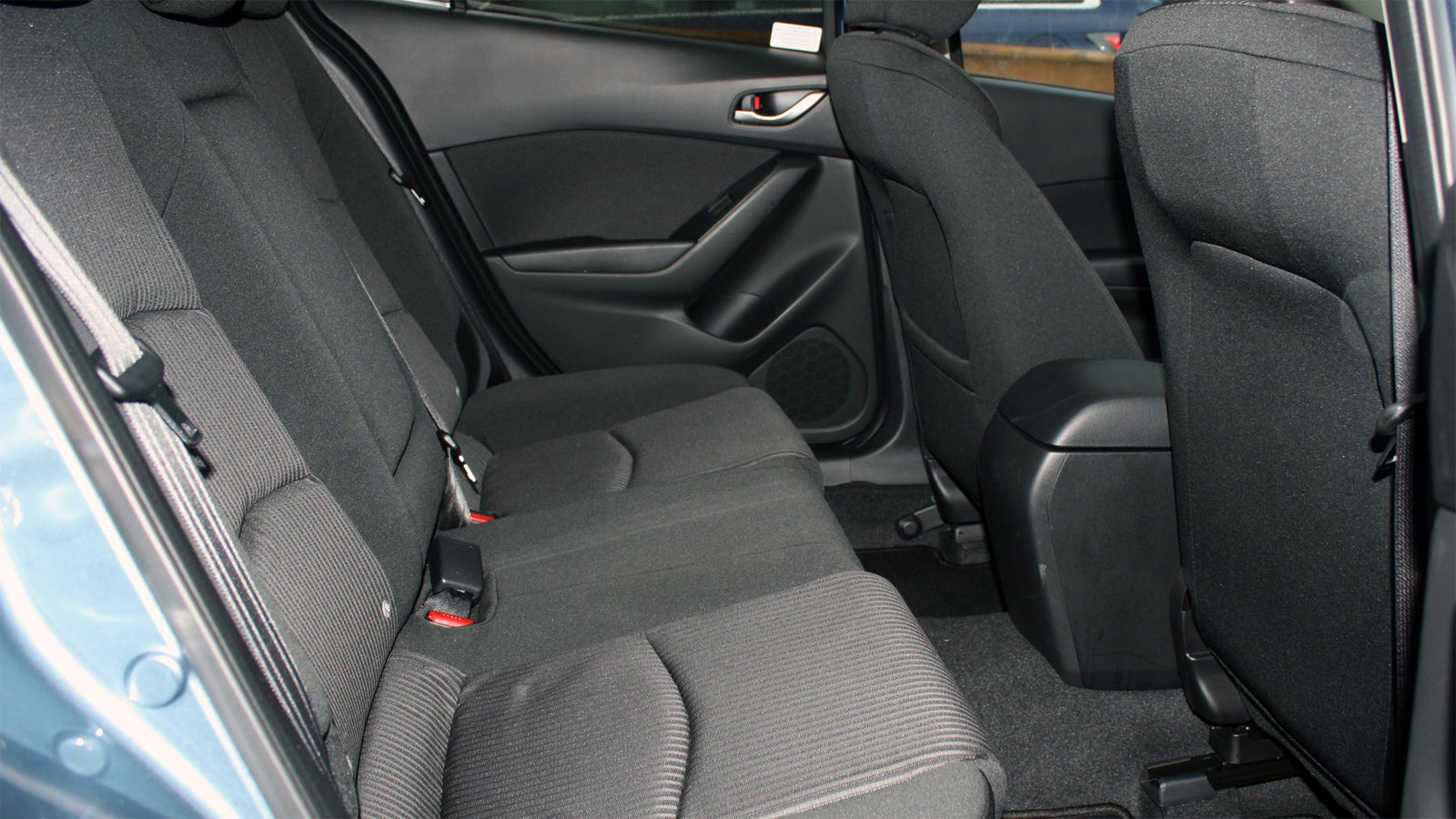 Space isn't a problem in the 3 either. There's no physical difference in the cabin dimensions between the Fastback and hatchback and it's plenty big enough for reasonably sized adult humans. The change in boot dimensions means a more useful 419 litre space (55 litres more) and, despite being a saloon, it's still equipped with 60:40 folding rear seats. Mazda gives no figures for the extended load capacity, but you won't be scrounging for door pockets to shove things into.
Engine
This car was powered by the 2.2 litre SkyActiv diesel, producing 148hp. We've seen this unit before in a couple of our road tests, in both the Mazda 6 Tourer and the Mazda CX-5 and we know exactly what to expect. It's not a stellar unit by any means, but it's relatively quiet and reasonably frugal and with a lot less weight to lug around than either of the previous applications it'll get to 60mph in about eight seconds flat.
We gave it a bit of a battering over the week, but it still managed to show over 62mpg. This is a little way short of the official 72mpg stats but close enough not to make too much of a fuss about it. That said, on a long motorway cruise up the country pinned to 66mph, we were rarely showing less than 90mpg according to the trip computer and that's pretty startling.
Driving
Generally speaking, Mazda is one of the better brands at blending together fun-to-drive cars and a smooth ride, but the 3 doesn't quite meet their usual standards.
It's not on the driving side that the flaws exist though. It's an extraordinarily good car to thread along twisty roads. It's not just grippy but has a beautifully weighted steering action that puts many of the big brands' attempts at electric power steering firmly to the sword. This feels like a car that wants to play with far more power than is available to it and, as with the 6 Tourer we drove last year, we think it's just aching for a hot MPS version.
Instead it's the ride that has a couple of "ifs" about it. There's a certain stiffness to the rear end that just allows a little more of the environment to be transmitted to the occupants than we'd like. It's not a catastrophe by any stretch of the imagination and if you're planning on racking up the miles on the motorway network you may never really notice, but the firmness around town – particularly over speed bumps – is not quite what we'd expected.
Value for Money
With this model coming in at £21,745 you might be forgiven for thinking it's a little dear for what's effectively a mid-range diesel family hatchback. It takes a look at the spec sheet to reveal just what value the 3 is; we'd need to write an entire article just on the included kit here and everything you've seen in the pictures is standard fit.
Highlights include that 7-inch satnav screen, Bluetooth support with Aha and Stitcher internet radio integration, bi-xenon headlights, LED tail lights and foglights, dual zone air conditioning, cruise control with speed limiter, post-collision mitigation braking… it's a big, big list. Most notable of all is that the Fastback shape costs absolutely nothing over the hatchback.
The 72mpg combined claim is within reach and this makes running costs that look equal to many peers actually slightly lower. You'll need to keep one eye on depreciation though – we're just not sure how this is going to perform because Mazda is a bit of a mixed bag in this regard. They're usually among the more reliable of marques though.
Verdict
It's one seriously impressive piece of kit, but not without its flaws. The slightly firm ride and the so-so interior materials are chinks in the armour but with oodles of kit and actually attainable fuel economy numbers to back up the pretty stellar drive there's a great deal to like.
The Fastback not only costs no more than the hatchback to buy but actually reduces running costs due to the slippier shape, is roomier and is the better car to look at. It also offers a completely unique take on the hatchback (at least at this end of the market) and is far the better for it.